By: Freaknick/@euro_adventures
You don't win six FIBA Africa Championships in a row—capping off a span of ten in eleven years—by accident. This team has more experience and loads more talent than any other on the continent and it's no coincidence that they outperformed Tunisia and Côte d'Ivoire, neither of whom proceeded past the group stages. One of the wildest games of the tournament thus far has been their game against Germany, who after a win vs. Serbia were expected to blow the Afrcans away. Olimpio Cipriano's 30 points outpaced Jan Jagla's 23 and they took it in overtime, 92-88. That paired with a win over Jordan and here they are today, facing a USA team with whom they have a history, most memorably a 68-point loss at the hands of the Dream Team in 1992.
But much has changed since then, as Angola's leagues have strengthened and their talent pool deepened. The biggest issue is size for these Angolans, especially with their hero Cipriano sidelined with injury (or we're told), but that might not come into play with Team USA's redundantly small core. We've got 10 minutes until tip-off.
Time for a prediction: Team USA will win, but not as easily as you'd expect. It will stay in single digits until 3:00 left in the second quarter. ELA coverboy Gomes will be a tough cover for Iguodala, if that's who Coach K decides to put on Angola's best forward.
FIRST QUARTER
-After their first possession, I would've believed that Angola could end the first half scoreless. Making passes that middle schoolers would laugh at. But their next possession ended beautifully with Morais fading off a screen in the corner to separate himself from Rose, passing up the three in favor of a nice give to Gomes streaking to the hoop, who then spun and dropped it in. Quite pretty to watch, actually.
-My single digit prediction is in danger of running out after only 6 minutes. of action.
-OK, there it is. 19-7 after Billups his second three for his 6th, 7th and 8th points. Durant piles on with another. That makes it 22-7. I'd love to see ti stay closer than this, for reasons deeper than my earlier predictions. Odom fastbreak lay-up, Durant fastbreak dunk.
-I don't even have time to report the Kevin Love substitution and he's already scored on the break. Plus one, free throw up…good. 29-9. Ouch.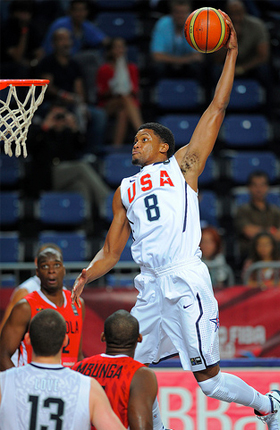 -Carlos Morais gets on the board with an offensive board and a putback. Energy's not the question for Angola, it's just about making that energy useful. It's mostly been a lot of running around, jumping and deciding how you'd like to turn it over whilst in flight.
-It's 33-13 after one quarter.
SECOND QUARTER
-The dancers are out in between quarters. Apparently they're not big fans of the food Istanbul has to offer.
-Roberto Fortes takes advantage of Angola's best three look of the game. Money. That pulls it (kind of) closer: 38-16.
-Kevin Love is up to his old tricks. Eight points in only three minutes.
-Play of the game so far for Angola as Fortes comes back on the break and beats Kevin Love's shot into the stands. At least it gave the crowd a reason to wake up. Nobody is here and nobody cares.
-The USA ostensibly sees its first points off of an actual halfcourt set. Not much to it (one screen, one cut, one pass), but at least it's a start.
-Remember when I said the three minute mark would be the end of our single-digit score? Yeah, I lied. It's 55-28 with 3:16 left in the half.
-Heading to record a radio piece for the BBC. Just a couple minutes. If you'd like to listen them chime in here.
-Halftime has mercifully arrived for Angola and it's 65-38. What can you say? "Hey guys, just do everything the same but entirely different."
HALFTIME
Only six players have scored for Angola. Only one—Stephen Curry—has not scored for Team USA:
USA: Kevin Durant 17, Chauncey Billups 16, Rudy Gay 8, Kevin Love 8, Andre Iguodala 4
Angola: Joaquim Gomes 13, Roberto Fortes 11, Felizardo Ambrosio 8, Miguel Lutonda 2, Hermenegildo Mbunga 2, Carlos Morais 2
THIRD QUARTER
-We're past the point of "If Angola wants to win they need to…" but it doesn't mean we should stop watching or that they should give up altogether. Objective umero uno: keep Team USA off the offensive glass. Right now, Lamar Odom's four match the output of the entire Angolan side. As a team, America has 12.
-Felizardo Ambrosio could beat me up rather easily.
-There's another basket manufactured by multiple passes. Those have been few and far between for the States but it's a good sign when they spring up. And even when the offense hasn't been quite at Princeton level, we've managed to kick it around once or twice before firing: 20 of our 28 field goals have been assisted.
-These USA jerseys are pretty fresh. I tried to buy one in Taksim Square's Nike Store—which had at least five or six stories—and guess whose they had? Kobe. LeBron.Dirk for Germany. Tony Parker for France. The only player available who also played in these World Championships was Yi Jianlian for China. I almost bought one just to help my country pay off its debt to the Eastern power.
-Man. These games need to get better and quickly. With these late nights, long days, losing steam over here. Games like Spain-Greece get my blood boiling nicely, and I'm hoping Russia-New Zealand can deliver in Game Two.
-You hate to see Angolan legend Miguel Lutonda's career end like this. He's 38 now, turns 39 in December. Will he have anything left in the tank for next summer's African championships?
-Sorry guys, been on the radio. The game is over. What did you miss? A 121-66 final score. That's the highest point total this championship. Stick around, because we've got Kirk Penney and New Zealand up against Sergey Monya's Russia next.
Related posts: