After a Winter hiatus, Slam and Freaknick return to break down the Top 16's first day of games. Vladimir Romanov sends his future former coach into Valencia, Bootsy balls in Istanbul and Lietuvos Rytas looks like they don't belong at the party. A minute-by-minute breakdown to help you sort through the madness.
Remember you can subscribe on iTunes for FREE or check out the rest of the podcasts right here.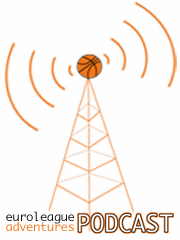 0 - 3: Welcome, charming banter
4 - 9: Lietuvos Rytas gets clobbered by Panathinaikos
10 - 17: Efes Pilsen sneaks past Montepaschi Siena
18 - 27: Real Madrid makes Partizan look silly
28 -  36: Zalgiris loses to Valencia in Ilias Zouros
37 - 43: Stars & Stripes
44 - 57: Slam waffles as the guys preview and make predictions for Thursday's games
58 - CLOSE: Did Slam hijack Showtime's hit show Californication from Freaknick? Short answer: you bet your sweet ass he did.