Eight games, two days and one incredible opening week for the EL. Winners, losers, stars, stripes and plenty of rust from some of the league's elite. We also had new faces like Alan Anderson, forgotten favorites like Marko Tomas, and aging superstars like Terrell McIntyre struggling to find their groove. We hit it all in today's podcast, with a segmented guide below for your aural pleasure.
And while you're listening, see if you can name all 54 European club champions in ELA's first Sporcle quiz!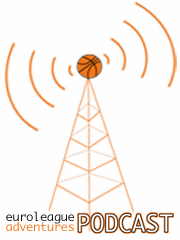 0 - 2: Peja Stojakovic out in Toronto, headed to Dallas. Europe in 2012?
3 - 13: Caja Laboral downs Unicaja in Esteban Batiste's 14-board debut. Will Stanko Barac get lost in the shuffle?
14 - 20: Alan Anderson  and Juan Carlos Navarro do work on the perimeter, Maccabi does their best to hang in.
21 - 28: Fenerbahçe Ülker takes raids Piraeus, Marko Tomas reclaims his place in our hearts.
29 - 38: Lottomatica gets an earful after getting owned by Kenny Gregory.
39 - 43: Terrell McIntyre and Chuck Eidson get called out in Stars and Stripes.
47  - 48: Rapid fire picks for week two.
49 - 50: Close it out; Mase joins us for a brief sing along.