By: Nick Gibson / @euro_adventures
For some reason, the cheapskate in all of us comes out when a tube of toothpaste approaches empty. It's time to crack those knuckles, roll up your sleeves and go to work; you squeeze firmly, methodically from bottom to top, until you harvest a thumbnail sized dollop of Crest.
Fortunately for the arthritic and the lazy, there's SqueezeIt! No more mess! No more hassle! SqueezeIt coaxes those hard-to-reach remnants out of the tube!
Slam and I spent the Summer hanging these up around New York grocery stores, along with other items which should leave the American people equally ashamed. They're called impulse buys, but they left me more repulsed than anything else.
But once we were done catering to our nation's laziest common denominator, we drove home, plunked down in a cushy brown couch and flipped on NBA-TV. Summer League. All day, every day.
We stared as Slava Kravtsov wrecked his way through the lane in a Celtics jersey, Lance Stephenson almost made people forget he's a terrible human being, and Euro studs like Jaycee Carroll and Pooh Jeter fought hoop and nail for training camp invites. (Jaycee never got his, and the ACB is better for it.)
Yet this Summer, our cushy couch will be Pooh-less once our grocery store marauding has wrapped for the day. With the impending lockout, The New York Daily News reported that there will be no Las Vegas Summer League.
UPDATE: An NBA spokesman has recently denied those claims, however, saying nothing's official and no decision has been made.
Might Orlando be next? And we should probably give up on any resurgence from the Rocky Mountain Revue.
It wouldn't be the best news for some Euroleaguers who spent last July looking for a spot in the Association—James Augustine, Richard Hendrix, Trent Plaisted, Nathan Jawai, JR Giddens, Joe Ingles, Jeremy Pargo and Kyle Hines just to name a few—but it's a happy day for those of us scanning the skies for cheap flights to Lithuania's Eurobasket this Summer.
Specifically, the host nation should find delight in the NBA's announcement, as an open summer would free up two of Lietuva's future draftees: Jonas Valanciunas and Donatas Motiejunas.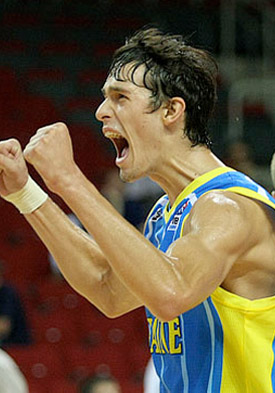 The NBA's current Collective Bargaining Agreement expires June 30—just a week after the draft is held in New York City—and the offseason that follows will look a lot like the NFL's: empty and eventless.
If things tipped off in Vegas as they did last year, Jonas and Donatas would have an interesting choice to make: do I honor the team who drafted me and spend my summer fighting for a spot in the rotation? Or do I focus all my energy on playing for my country, in my country this August?
It's a decision which would surely alienate one set of fans or the other, leaving either a bad taste in the mouths of fanatic Lithuanians or inviting resentment from his new fans and teammates in the NBA.
With no contracts to sign for draftees like Donatas and Jonas, it means no obligations and no dilemmas. They should be able to participate in Lithuania's preliminary tryouts and I'd expect to see them in the lay-up line come August 31 in Panevėžys.
As for the "How do they expect to butt in to a bronze medal-winning roster?" query, the math is simple for me: Linas Kleiza is out, Donatas is in. And does anyone remember Martynas Andriuskevicius? The big blonde thing at the end of the LTU bench?  I think Jonas can replace the 7 points and 9 rebounds Big Marty amassed in Istanbul.
Even folks like Sergii Gladyr, whose rights are held by the Hawks, can clear their schedules to gear up for Ukraine's run in Klaipeda, and Ricky Rubio doesn't have to reject another Summer League invite from David Kahn.
And just to get Mark Cuban's blood boiling, let's get carried away for a second:
Imagine Dirk leading Germany once again, or Tony Parker and Joakim Noah saddling up to help France to the medal stand. Could Andrei Kirilenko get another Gold for Russia? Might Pau help brother Marc and his fellow Spaniards recapture that Polish mojo?
Most of the players I just listed could play well into the playoffs—which I'm told will continue as planned—and might need a rest, but with the risk of an off year looming, Eurobasket could prove a worthy adversary against boredom and rust.
All of my wishes won't come true. Some of them might. Either way, the possibilities multiply as the threat of a lockout whittles the NBA's season down to sawdust.