Nick Gibson, ELA Creator & Producer (@Euro_Adventures)

He's a Great Dane on speed, bounding for a ball that nobody else sees. But as your grip tightens around his leash, ready to yank him into submission, his teeth pierce leather. Out of nowhere. Then the ball's in the air. Then plummeting through the nylon. And before the net has time to stiffen, goofy strides have already tugged Jonas 90 feet away, knees bent and palms up, eyes darting around for his next invisible treat. He sifts through buckets of spastic energy and comes up with a fistful of the good stuff every time. He leaps not to leap, but to travel, to climb. To travel to Rebound Ridge, to climb Swat Mountain. Leaping is for folks that know what they're doing, but not where they're going. Those saps who flop about aimlessly to camouflage their confusion. The Leaper leaves the court with a sweaty brow and a throbbing patella which, to him, are sure signs of a solid day's Leaping. Jonas lopes off with a double-double and a Double-U.
He outworked you. But he won because he's better than you.
Projection: Top 5 pick in 2011
Sam Meyerkopf, ELA Creator (@Euro_Adventures)
When you combine size, athleticism, and an Energizer bunny-like motor, you have the makings of an exciting big man prospect.  Young Jonas had the highest per-minute rebounding rate in the Euroleague this year and that was by no mistake.  His relentless play around the rim on both offense and defense make up for his wiry frame, which has already started to fill out.  If the adjective for big men who drift to the perimeter and don't go hard to the glass is soft, then Jonas' persistence can only be called hard.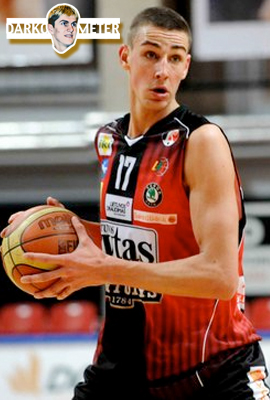 In the NBA Valanciunas will help out immediately off the bench with his energy, rebounding, and ability to alter shots.  If he wants to evolve into a 15-20 point scorer, he will have to refine his back-to-the-basket game and patent a go-to post move.  His high free throw percentage suggests he could one day have a very nifty jumper that could open up more space for him to bang on fools.  The best thing about Jonas is that you're getting the most NBA-ready European in this draft, but he also has the highest ceiling.  You want Valanciunas on your team because no matter what, you know he's going to get that tough offensive board, dunk fearlessly over anyone, and play as hard as or harder than anyone on your team.
Projection: Top 5 pick in 2011
Simonas Baranauskas, Lithuania Basketball (@LithuaniaBasket)
Want to bank your pick? Well, you'd better pick the soft-handed big man Jonas Valanciunas, who'll not only be a solid building block for the franchise, but possibly even has star potential. Already in his rookie season in the Euroleague, the 18-year-old had the rebounding rate comparable to the one of Kevin Love in the NBA. However, the main set-back for the Lithuanian was the lack of strength, which caused him nightmares against tougher opponents. With that said, there's a fix for everything and the one for Valanciunas is a pass to the weightroom.
Os Davis, BallinEurope (@bie_basketball)
You gotta love the aggression in the paint by Lietuvos Rytas' center, but there's still one pernicious bugaboo for this Lithuanian: Fouls. While Valanciunas is a machine on the offensive glass, he's also (still) more than a bit of a hacker. Can he clean up his game in the paint? Can he shoot a 12-foot jumper? What would be the reaction to his, let's say, physical game in the NBA? Answers: Possibly, not yet, and whoo boy one can only imagine.
Alejandro Gonzalez, NetScouts Basketball (@Eil82)
Please don't go. I want him in Europe, dominating the paint for years. He will likely be a pretty good player in the NBA, and the best pick you could get in this draft from the international group, but this is ELA and we love Euroleague basketball!
Bleachy Tips:

Euroleague.net Stats (Including Nike Juniors)
LKL Stats (Lithuanian League)
FIBA Profile (2007-2010. You might want to glance at these.)