By: Freaknick/@euro_adventures
This week brings us ten new additions to the big board consisting of eight fresh signings, a Lithuanian no longer on loan and one guy that I simply missed in my last ranking. Oops. Time to make things right, starting with literally the biggest acquisition of the Euroleague offseason.
Sofoklis Schortsanitis, Center, Maccabi Tel Aviv (from Olympiacos)
Honestly, is there a more known commodity in all of European basketball than Big Sofo? Dubbed "Baby Shaq" for his dominance against the USA in the 2006 FIBA World Championships, "Summer Shaq" for his impressive hoopage for the Clippers in summer league play, and spots with both Olympiacos and Maccabi already on his résumé. Can he really be just 25 years old? He could eat other men his age. With the whimsical Pini Gershon ousted from the Maccabi sidelines, look for new Coach David Blatt to employ a much more steady rotation with the newly slimmed down Sofo (no, not a joke; lost about 50 pounds coming into last season) topping out at around 20-25 minutes per game. And after going up against Sofo's Greek destroyers this September in Turkey, Team Russia's head coach will have had his fill of Schortsanitis in the opposition's jersey.

Ibrahim Jaaber, Point Guard, AJ Milano (from Lottomatica Roma)
My. Boy. Remember when I picked him to lead the Euroleague in scoring? Yeah, I've been trying to forget also. But after the first four weeks when Ibby averaged 16 per game and Roma was 4-0 I was looking pretty smart. As is always the case though, my wisdom never lasts and he crapped out 16 points over his next five games. So 63 in weeks 1-4, 16 in weeks 5-9. When he tried to wash the bad taste from my mouth with a 23-point game vs. Union Olimpija in week 10 it was too late.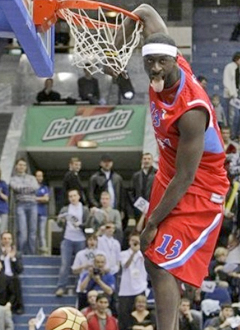 But I'm a devoted follower of each and every one of my senseless infatuations and Ibby's no exception. The best news in all of this is that he heads to AJ Milano, already piloted by speedster Morris Finley and famous for their fastpaced brand of hoop. No more launching it up over double teams or elbowing your way inside the arc for an awkward jumper. STOP: Jaaber time.
Pops Mensah-Bonsu, Power Forward, Caja Laboral (from CSKA Moscow)
It's no secret that I'm a fan of athletic bigs, and Pops might be one of the world's best examples of that. Screw basketball 'purists' who think a back-to-the-basket game is a must for any self-respecting big man. These days you're more likely to find a power forward working on their 3's than doing a Mikan Drill, so three cheers for Pops and anyone else who'd rather grab an offensive rebound than hit an 18-footer. Let's make it official: Caja Laboral will lead the Euroleague in scoring next season and will replace Olympiacos as the 'fun' team to watch. Are they my championship pick? Let's not get carried away just yet.
Rasho Nesterovic, Center, Olympiacos (from Toronto Raptors)
He's 34 now and not what he used to be. A good question might be: what did he used to be? A cumbersome piece of defensive machinery who clogged things up offensively yet always seemed to make teams better. Now that his 12th year of NBA service saw his minutes drop beneath 10 minutes per game he decided it was time to move closer to home sweet Slovenian home. He's won here before though, as he picked up a Euroleague title with Kinder Bogna in 1997-98. He'll still be effective but in a frontcourt that already includes Ioannis Bourousis, Nikola Vujcic (possibly not), Matt Nielsen and Andreas Glyniadakis he's not adding the athleticism that the Reds will sorely miss this year.
Malik Hairston, Small Forward, Montepaschi Siena (from San Antonio Spurs)
When Montepaschi re-signed Rimantas Kaukenas I applauded the pick-up (or the bring-back) but needed something esle to satiate my thirst for a perennially competitive Siena team. Kaukenas was great, but he was still 33. Pietro Aradori is in line for a big time breakout season in my book, but he's still just 21. If we could just average out the age and find a slashing, strong small forward to D up a position or two then Bo McCalebb and Ksistof Lavrinovic would have a well-constructed group around them just like they deserve. Why hello there, Malik. Nice to see you.
He's got the physique and the mentality to fit in immediately after a year with Popovich and the Spurs which ended with him averaging 29 per game in the D-League, which is impressive despite the 2,000% stat adjustment exercised due to the absence of defense in the NBA's little project. He won't make people forget about Romain Sato, but he'll be good for a season-long distraction.
Kyle Hines, Power Forward, Brose Baskets Bamberg (from Prima Veroli)
The classic case of an undersized big guy who can rebound the shit out of a basketball yet never gets the looks he deserves. 18.5 points and 8.1 rebounds is no small feat even in the Italian Second Division. Think of a smaller Travis Watson who cares.
Mario Delas, Forward, Cibona (on loan from Zalgiris)
It'll be nice to see what he can accomplish with big minutes for a smaller club after surviving the ruckus in Kaunas last season with Zalgiris. He's only 20 years old and if he ditches the Dirk impersonation on offense we'd all be better off. Take it to the hole, Super Mario.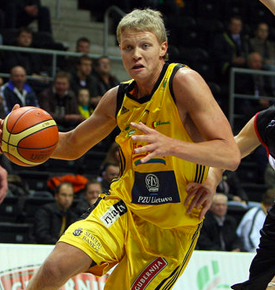 Mindaugas Kuzminskas, Small Forward, Zalgiris (back from Siauliai where he was on loan)
I had the chance to watch Mindaugas play live three different times this past season—twice in the Baltic League Final Four and once in the LKL semifinals—and he left me with a different impression each quarter. They ranged from "he looks like the descendant of a Nordic alien that gave birth to Tayshaun Prince" to "Wow, what a Durant-esque look to his jumper. I'd draft him in a heartbeat, but he still looks like an alien." The final verdict was a combination of the two, but he'll be a nice source of depth at a position which now features Dainius Salenga in a starting role. Stealing minutes from the veteran is only step one in his planet's mission to take over the galaxy.
Dimitris Katsevelis, Guard, Olympiacos (from Thessaloniki)
I can't tell you too much about Dimitris, but if Olympiacos is putting its faith in the 19-year-old then I trust his potential. They might loan him out for a season, but practicing with Papaloukas, Teodosic and Spanoulis should yield a diverse array of offensive philosophies: pass, shoot, drive. Hope he listens to them all.
Andrea Iannilli, Forward, Lottomatica Roma (from Mazzeo San Severo)
More of a sidenote to the Darius Washington re-signing (remember, The Dotted Line Up focuses on fresh faces), Andrea has some skills of his own. More like, "a" skill of his own: rebounding. Can't have too much of that.
And while these ten are getting fitted for new jerseys, check out where I ranked them on our newly updated 74-man list. Remember that on The Dotted Line Up, team need, individual abilities, and my own personal grudges will be taken into account somewhat equally. Your opinions, if unretarded, might be also. These rankings reflect expected contributions for the 2009-10 Euroleague season, which is why you'll find most of our prodigious teenagers near the bottom. File complaints below:
| Rank | Player | Team | He's here because... | Last Line Up |
| --- | --- | --- | --- | --- |
| 1 | Aleks Maric | Panathinaikos | PAO is back on the map as championship contenders with a busy offseason. Last offseason's lull hurt them in the EL. | 1 |
| 2 | Terrell McIntyre | Unicaja | I think T-Mac has enough in the tank for one more dazzling season. He'll have new life in Malaga. | 2 |
| 3 | Romain Sato | Panathinaikos | He can finally take some defensive pressure off Diamantidis while scoring in bundles. | 3 |
| 4 | Bo McCalebb | Montepaschi | Malik Hairston is his newest toy in Siena. That team is starting to come together. | 5 |
| 5 | Vassilis Spanoulis | Olympiacos | If they're not going to sign a forward that can make some plays, his penetration becomes much more important. | 6 |
| 6 | Marko Tomas | Fenerbahçe | F**k Jacob & Edward. I'm #TeamMarko. | 4 |
| 7 | David Logan | Caja Laboral | Add Pops to a team that was built to run in the first place. | 7 |
| 8 | Ali Traore | Lottomatica Roma | It's nice to have a big man to run your offense through. They need to put shooters around him. | 8 |
| 9 | D'Or Fischer | Real Madrid | This team is dying to be exciting. With enough talent, maybe Messina will let Llull/Rodriguez/D'Or do their thing. | 9 |
| 10 | Brad Newley | Lietuvos Rytas | I's been harder to dislodge Newley from this spot than almost anyone else on the board. He looks good in the top ten. | 11 |
| 11 | Lawrence Roberts | Efes Pilsen | I think of him as 10-a. | 12 |
| 12 | Pops Mensah-Bonsu | Caja Laboral | When given freedom, he performs. Caja can't afford not to. | - |
| 13 | Malik Hairston | Montepaschi | A very symmetrical replacement for Romain Sato. | - |
| 14 | Andrew Wisniewski | Efes Pilsen | Droping because of the wealth of talent in front of him, not personal issues. Efes needs to give him the reigns. | 10 |
| 15 | Omar Cook | Valencia | It remains to be seen how de Colo will adjust to off-ball scenarios. If he's still in Valencia at all... | 15 |
| 16 | Richard Hendrix | Maccabi | Sofo's a nice to guy to have in your frontcourt. He softens the defense up so you can come in and clean up. | 14 |
| 17 | Robertas Javtokas | Valencia | In the spirit of Shark Week, The Hammerhead remains in the top 20. | 13 |
| 18 | Sergio Rodriguez | Real Madrid | He'll love throwing it up to Fischer. Lavrinovic/Reyes not exactly "flyers" for 09-10 squad. | 16 |
| 19 | Paulius Jankunas | Zalgiris | Not that Mario Delas would directly rob minutes from him, but now Jankunas will have even more time to regain his 08-09 form. | 18 |
| 20 | Krzysztof Szubarga | Asseco Prokom | Keeping Ronnie Burrell means keeping the defense honest. | 17 |
| 21 | Matt Nielsen | Olympiacos | Damnit, Matt. Why'd you have to go to Olympiacos? Just doesn't spice up that slow frontcourt. | 19 |
| 22 | Uros Tripkovic | Unicaja | He will lead the EL in 3-pointers. You heard it here first. | 20 |
| 23 | Jamont Gordon | CSKA Moscow | Remains to be seen where he fits into Vujosevic's plans, but it definitely won't be on the bench. | 21 |
| 24 | Ibrahim Jaaber | AJ Milano | Now he understands what works in Europe vs. what does not. Dangerous. | - |
| 25 | Nemanja Bjelica | Caja Laboral | With a finished roster, Bjelica looks like a solid sub, possible starter at SF. | 22 |
| 26 | James Augustine | Valencia | He can play halfcourt or uptempo, which may change game-to-game based on Valencia's match-ups. | 25 |
| 27 | Rimantas Kaukenas | Montepaschi | The Hairston signing takes SO much pressure off of the 33-year-old. | 23 |
| 28 | Dusko Savanovic | Valencia | Valencia has done a beautiful job building a big man by committee. | 26 |
| 29 | Pietro Aradori | Montepaschi | Likewise for Aradori, but he'll still get his chances to shoot. | 24 |
| 30 | Kaya Peker | Fenerbahçe | It's tough for me to put Kaya this low after his workmanlike consistency throughout his career. | 27 |
| 31 | David Hawkins | AJ Milano | Finley/Jaaber/Hawkins figures to be weekly entertainment in Milano. | 28 |
| 32 | Sofoklis Schortsanitis | Maccabi | Tough to rate him based on his sporadic spurts of productivity. This'll work for now. | - |
| 33 | Miroslav Raduljica | Efes Pilsen | No question that this kid can play. I hope Pilsen lets him go a little bit. | 29 |
| 34 | Rasho Nesterovic | Olympiacos | Not the gamechanger they needed down low. | - |
| 35 | Kosta Perovic | Barcelona | He'd be a great pickup for anyone else. For Barca he's just another guy. | 31 |
| 36 | Darjus Lavrinovic | Fenerbahçe | And only a week after I lift him up, time to slide him back down to make room for the cool kids. | 32 |
| 37 | Mikhail Torrance | Maccabi | Love when teams capitalize on potential NBA draftees who slipped through the cracks. Keeps 'em hungry. | 33 |
| 38 | Kostas Kaimakoglou | Panathinaikos | I've moved Kostas more than anyone on this list. This week he jumped up. Lucky him. | 44 |
| 39 | Elishay Kadir | Maccabi | Always important to lock up homegrown talent. | 34 |
| 40 | Luc-Arthur Vebobe | Cholet | May end up on my All-Beastly team. | 35 |
| 41 | Mindaugas Kuzminskas | Zalgiris | The extra dose of talent and versatility that Zalgiris needs. | - |
| 42 | Milovan Rakovic | Montepaschi | Does the EL test for steroids? | 36 |
| 43 | Cenk Akyol | Efes Pilsen | I like ol' Cenk a lot. He could definitely outperform this ranking. | 39 |
| 44 | Sergey Bykov | CSKA | I really need to see how the CSKA backcourt shakes out before I rank him appropriately. | 37 |
| 45 | Ian Vougioukas | Panathinaikos | If he makes the Greek team it would mean some great experience. | 45 |
| 46 | Kyle Hines | Bamberg | Rebounds and defense never hurt anyone. | - |
| 47 | Clay Tucker | Real Madrid | Should see plenty of good looks with Rodriguez/Prigioni runnin' thangs. | 38 |
| 48 | Omar Samhan | Zalgiris | More room to grow with Delas on his way out. | 40 |
| 49 | Engin Atsur | Fenerbahçe | A ruptured achilles and he's out four months. Devastating blow for a guy I was expecting to blow up. | 30 |
| 50 | Mario Delas | Cibona | At least CIbona is giving themselves a chance to surprise people. | - |
| 51 | Jerry Johnson | Lietuvos Rytas | With Newley and Kelys on board, Rytas should play much faster next year. | 43 |
| 52 | Arvydas Sisknius | Lietuvos Rytas | Smooth offensive player who plays hard. | 41 |
| 53 | Erwin Dudley | Efes Pilsen | Efes Pilsen should never let a rebound touch the ground ever. Great offseason. | 42 |
| 54 | Jure Lalic | Cibona | Cibona is going to bring one or two more semi-big signings late. They have to, right? | 47 |
| 55 | Jaka Klobucar | Partizan | It would be great if he could spell Bozic/Kecman. | 48 |
| 56 | Pablo Aguilar | Real Madrid | Says he wants to play for Caja. That'd be great for everyone except Madrid. | 51 |
| 57 | Tal Burstein | Maccabi | It must seem like I'm hating on the veterans pretty hard. Sorry. | 54 |
| 58 | Romain Duport | Cholet | He'll block some shots. So that's cool. | 50 |
| 59 | Jeff Foote | Maccabi | Until they sign someone else down low (they have to) I'll keep him slightly higher. Congrats, Jeff. | 49 |
| 60 | Zydrunas Kelys | Lietuvos Rytas | Has Speedster ever been mentioned among possible Lithuanian NT point guards? | 46 |
| 61 | Dragan Milosavljevic | Partizan | If it's not Klobucar who steps up on the wing, it better be Dragan. | 52 |
| 62 | Nicolo Melli | AJ Milano | This signing will look terrific in two years. Wait on it. | 53 |
| 63 | Andrea Michelori | Montepaschi | Part of a bulk signing to make MPS feel good about their interior D. | 55 |
| 64 | Andrea Iannilli | Lottomatica Roma | He'll contribute, which is more than I can say about some of the guys below him. | - |
| 65 | Gabriele Ganeto | AJ Milano | 11 and 5 in the Italian Second Division's all I have to go on. So...yeah. | 56 |
| 66 | Giedrius Staniulis | Lietuvos Rytas | He and Valanciunas should have some fun practices. | 57 |
| 67 | Rasko Katic | Partizan | Lord have mercy on the man who's expected to fill in for a 7'6" behemoth. | 58 |
| 68 | Cemal Nalga | Lietuvos Rytas | Is Rytas going to have enough jerseys to go around? | 59 |
| 69 | Eimantas Bendzius | Lietuvos Rytas | Well Rytas certainly has options on the perimeter. Good ones? Not sure yet. | 60 |
| 70 | Meredis Houmounou | Cholet | He doesn't need to buy a vowel. | 61 |
| 71 | Drago Pasalic | Cibona | Thinking of donating the contents of my piggy bank to CIbona. | 62 |
| 72 | Paulius Dambrauskas | Lietuvos Rytas | Couldn't let him rot at the bottom of the list forever. | 63 |
| 73 | Dimitris Katsivelis | Olympiacos | While some of the guys around him on the list might get some PT, he'll likely be loaned out. | - |
| 74 | Gustavo Barrera | Unicaja | Had to give someone else a shot in the cellar. | 64 |