By: Nick Gibson / @euro_adventures
On the fourth day of March, in this 2011th year since the alleged birth of Jesus, Fenerbahçe Ülker was pronounced dead. Initial autopsy results show they died from shattered confidence and a broken jumper, a pair of afflictions that together, often prove fatal.
The body suffered its initial blow this summer, when it ruptured its Engin Atsür tendon while training for the World Championships to be hosted in their own own backyard. But then a springy Slovene by the name of Gasper Vidmar bounced and boarded his way into Fenerbahçe's veins, infusing their blood with a violently hopeful swagger and restoring the rouge to their jaundiced faces. A silver medal to hang on mother's fridge lifted the Turkish tide, and Fenerbahçe's paddle boat soared skyward to occupy a spot normally reserved for Europe's titans. They exploited their perch among the foamy breakers and led a life of piracy, plundering Barcelona one week and Montepaschi the next. They reapportioned the spoils of war equally amongst their contributors, their leader Roko Ukic ever wary of negative morale and its ill effects.
Roko's leadership was an exercise in modesty; he played it close to the vest, was tightlipped and content to let his bullets sleep in their steel chambers. He preached symbiosis and an appreciation for one another's talents. Selfish behavior could manifest as an inflamed ego, and such a thing could lead to a schism between teammates or, worse, a mutiny. Roko's shoulder blades clenched at the mere mention of imbalance or distrust between wearers of the blue and yellow. So Roko kept on, leading Ülker past Euroleague giants.  Adroitly, and with passion.
And then the lips beneath Vidmar's crewcut uttered the horrid news: my dunks and I are not long for this world. A little bit of Fenerbahçe died right then and there. Vidmar's icy realization froze a chunk of their soul which will only begin to thaw now, in a blue and yellow striped casket.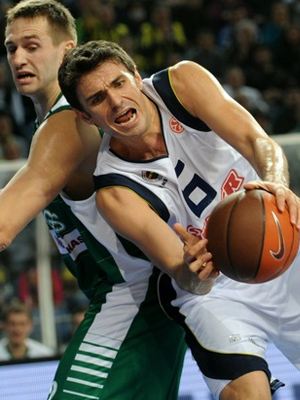 But sometimes a dying bud can fertilize the soil beneath it, fortifying a wilted warrior. This was the case for Fenerbahçe, as Mirsad Turkcan gallantly offered up his own rickety bones, soaked with experience, for one final ride to the top. His footwork was a page ripped out of a textbook, his nose for the ball more bloodhound than human.
Twelve rebounds here. Another fourteen there.
Gasper Vidmar smiled from the sidelines like a toddler watching his father bait a hook or throw a football. Even the mundane seems miraculous when you're witnessing a master at work. Gasper knew that Fenerbahçe was down one knee, but still in excellent hands.
Behind their raucous supporters and a resurgent Mirsad Turkcan, Fenerbahçe stormed into the Top 16 with three straight wins, and the Final Four whispers turned into legitimate discussion. Having conquered the mighty Reds in Piraeus, it seemed the only thing standing between them and a slot in the playoffs was a monumental lapse in focus.
Then Mirsad Turkcan went down, and he went down hard. I, nor the most talented Euroleague scribe, could ever convey their loss with jabs at a keyboard.
He had contorted his ligaments into some muscular pretzel. He stretched his tendons too thin and exhausted his patellas' cartilage reserves. Losing Gasper had unchained a frightening, youthful version of Mirsad, but now the kennel was empty. Oguz Savas and Sean May weren't salivating the way Turkcan had been. They hadn't faced the scorching reality of a career in its twilight. Mirsad knew the feeling all too well, and attacked every rebound like it could be his last meal.
Fenerbahçe's aggressive efficiency quickly atrophied into a reckless urgency, and their play suffered. Emir Preldzic put on his bravest face and tried to yank their season out of the doldrums, but it was too late.
In their final battle, the ball seemed to lose a little air each time it touched Fenerbahçe fingertips, preserving its buoyancy for Omar Cook and his battalion of Valencianos. Svetislav Pesic thrust his forearm into their chest, but resuscitation was futile. Death crept closer with each clanked jumper, and as the seven point deficit grew to nine, eleven and onward to fourteen, even Roko had to hang his head.
—————
The flowers are doused with a fresh coat of whiskey. They shield the tombstone from the sun. I brush them aside and put the liquor to my lips as I read the words engraved beneath. It's in Turkish. I wonder to myself how I would immortalize this team in a single sentence if handed that weighty responsibility.
I peer out across the Bosphorus. I know Fenerbahçe Ülker is alive on the tides, paddling furiously. They'll soon wash up on the shores of greatness.
Breathless.
Related posts: