by Nick Gibson / @euro_adventures
*Read full article on SLAMOnline*

Drew Nicholas ran frantically to his right and launched up a prayer. By the time his body was squared to the rim, the ball had splashed its way through the net and Maryland had yanked themselves from the clenches of UNC-Wilmington's upset bid. Nicholas left his hand up long enough for everyone to know who had ended the Seahawks' tourney before running off into the tunnel.
He kept running all the way to Italy, Turkey and now Greece, where he will lead Panathinaikos into the Euroleague playoffs starting March 22. Once your brackets are sufficiently wrinkled and red penned, take a breather with the Euroleague.
The home team is listed first, and the playoffs follow a 2-2-1 format. Winners advance to the Final Four to be held in Barcelona from May 6-8.
Game 1: Tuesday, March 22
Game 2: Thursday, March 24
Game 3: Tuesday, March 29
*Game 4: Thursday, March 31
*Game 5: April 6 0r 7
*if necessary
Caja Laboral (9-7) vs Maccabi Electra (12-4)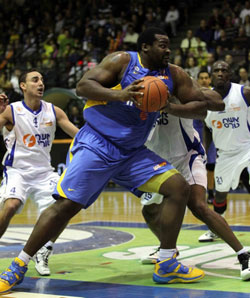 Key to the Series: Sofoklis Schortsanitis vs. Tempo.
Sofo was fresh off his summer routine. Hit up the States for a Summer League tour with the Clippers as analysts scrounge the cliché wells for a novel new nickname (sorry; Baby Shaq and Summer Shaq have run their course). After flattening a healthy portion of D-Leaguers and undrafted mid-major graduates, Sofo's off to Greece to hang with the national team. And once he's helped Hellas through the requisite FIBA event, Piraeus usually beckons with promises of a hefty dose of Greek gaming sprinkled with a little Euroleague. But this September, for the first time since 2005, he was assigned to a different venue: Tel Aviv. Even in Israel, Sofo couldn't evade the elephant in the room.
Him.

-Looks like he lost weight.
-Nah. Helped himself to one too many Whoppers over there in America.
-Let's hope he can stay on the court this year.
-I wouldn't count on it. Same old Sofo.
And so the dialogue goes, year after year. And in Maccabi's EL opener, Sofo looked heavy against a light-footed Caja Laboral team, putting up 9 points and 2 boards in a loss. That game still stands as Sofo's worst in a Maccabi jersey, and the Israelis won their next nine contests, led by Chuck Eidson and a… Continue Reading