By: Henner Schlaefke / @gruebler
I know, I know. The whole international basketball community is busy with the NCAA's March Madness right now. But here in Europe the national leagues are close to the end of the regular season. You may be surprised how closely the two are related.
Here in Germany, six out of 34 games are left in the fight for the best position for the upcoming playoffs (starting April 30th), and it's about as hot as it can get. With the American madness in mind, we have an opportunity to show how US basketball has made its mark on the German League, especially at the top levels. But as a fan of ALBA Berlin, you probably understand that I'll focus on my team.
Just this past weekend we had two gamedays, and ALBA Berlin, who fired coach Luka Pavicevic (who played at Utah from 1985-87) in January and hired former Israeli and Polish national team coach Muli Katzurin, is back on track. On Friday ALBA beat 5th ranked New Yorker Phantom Braunschweig 94:70.
Berlin's top scorer was Bryce Taylor (College: Oregon) who had 18 points (7/9 FG), 7 boards, 5 assists and 3 steals. Taylor is the son of former NBA player Brian Taylor. Despite the high loss, the Braunschweig Phantoms put up quite a fight and proved that they have a decent roster featuring famous Americans Florida State's LaMarr Greer (17 points) who still fights for the kids of the projects he was raised in, WVU's Marcus Goree who went all the way to win the Euroleague with CSKA Moscow and Virginia's Jason Cain.
Yesterday the highlight game between the second ranked Deutsche Bank Skyliners Frankurt and ALBA Berlin took place in front of a crowd of 5'002 at the sell-out Ballsporthalle Frankfurt.
It was a tough game in which ALBA Berlin's Taylor Rochestie (College: Washington State) got into foul trouble, while Frankfurt's Dashaun Wood who's pictured at the top of the article (College: Wright State) first scored at will. Wood is the most likely candidate for this year's MVP title in the German league as he's putting up really impressive stats: 18.9 ppg, 5.7 rpg and 5.9 apg. Although he just extended his contract with the Skyliners, most believe he'll take a shot at an NBA roster this summer.
But led by Tadija Dragicevic (53rd overall pick by the Jazz in 2008) and Derrick Allen (University of Mississippi), who only signed with Berlin last summer after three seasons with the Frankfurt Skyliners, Berlin made a come-back and took the lead.
So let's have a closer look at the currently 3rd ranked Berlin Albatrosses. On their 12-man pro roster there's just two players who never played in the US: German internationals Sven Schultze and Heiko Schaffartzik. If you follow European basketball, you'll remember Heiko from his dazzling performances against Croatia and Greece in the 2009 Eurobasket:
Apart from these two, every single player on ALBA Berlin's roster has a link to the US. Let's start with the three other German internationals: SG Lucca Staiger notoriously left Iowa State midseason last year and destroyed his tiny chance to be drafted; Center Patrick Femerling played for the Washington Huskies from 1995-1998; Yassin Idbihi put up 15 and 9in his senoior year at Buffalo, where he played from 2003 to 2007; our two players from former Yugoslavia both caught the eyes of NBA scouts coming into their respective drafts— Dragicevic made it and his rights still lie with the Jazz, but Center Miroslav Raduljica, who came to Berlin just some weeks ago on loan from Euroleague club Efes, went undrafted last summer. This came as a surprise to many, making DraftExpress' Jonathan Givony lose a bet, having mock drafted him as 46th pick… read his praise before the draft.
That's all when it comes to Non-American players on ALBA Berlin's roster. Our franchise players are from the US. Georgia Southern alumnus Julius Jenkins is Berlin's go-to-guy for the fourth season in a row now and is a two-time league MVP (2008, 2010). Our glue guy Immanuel McElroy made it to the Sweet Sixteen with the Cincinnati Bearcats in 2001, but his pro career in the states is no match for his successes in Europe (All EuroCup First Team 2010 and four-time Defensive POY in the German League), as he played for CBA teams like Gary Steelheads and Dodge City Legend. And as mentioned before, starting pointguard Taylor Rochestie was a Cougar, Bryce Taylor an Oregon Duck and Derrick Allen a Rebel at Ole Miss.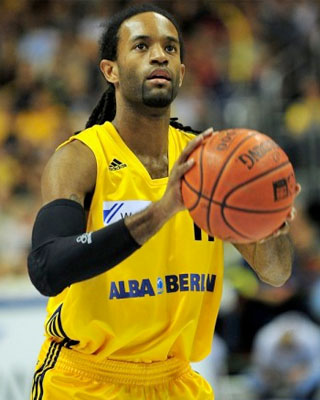 Having this said, you see that although most players starring in the March Madness won't make it to the NBA, some of them – and not necessary the likely ones - will keep playing basketball professionally. Take a look abroad, especially in a league like the German one (Editor's note: or the Belgian one. Rosters chock full o' Mericans.), which heavily relies on US players and you might find a guy who played at your college.
A good game to watch will be next Saturday's match between ALBA Berlin and Brose Baskets Bamberg. Bamberg had some good games in this year's Euroleague, most notably upsetting Olympiacos, Real Madrid and Unicaja in group play, although they didn't make it through to the Top 16. They dominate the German league with a nearly perfect 26-2 record. (For a comprehensive view on all likely German playoff teams see my post on Interbasket).
Bamberg is starring 2010 draft pick  Tibor Pleiss (drafted 31st by the Nets, shipped to the Hawks and then sold to the Thunder) who puts up 9.3 ppg and 6.7 rpg in just over 20 minutes and leads the league in blocks. Their American franchise player undoubtedly is Stanford alumnus Casey Jacobsen, drafted by the Suns as the 22nd pick way back in 2002. He's the German League's leader when it comes to NBA experience (287 games with the Suns, Hornets and Grizzlies). Other Americans playing in the Bavarian town of Bamberg are UNC Wilmington's John Goldsberry (PG), Greensboro Spartan Kyle Hines, Tarheel Reyshawn Terry and Dayton Flyer Brian Roberts.
All those former collegiate players will play Saturday in front of a 14,500 sell-out crowd in the NBA-style O2 World Arena in Berlin, coincidentally an arena owned by L.A. based AEG Group, who also have a stake in the Lakers. But at least until now, no German team is US-owned.
Until some years ago, most Germans didn't really understand the significance of college sports in America. Personally, I didn't understand the relevance before my fellow blogger Oldschool Baller, an Ohio State alumna, explained it to me and I spent a summer in NYC. Now, on our blog and our Facebook page, we try to feature it more and raise awareness for this incredibly fascinating event within the German basketball community.
Because you never know which American college star of today might show up on the German hardwood tomorrow.
Henner Schlaefke is the creator of Grübelei, the best damn German basketball blog on the web. He runs the site along with fellow scribe Oldschool Baller and roots hard for ALBA Berlin. Follow him on Twitter @Gruebler and be a fan of the blog on Facebook.