By George Rowland / @georgerowland
In a pair of scrappy games in Worcester a young Latvia squad twice defeated Great Britain, 77-73 in the first game and 76-68 in the second. With both squads facing wholesale absences due to injuries, club team commitments and the NBA Summer League there was great scope for experimentation and plenty of scope for young players to prove themselves.
Strelnieks the Star
The star of the weekend was Latvian Point Guard Janis Strelnieks. With his slashing ability demonstrated in the first game, and his playmaking and defensive ability in the second, he displayed why he has drawn the attention of a number of Euroleague clubs this off-season.
Strelnieks has the sibylline ability to make the most difficult play look utterly facile. Two plays notably stick out from the second game. The first came in the second quarter in transition when Strelnieks looked off three GB defenders to throw a pinpoint no look pass across court to find Kristaps Janicenoks who drained a three while taking contact from Gareth Murray.
The second came in the closing moments of the third quarter, with the shot clock running low Strelnieks took a screen from Andrejs Grazulis facing pressure from Dan Clark and Paul Guede, Strelnieks agains looked off the Great Britain defence, with his eyes staring down Grazulis the Great Britain defence to collapse in, without hesitation Strelnieks took one step back and fired a pass to Janis Timma in the left corner to make an open three as the shot clock buzzer sounded.
Neither of these plays is likely to be memorable beyond the weekend but reveal a strongly desirable and positive trait, an enormous field of vision. Whether on-ball or off-ball, offence or defence it seems he doesn't stop glancing from side to side assessing the opponent and his own teammates as a play progresses. While it looks a little unnatural at times it is what affords him the time needed to make the plays like the ones described above.
Frustration for Devon van Oostrum
On the other hand it was a disappointing weekend for GB point guard Devon Van Oostrum. Shouldered with the majority of the playmaking responsibilities in a squad lacking any other true point guard, Van Oostrum bore the brunt of an aggressive Latvian press in the second game on the way to five turnovers. This upcoming summer could be a pivotal one for Van Oostrum, after a disappointing season at the end of the Baskonia bench he is now expected to be the primary creative force for GB this summer and will likely need a good 2014/15 season to set him up for the NBA draft. The young Brit was the third point guard for  Sergio Scariolo in a troubled season, and a loan move to ACB side Bruixa D'Or Manresa has been rumoured. Van Oostrum sounded very keen on that as he spoke to ELA after the game on Sunday.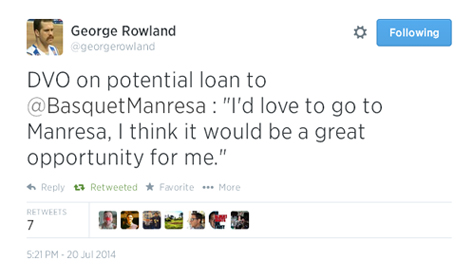 Great Britain were not without bright spots however, perennial fringe player Ashley Hamilton was incredibly efficient, finishing well at the rim, knocking down mid-range jump shots and making a pest of himself at the defensive end against a Latvian team that lacked a true centre.
His fellow big man Dan Clark was the leader for GB in many aspects, with Van Oostrum struggling in the second game, and a lack of creativity elsewhere the impetus lay on Clark to create his own shot in the post going up against Rolands Freimanis. Clark, who sat out the majority of last season rehabbing an injury, also showed a deft touch passing, finding Myles Hesson for a back door alley oop in the closing moments of the second game, as well as his typical long range shooting ability.
Depth makes the difference for Latvia
Other than Strelnieks, the difference in this game was Latvia's depth, when interviewed coach Ainars Bagatskis stressed that one of the most important aspects developmentally for him was the ability for a player to play across and defend multiple positions, and this was evident from his rotations. The perfect demonstration of this is with Haralds Karlis, a CBA graduate guard currently at Seton Hall University in the USA, in no way could he be described as a player that will fill up a stat sheet. But his ability to adequately defend multiple positions, and switch onto bigger players, such as Kieron Achara (a 6'10" F/C) who he took a charge from; and to perform as a secondary or tertiary ball handler in half court sets gave Bagatskis the flexibility to go into big sets with Karlis as a combo guard or into three guard looks, without sacrificing defensively.
It would be tough to say that either coach is happy with the entire performance of their team the past weekend, but with neither team having a long preparation period there will be plenty of time to iron out any kinks before the Eurobasket qualifiers in August.