Nick Gibson, ELA Creator & Producer (@Euro_Adventures)
Your elbows disappear into silk tablecloth as you bend at the hips and rock back, sinking into your seat. The chandelier dangles from a vaulted ceiling, its light prancing along the edges of the crystal glass in front of you. You reach for your napkin and delicately place it across your thighs, squinting to make out the embroidery: JV. That's why you're here. For him. The finest young appetizer chef Europe has to offer. His creations bring taste buds to climax. Every time.
But such extreme pleasures require sufficient time for recovery before attempting a repeat performance. Meals here last hours, some even days, as Chef Jan peers through the kitchen window, waiting for his patrons to groan with a longing impatience before sending out his next delicacy. It might slip through the cracks of your fork, and it certainly won't fill the dip in your spoon, but Chef Jan loyalists will drop to all fours to pluck the puniest morsel from the white and black carpets if that's what it takes.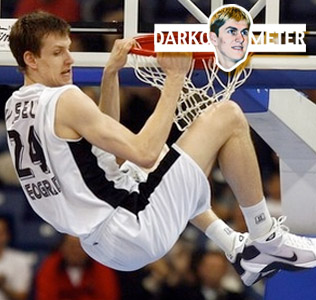 There's a basket with no bread, and two cruets without oil and vinegar inside them. The salt and pepper shakers are full, though there's nothing to put them on. And you wouldn't dare sprinkle it on the food when it does finally show up on your table. Each bite is seasoned to perfection. There's a menu, but its pages are blank. Just as white and empty as the plates on your table. The curiosity, the mounting anticipation is what makes the flavors explode. Chef Jan understands that. Or maybe he exploits it. Either way, nobody seems to care, and nobody ever leaves.
But one day, a man slams his fork down, balls up his embroidered napkin and shoots to his feet.
"Why the Hell doesn't this place serve entrees?"
Nobody in the restaurant moves. The man's red eyes widen and with a huff, his arms fall to his side. He storms out alone. Jan knows he'll never see him again.
Projection: Top 10
Sam Meyerkopf, ELA Creator (@Euro_Adventures)
"Did you see Vesely's dunk last night?"
That might be a common discussion among SportsCenter's Top 10 watchers for the next few years.  Continual highlight worthy plays from Vesely make you thirst even more for solid production from the Czech sensation.  When Vesely is on, he's hitting his mid-range jumper, flying all over the court, and putting his hand up as high as it can go as he sprints to the rim awaiting a lob pass. When Vesely plays at his highest level on the defensive end, he's putting the fear of God into players putting up soft layups around the rim. They pray Jan isn't looming on the weak side waiting to annihilate their shot.
Don't expect consistent production out of Vesely, but expect occasional amazement.  Standing just an inch below 7 feet you would expect him to be able to bang in the post a tad or make a living in the paint.  But that's not always Jan, as he prefers to roam around the court, going from the 3-point line to the hoop when an alley presents itself.  Jan stands tall and long and his body has developed muscularly, but he would still be one of the skinnier dudes in the NBA right now. He's probably a tweener forward, but in an NBA where more big man are interested in extending their range and flying in for dunks rather than setting up in the paint and putting up jump hooks, Vesely could find a role in a team's frontcourt.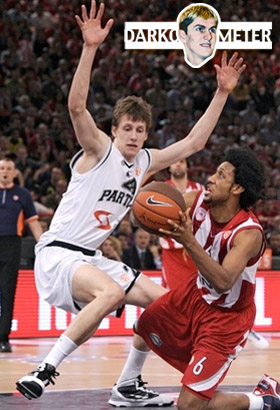 Expect Vesely to have an Andrei Kirlienko-like box score with stats accounted for in most all categories.   He needs to expand his offensive arsenal, whether it's a better face up jumper from 18 feet or smoother footwork down low.  No matter where he ends up, his calling card will always be his crazy athleticism. Vicious slams, insane blocks. That's what has ELA calling Jan Vesely the most athletic prospect to come out of Europe in a decade. Maybe ever.
Projection: Lottery
Simonas Baranauskas, Lithuania Basketball (@LithuaniaBasket)
If you had seen the top plays from at least a single week of Euroleague action, the chances are you are already familiar with Jan Vesely. It's almost a given that it will not take long for NBA announcers to label the high-flying forward 'Czech Air' – a unique nickname, never heard or seen before… If you're a high-paced, up-and-down team, it's time you started preparing the landing strip. Eye-candy guaranteed.
Os Davis, BallinEurope (@bie_basketball)
Vesely's development has been impressive enough in 2010-11 to earn him FIBA Europe's "Rising Star" award, a believable accolade for him – seriously, over 65% on twos? Scary to think how good he might have been, had Dusko Vujosevic stayed coaching Partizan this season. Vesely will once again be projected as a top 10 pick and why not? This is one talented player in the Nowitzki mold.
Alejandro Gonzalez, NetScouts Basketball (@Eil82)
I think he will be better in the NBA than he has been in the Euroleague. He should fit very well in an up-tempo game playing quick transition offense. One of those "catch me if you can, born to run" teams I don't like to watch at all. So, it was a pleasure to meet you Jan.
Bleachy Tips:
Vesely Edges Rubio for FIBA's Rising Star Award
Jan Vesely's FIBA Profile (2008 U18 Stats)
Jan Vesely's FIBA Profile (2007 U18 Stats…impressive)