Nick Gibson, ELA Creator & Producer (@Euro_Adventures)
A deck of cards slams against a table covered in green felt. A faint breeze rattles your arm hairs as the dealer thumbs through it, but you can hear that the cards are stiff. Still stiff. He's spent the better part of three years staining that glossy card stock with his fingerprints, yet all he has to show for it are a few paper cuts and a table full of impatient gamblers. They've read about this game before, seen pictures and even video clips of the cards themselves, and are itching to be dealt in.  The table seats 14 but only a handful remain. Most left a year ago in a grumbling huff. After all, this room has other, more predictable games. Easier to crack and for half the buy-in.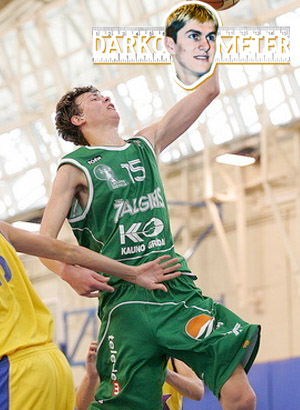 The deck is Lithuanian made, so the Kings are green, Queens are red, Jacks are yellow. And all 52 are wild.

Sam Meyerkopf, ELA Creator (@Euro_Adventures)
If you're looking for the next typical European prospect, you've found him.  It's easy to compare him to Andrea Bargnani; he is a little bit soft and he does have a nice outside jumper, but Donatas is his own man.  He has a deft feel for the game, and you just might see it ooze out of him…depending on the game you watch. You may be in store for some fancy interior passes, a jump hook in the lane, or a picturesque jumper which extends to 23 feet.  Or, Donatas can lull you into a daze with inactivity.  As you wake up from your slumber and look deeper, you find this amazingly offensively gifted big man who could become as good as he wants to be.  With an NBA weight room and a complete post presence, Donatas can wake up that potential of his.
Simonas Baranauskas, Lithuania Basketball (@LithuaniaBasket)
Stereotypes at its best – a long, crafty European big, who lives outside the paint and doesn't care a slightest bit about defense or rebounding. In short, that's Donatas Motiejunas for you. Having lost a lot of hype during the last year, the big Lithuanian is still an interesting and versatile player, but with his well known drowsy effort levels you wouldn't want to have him alongside another soft front-court player.
Os Davis, BallinEurope (@bie_basketball)
It's been a nice season of development for Motiejunas and he even seemed to have gained some of that elusive upper-body strength so badly needed by European big men who wish to jump to the NBA.
Alejandro Gonzalez, NetScouts Basketball (@Eil82)
A high risk pick. An extreme, tough situation and decision. He could explode into an impressively skilled and talented kid who will shine in the NBA, or just get lost in transition. Don't see a halfway here. Pick him and you will have a great player or the guy who ELA will use for their Donatas-meter.
Bleachy Tips:
FIBA Profile for 2009 U19 World Championships
Italian Lega Basket Stats, 2010-11
Eurocup Profile for 2010-11 Season with Benetton Trevsio
Winner of the Eurocup 2011 Rising Star Award
Watch this video, if only for the epic wolf intro: