By: Freaknick
Gather 'round the campfire and listen to a D-lightful story about legendary coaches, giant saviors, and backcourts running amok with Americans!
1.  Can Sergio Llull and Novica Velickovic take the next step together? I don't expect a Kobe-Shaq feud.  Not even Penny-Shaq.  On the contrary.  As an optimist and a fan of high quality basketball, I want to see those two young guns grow up together and mature into a two-headed powerhouse.  With Llull igniting the offense, Velickovic knocking down shots and staying active on defense, and Felipe Reyes doing what Felipe Reyes does down low, head coach Ettore Messina must feel like he's left Heaven and been downgraded to Paradise.  I think both Llull and Velickovic are selfless enough to make this thing work together, but if they want to make a Final Four in their first year together, "making it work" won't cut it.  Last year's Rising Star (Velickovic) needs to keep on climbing and Llull needs to add some rocket fuel of his own.  All that's left for Messina to do is monitor the launch.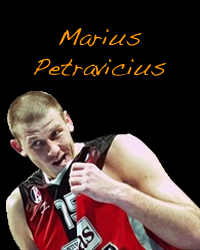 2.  Is Marius Petravicius the league's biggest offseason signing? It might sound like a ridiculous stretch, but hopefully the next few sentences will convince you to reconsider: Armani Jeans Milano's season was a rollercoaster divided into thirds, each section as befuddling as the next.  They started the season with four straight losses before winning seven of their next eight and ultimately dropping their final four contests (the fourth was an inexplicable 72-96 loss to then 0-5 Asseco Prokom in the Top 16).  Giorgio Armani doesn't even have to deal with supermodels this whimsical.  But once the numbers made their way down the catwalk, the reason became shockingly clear:  22nd (out of 24) in team rebounding, 3rd in fouls committed, and 23rd in fouls received.  I look at these numbers and see a diminutive little man dressed like Ricky Martin saying "Hi! I'm AJ Milano and I desperately need a big man or three."  No worries Ricky!  Help is on the way!  Petravicius was the Eurocup Final Eight MVP for Lietuvos Rytas, averaging 12.9 and 6.1 on the season for the Eurocup champs, and he is exactly what AJ Milano needed.  With three players (Hawkins, Thomas, Vitali) averaging double figures last season and four others (Price, Hall, Mordente, Sow) scoring over eight per game, this is the go-to guy they need on the inside when the shots aren't falling.  Call me crazy, but I see a team capable of a run to the Final Eight.

3.  Which backcourt pairing will lead their team to the Top 16? At this point, I'm looking at Panathinaikos and Madrid as locks for the next round with Milano as a probable participant.  The last spot is up for the taking, and Khimki, Asseco Prokom, and Oldenburg will need their guards to lead the way.  Khimki has acquired perhaps the best guard pairing of the offseason with Carlos Cabezas from Unicaja and wily veteran Raul Lopez from Madrid (not to mention former Kansas Jayhawk Keith Langford).  If Daniel Ewing and David Logan both return to Prokom, they'll have a combo that totaled 29 PPG in 2008-09. Like Prokom, the German champions Oldenburg will feature a pair of Americans that can get it done with former Missouri Tiger Rickey Paulding and Arizona Wildcat Jason Gardner.  The games between these three teams will end up determining the fourth team, and I suspect the real fireworks will take place beyond the arc.