By: Enrique Castellano / @Elcarreton_
If you want the Spanish version of this article you can find it on Solobasket.  The second part on the "State of  Spanish Basketball" will be released later this week.
In the last decade, Spanish basketball has been one of the most sucessful in the history of European Basketball. On one hand, they have their national team, who have won a lot of medals (two gold, one silver and one bronze in EuroBasket, one gold medal in the World Championships and two silver medals against Team USA in the Olympic Games). In Spain, they have been named as "ÑBA". On the other hand, ACB was considered as the best league in the world after the NBA. This competition exports more NBA players than any other league in the rest of Europe.
How did this happen? At first, teams and the federation did a great job at the youth level. The consequence of this was an 80's generation, the Juniors de Oro or Golden Boys: Pau Gasol, Jose Calderon, Juan Carlos Navarro, Germán Gabriel, Berni Rodríguez, Carlos Cabezas, Felipe Reyes. They won the U19 World Championship in 1999 and were the foundation of the national team during the 2000's and remain so today. They've made people proud of basketball in Spain.
During that period of time, Public Administrations were interested in investing in sports because they want things to show off their "great" management. Consequently, teams started to build new projects and teams with public money or with sponsors very close to Public Administration. The best example of this was the fee that teams have to pay to play in the ACB since this is a private league without ties to the Spanish Federation. That fee is around €7.800.000 . (Split into: three million when you play for your first time in the ACB + three million to change your situation into a SAD + 1.8 million in case you fall down to the second division). All that process was paid by a Local Public Administration. ACB also has a team, Herbalife Gran Canaria, that is owned by Cabildo (Provincial Council) of Gran Canaria. They bought the team when they funded this process.
But teams not only had public money to build their projects. They had  big sources of money in TV rights and Naming rights.
TV Rights: At the beginning of the decade, Canal + (Private TV, you need to suscribe to be able to watch) paid around €36 million for four years. People thought that it was a very good financial operation, but then they find out it wasn't at all.
Naming Rights: They were a big money source, but that has changed a lot during the last 10 years. Almost every sponsor in the ACB was a company very close to a Local Public Administration or even was a public company. Most of them were related to construction or real estate business.
If you start to follow teams who had a big dependence of their main sponsor, you can find that almost every team has been in bankruptcy: Los Barrios, Granada, Lleida (three times refunded), Mallorca, Cáceres, La Palma, Alicante, Girona, León…they all disappeared when the Crisis started. Public Administration didn't lend more money to the teams. Until the mid 2000's, Spain's lower divisions, LEB 1, LEB 2, LEB 3, had 50 professional teams, and now they only have 18 with several youth ACB teams included.
These are just several of the signs pointing towards a Spanish basketball crash after the nation hosts the 2014 World Cup.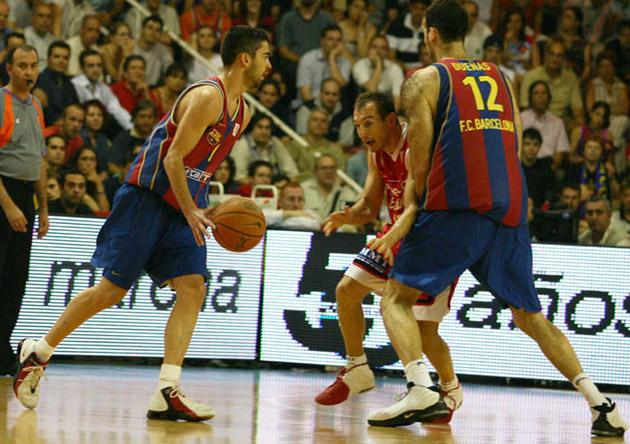 ACB Still The Second Best League in the World
At the beginning of the 90's, ACB was one of the more important competitions in Europe. FC Barcelona and Real Madrid had a leading role and other teams like Joventut and Estudiantes were talented and competitive. In the late 90's-early 00's, middle-class team such as Baskonia, Málaga and Valencia surged onto the European scene: Baskonia reached the Euroleague Finals, Málaga played in the Korac Cup in back to back years (winning one), and Valencia reached the Saporta Cup Finals.  They were growing and making money. They joined the top tier of Spanish teams.
The day when Pau Gasol went to the USA and became a star in his first year, people started to consider whether the ACB was the second best league in the world. ACB separated themselves by sending players who would make it overseas.  Spanish players like Navarro, Calderón, Raúl López, Garbajosa, Navarro, Rudy, and Sergio Rodriguez went to the NBA, while Argentines like Andres Nocioni, Luis Scola, Fabricio Oberto and Walter Herrmann and the Luthuanian Arvydas Macijasukas also used the ACB as a springboard into the NBA.  The ACB became the best league at exporting players to the NBA after the NCAA. Last season 32 NBA players had played on an ACB team at one point in their careers.
Public Money: Local Public Administration and Sponsors
As we said in the introduction, if you want to have an ACB team, you should invest almost eight million euros to pay fees and to became SAD. To get that money, teams need Local Public Administration support to pay part (or everything) of that. Every major city wanted to be classy and ACB team was one way to show off. Meanwhile in ACB Headquarters, they didn't care about where the money came from because it was almost their main deposit every year.
City Council support usually is connected to sponsors very close to a company who has a friendship with the political party which runs the city. Almost every sponsor was related to a real estate agency or construction business.
This chart shows the teams & company relationships:
* Only Malaga has maintained a sponsorship since 2000.
** Alicante, Girona, León y Menorca have dissolved.
*** This chart didn't show other kind of relationship that teams like Gran Canaria, or Bilbao Basket have with City Council. Nor does it show the money Alava City Council invested in Baskonia's Fernando Buesa Arena (Baskonia).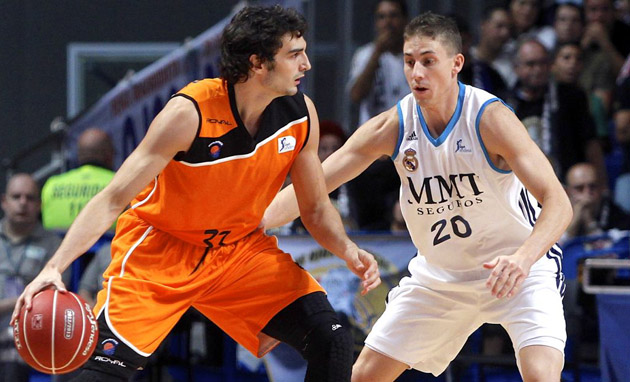 TV Rights: Canal + (Pay TV) and TVE (Public TV)
As the 90's were close to the end and Canal +, a new way to watch TV with premium servicies came into Spaniards' lives. PRISA imported this product from France where it had been successful.
Canal + wanted to own the most important sporting events, so they would buy football and basketball TV rights, while also holding NBA rights in Spain.
Canal + did a great job with his product: they had the best broadcasters and commentators, they spent more than any TV company in Spain to produce a match, and they shot a weekly program talking about the league, too. The problem was that Canal + didn't get enough subscribers and and they finally had to stop carrying ACB games.
It was a big problem for the league because they discovered that, apparently, their product wasn't so interesting. Many people didn't pay attention to basketball because it was a pay-per-view product. Consequently, no TV channel wanted to buy ACB TV rights. Finally, TVE did it after a competition strike.
No, I am not lying; the ACB went on strike until someone wanted to buy their product.
TVE was forced to buy basketball rights and they never treated the ACB basketball product well. Their broadcasts were exactly like how they did them five years before. They have old-fashion commentators and they didn't invest anything to make the product interesting. ACB audience was around 1.000.000 and 8-10% of share without TDT TV. Nowadays they are getting 200.000 and 2-3% of share. The last TV contract was for free and TVE only pays for the rights to the Copa del Rey.
ACB Teams Run Out of Money: Lower Team Budgets
* The budgets that we show are approximates, and in millions of euros.
* * Basque teams have a different (and more beneficial) tax system than the others.
The best economic period for the league was between 2003 and 2007. During that period, ACB had six or ,seven teams with budgets over 10 million Euros (Licencse A teams plus Valencia and Bilbao, who wanted to be there too). The ACB had four ULEB Cup/Eurocup winners, one Euroleague winner and put tons of teams into Elite Eights and Final Fours.
In that time we can see how it was possible for Estudiantes to make a qualifying offer on Felipe Reyes when Real Madrid offered him a big contract (then, they were forced to sell him because they didn't have money to pay him),  and how Valencia (a non-Euroleague Team) bought Oberto and Tomasevic's contracts from TAU Ceramica after they'd won the ACB Finals and Copa del Rey the previous season. Unicaja signed Garbajosa from Treviso and Marcus Brown from CSKA. But the funniest transactions by a Spanish team were Fran Vázquez (who was a lottery pick for the Magic, but never went over) and Raúl Lopez (from the Utah Jazz, paying Real Madrid for his ACB rights) signing for Akasvayu Girona, a Real Estate Agency who decided to invest money in basketball and lost everything two years later due to those kind of fat deals.
You know what's happens next…
Players: Salaries and the Union
The main damage in all this trouble is to the basketball players. Solobasket gave us a chart with the money that teams have to build their team (players + coaches). We can see that four teams had less than €1.1 million to do it. Last year, Manresa asked their fans for help when they did a Crowd Funding campaign to sign a new player because of injuries. Sito Alonso, GBC coach said in an interview for Tirando a Fallar, "Now, you get an American player one season for the same money that you got him for a month a few years ago". To be concise, Encestando reports that Mid-Level ACB teams spend around €200.000 on their best contract. Now, ACB teams are signing a lot of players directly from the NCAA because they are cheaper than others.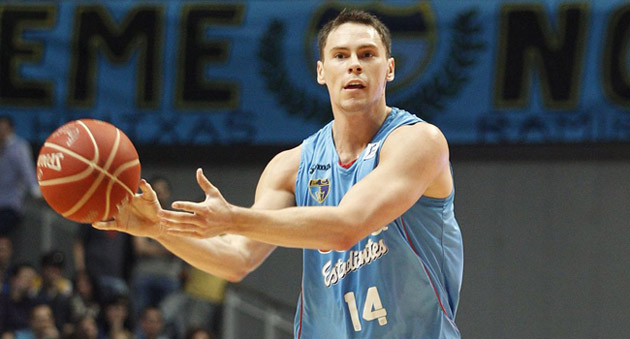 Although, we have teams like C.B. Valladolid, who are still signing players for this season and overpaying their players. As Mariano Galindo told us in Zoomnews, there were players that didn't get paid for around seven months. Otello Hunter was the first player to report this but the lawsuit never succeeded. We also can find Tony Gaffney's case. He had a payment agreement with Joventut, but his agent didn't get his commision and he took Gaffney out of Badalona.
At this point, you must think about the Union, the ABP, who won't include foreign players until next season because they need help to push ACB administrators. In this problematic year, the ABP went to strike during the playoffs because they couldn't get a deal with the ACB. Their claim was that the ACB must pay them (the Union, not the players) an amount of money that would be used to pay Union salaries, according to the blogger ElCapitaenciam. The problem was that half of the ACB's players were on vacation and it was useless for them.
Is the ACB a Closed League?
The real big deal is that the ACB has recently become a closed league: nobody can promote or demote (well, you do it if you can't run your bussiness). You have to get a lot of money to play in the ACB for the first time.
Two years ago, Valladolid and Estudiantes didn't demote because LEB teams who promoted couldn't afford the cost of the operation. Last season we had the same situation with Manresa and Guipuzcua Basket. This situation hurts the competition.
Just think about it: the ACB is asking you to invest almost eight million Euros in one year and you have a poor TV contract, the advertisement profits are descending every year because the main sponsors don't want to be with them anymore, and last but not least, you have to pay around 60.000 because the administrator is not doing his work right.
So, would you still like to play in ACB?