By: Freaknick
Clap clap. Clap clap clap. Clap clap clap clap.
"¡Madrid!"
28,000 hands. 14,000 voices.
Resonant, incessant. Beautiful.
There I was. The random idea that morphed into a podcast which then evolved into a blog that gave birth to a fully-formed website had landed me in the seats of Palacio Vistalegre as I watched Real Madrid and Maccabi Electra play for the top spot in Group F.
And just as the Hoop Gods had done everything in their infinite power to pluck me from America's iron triangle of sport—NBA, NFL, MLB—and set me down on Vistalegre's doorstep that night, they delivered one last angel to usher me to my seats. As I waited in line to purchase my tickets, a woman tapped my shoulder and with a smile, revealed two of them. Not believing my luck nor possessing the Spanish to bargain, I looked at her and asked, "¿Gratis?" She nodded yes and then said something about looking for a couple to help out. Luckily for me and the beautiful girl on my arm (mi novia), we fit the profile and enjoyed the game free of charge. From jump to buzzer, I clung tightly to the serendipity of it all.
It took about three minutes to realize that investing my faith in international hoops was not a mistake. Whether European basketball would ever demand a global audience or give soccer a run for its money didn't matter at the moment. Sure I'd be thrilled for it to catch on hard over here, and of course I'd love to help convert an American or two, but the only thing that came to my mind as I watched was this: their loss.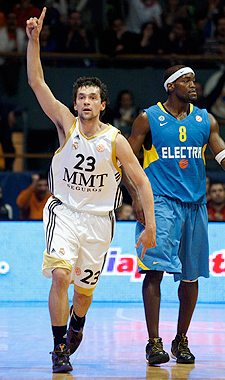 Each Sergio Llull triple drew more raucous applause than the one before it and every "missed" call was celebrated by a chorus of boos and chants. The crowd's synchronicity ensured there would never be silence. Even if one section took a short breather, a set of seats across the stadium would pipe up to fill the void and the hooligans behind the basket never rested. They waved flags, blew horns, led cheers and taunted all the guys in yellow. It was almost enough to forget that a pivotal game was taking place on the court below.
Almost.
A week removed from laying down a Euroleague record 43 points in the fourth quarter against Montepaschi, Maccabi put up a 10 spot in Thursday's opening frame. Madrid wasn't playing a whole lot better though, and if it weren't for a few big 3's from Prigioni and Llull it could've been worse. Fortunately Madrid rode its veteran and its youngster to a 31-21 halftime lead.
By the end of the third, Maccabi had only trimmed it to 9. Madrid would be Group F champions and Maccabi was bound for a meeting with Barcelona in the quarterfinals. But remember what I was saying about Maccabi and fourth quarters?
After Chuck Eidson and Ante Tomic traded lay-ups, a deep David Bluthenthal three cut the lead to 6 and the crowd's confidence turned to restlessness. With about four minutes left, Stephane Lasme threw one down and a possession later Bluthenthal gave Maccabi their first tie since 2-2. An Eidson triple gave Maccabi a lead with a minute left and Eidson put two in from the line to put the Yellows up three, 64-61, with half a minute to play.
An errant Madrid inbound pass found D'Or Fischer's fingertips before landing in the hands of Jorge Garbajosa who dribbled to the top of the key and almost lost it before slinging it to Travis Hansen in the corner with 3 on the shot clock. Hansen scooped it up, stepped behind the line and fired as the shotclock expired.
Money. 64-64. 13.3 seconds left. Crowd on their feet. Hope restored.
Alan Anderson had been having an awful day. Only 3/7 from the field, he made his presence felt by turning it over six times. Still, Maccabi's final play left the rock with the February MVP and former Michigan State Spartan. He dribbled up top, saw something he liked and made his move. Whistle blew and a foul was called with 4.4 seconds on the clock. Alan Anderson stepped to the line—where he had not been all day—and knocked them both down. We'll never knew if Travis Hansen could've struck a second time from the same corner, as Sergio Llull's desperation heave in his direction sailed wide and out of bounds. And with that, Maccabi Electra were Group F Champions.
And I'd just had one hell of a night.