By: Freaknick
Everyone do me a favor, if you wouldn't mind. Take your finger off your keyboard's down arrow and resist the urge to scroll. Let me present the 2009-10 stats of four different players. Look at them closely before I reveal their owners:
Player A1: 15 games, 13.9 points, 4.9 rebounds, 3.8 assists, 3 turnovers, 1.8 steal
Overall ranking: 16.1
Player A2: 15 games, 13.8 pts, 3.7 rebs, 2.7 ast, 1.8 tos, 1.3 stl
Overall ranking:16.9
Player A1 is Cibona's Jamont Gordon and Player A2 is CSKA Moscow swingman and living legend, Ramunas Siskauskas. Now while I realize these are only individual stats which  hardly matter in the European game, the similarities here cannot be ignored. For a Euroleague rookie like Gordon to be mentioned in the same breath as Siska—an MVP, 2-time EL champion and member of Euroleague.net's All-Decade Team—is in itself an accomplishment. And just to prove we didn't catch the Balding Bomber in an off year, here's the stat line from Siska's MVP campaign:
2007-08 Season:14 points, 3.2 rebounds, 1.4 assists, 1 tos, 1.1 steals
Overall Ranking: 16
Now let's strip the names off of two more players. It's more fun if you don't cheat:
Player B1-16 games, 16.4 pts, 3.1 rebs, 1.9 ast, 1.9 tos, 1.1 stl
Overall ranking: 14.3
Player B2-15 games, 15.1 pts, 3.2 rebs, 1.1 ast, 1.6 tos, 1.2 stl
Overall ranking: 15.7
Last chance to take a guess…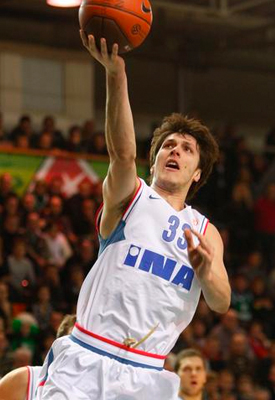 Player B1 is Cibona guard and native Croatian Marko Tomas, and Player B2 is another of CSKA's weapons, Trajan Langdon. Langdon's resumé includes All-Euroleague first (twice) and second (once) teams, a Final Four MVP as part of CSKA's 2008 championship team, and a spot on that same All-Decade Team with Ramunas.  Tomas has a long way to go if he wants to get on Trajan's level, but this season he proved himself capable of scoring from anywhere even with opponents draped all over him. After three seasons with KK Zagreb where he averaged 6, 18 and 20 points respectively, Tomas was shipped off to Real Madrid where his role was limited and his scoring suffered; his progress as a player apparently did not. After all of that plus two Eurobaskets and one Olympics he's still only 25 and getting better with every dribble. Scary.
Why then is CSKA Moscow advancing on the strength of a 5-1 Top 16 record while Cibona will be calling it quits after winning just one? Because Players B1 and B2 suit up alongside guys named Khryapa, Holden, Kaun and Planinic (and now Mensah-Bonsu). Cibona's "third best" player was a distinction shared by many and very much dependent upon the week.
Some weeks it was Luksa Andric and his 9.4 points and 4.5 rebounds. The problem with Andric is that he fouled out 8 times in 16 games and thrice chipped in with 5 points or fewer. Marin Rozic and his five years of EL experience made him the father figure on the team and his 8.2 ppg made him an asset. His Achilles injury in week nine made him useless in games 10-16. Samo Udrih hopped onboard in the Top 16 and chipped in however he could, but his shooting was as streaky as the minutes he received. And every Zagreb fan who dreamt of a Tomas-Gordon-Antonio Graves guard rotation was puzzled after week one, disappointed after week two, irritated by week three and finally furious after week four when he was dismissed from the team.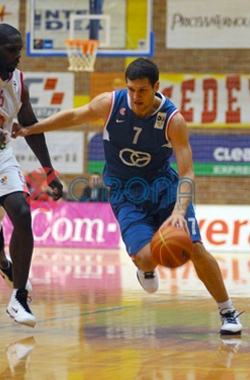 And then there's the 20-year-old prodigy Bojan Bogdanovic who tantalized us in the regular season before doubling his scoring in the Top 16 and dazzling us with an MVP performance in Week 15. It went a little something like this: 22 points, 9 rebounds, a steal and an assist on 6/6 three-point shooting. Damn. Unfortunately we'd never get to see what he'd do for an encore; he hurt himself that week and did not travel with the team to Vitoria for their final game.
Even with the unevenly distributed workload, Cibona still managed to score plenty. In fact, only the offensive minded Caja Laboral, Olympiacos and CSKA teams did it more often in the Top 16. Not surprisingly, however, Cibona as a team only racked up 66 assists in six Top 16 games (only Partizan had fewer with 62). When your potential targets haven't proven themselves reliable, what is a passer to do?
In a perfect world (or a better economy), Cibona could keep Marko and Jamont while watching Bogdanovic blossom alongside a high-end free agent of their choosing. Reality would suggest otherwise, as Cibona's pockets aren't as deep as the Euroleague's top dogs. They are deep enough to keep them atop the Croatian basketball world and their tradition intact which, admittedly, is reason enough not to splurge.
The optimist in me prays for a veteran big man and an energetic forward off the bench to grab boards and offset injuries up front. The skeptic in me thinks change will come, and it won't all be driven by the hopes to improve. For now we'll just have to sit and watch as Cibona fiddles around with a solid young group of guys. At the very least, it was fun while it lasted.