By: Nick Gibson / @euro_adventures
Argentine basketball journalist Diego Brunetti joins ELA-TV in Argentina to talk about the Liga Nacional Finals between Lanus and Regatas de Corrientes.  Regatas won Game Three 78-76 and leads the series 3-0. Game Four is Wednesday night in Lanus.
******
One day I was Skyping with my Dad from my Buenos Aires apartment.  You been to any basketball games down there? he asked me.  No, Dad. Not yet. I replied.
Joaquin, my Argentine roommate, peeked around the corner and signaled to come talk to him in a minute.  I said goodbye to dear old Dad and sought Joaquin, who in turn told me had a cousin who was married to a basketball journalist and that we should meet.
That cousin-in-law turned out to be Diego Brunetti, producer of Argentina's one, only and best radio program, Todo Red, hosted by Fabián Pérez, who I think is hilarious, even if I usually only understand about 40 percent of what he says (down into the low 20s without proper context).
Diego and I connected via The Twitter within hours, and since then I've joined the set of his radio show, practiced with a club team he coaches, Arquitecturas, watched Argentine prospect Gabriel Deck scrimmage against Costa Rica (seriously though, Costa Rica has a guy who looks like a Baby Nate Jawai and has handles like Escalade Jackson), and on Wednesday Diego and I rode with my new amigo Andrés the hour plus to Lanus for Game Three (of possible seven) of the Liga Nacional Finals between Regatas de Corrientes and Lanus.
Regatas blew the doors off Lanus 90-64 in Corrientes in the opener and screeched out a 65-55 grinder in the second.  On Monday they came into Lanus up 2-0 and led early on.
A crowd of 2,000-some-odd Lanusians packed into the arena to see their team set foot on the comeback trail, but were disappointed to see Regatas go up early.  Large, thick white ribbons dangled from the top rungs of the bleachers; fans held on at the ends to keep their balance as they wobbled atop railings and leaned in toward the court.
Down 49-58 to start the fourth, Lanus roared back with the help of three wildly-unlikely-seeming triples from Carlos Leonel Schattman in a matter of minutes, half of the six threes he hit on the night.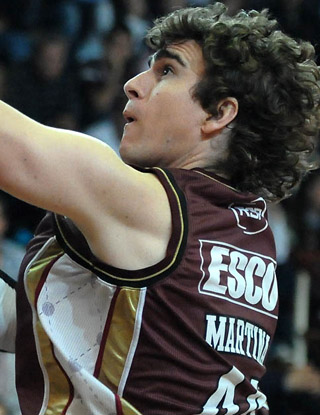 Schattman had been averaging 3.5 points in 10 playoff games before Monday, and while he attempted the most on the squad this season (4.5 per game), the ShotMan only hit 30 percent of them.  He demanded the ball and let them fly all the same, and each one that dropped (6-of-7) gave more credence to the home team's comeback.
Matching Schattman's 21 for Lanus was Fernando Martina, a curly-haired big man who rather floppily herked and jerked his way around and through whomever Regatas assigned to take the beating.
At the point, Lanus' Nicolás Laprovítola dug in and nearly defended Javier Martinez into a state of frenzy (Note: nearly) when he applied full-court pressure in the fourth.  Behind Laprovitola was Robert Battle, the mountainous center whose arms and neck seem to constantly flex and who fouls as hard as the rules allow.  Or harder.  The entry passes from Federico Kammerichs and Nicolas Romano that were there for Regatas in the first hald weren't there anymore. If Laprovítola even allowed the Regatas offense to initiate without a misfire, the passes to cutters and to the block were often tipped away by Battle or William McFarlan.
If the ball did reach its intended target, Jerome Meyinsse and the Corrientes bigs could dislodge neither Battle nor McFarlan from his respective post.
But as Diego tells you in the above video, irritants—even young, energetic ones like Nicolas Provítola—just don't affect the veteran Paraguayan, Martinez, who plays like Carlos Cabezas circa 2009 (not that guy who hung around the Caja Laboral bench this year). He forced a pair of momentum-killing fouls against the press and later knocked down a huge three after missing an identical one a minute earlier.
Paraguayan ice water.
But the man of the evening was Liga Nacional MVP Paolo Quinteros.  The Boy Who Inked the Jordan Tattoo started the game with a filthy right-handed lay-in off a cone-dodging drive and he didn't cool down until the bleachers started to unload: 29 points on the evening on 10-of-16 shooting (three threes; 6-of-6 from the stripe).
Lanus had a shot at a lob to tie it with 0.2 seconds left from the sideline—a catch and shoot scenario not possible under 0.3 seconds—but the heave was tipped away and Regatas captured win No. 3.  One more win Wednesday, and they'll be Liga Nacional chmapions.
Prediction time: Lanus carries a strong second half into Game Four and gets the win 70-66.  Then Regatas closes the deal back home in Game Five behind 16 and 6 from Romano and at least one very loud putback slam from Meyinsse.