By: Slam
You have all been waiting for it, and now it's here; the first edition of "Study Abroad".  This new weekly feature will give you the information you want about former college stars playing overseas.  Each week a new college will be chronicled and you will get an update on how the alums of that school are faring over in Europe. Strap in, get ready, and enjoy as in week 1 I take down the number 1 team in college basketball right now; the University of Kansas Jayhawks.
Aaron Miles- The Big-12's all-time leading assist man has had a smooth transition to Europe.  He has played for 4 different teams in 3 different countries in his 4 seasons abroad, and he has prospered everywhere.  In his first professional year Miles played for Pau-Orthez playing in both the French League and the Euroleague.  In Euroleague play he was able to average over 10 points and 3 assists a game while leading his team to the Top 16.  A year lated Miles played for Cajasol Sevilla in the Spanish ACB League where he continued his consistent statistical output averaging over 9 points and 3 assists a game.  Leaving Spain for Greece Miles joined Panionios on Telecoms in the Greek League and Euroleague; once again staying steady with a 10 points per a game average, but playing for a team that only won 3 games.  This season Miles decided to stay in Greece as he moved over to Aris  Thessaloniki where he is participating in the Greek League and EuroCup.  Miles is putting up 8 points and 2 assists a game in the Greek League, and seems to have found a role as a tough scoring point guard who has been a pesky defender and started to rack up steals.
Keith Langford- Langford is maybe enjoying the most success of any Jayhawk abroad this year.  In his 2nd full season abroad Langford is playing for BC Khimki Moscow Region in the Euroleague and Russian Superleague.  Last year he was the 2nd leading scorer for his Italian League team Virtus Bologna at 13.4 points per a game.  This year he took a pay raise and a step up in competition into the Euroleague, where he hasn't disappointed.  Playing for Khimki he is leading the team in scoring (14.4), he is getting 3.6 rebounds, and is 2nd on the team in assists (2.9).  Currently Khimki is in 3rd place in their group through 8 games and with Langford leading the charge they are primed for a Top 16 run.  Langford has been using his playmaking and lane attacking ability with Khimki, which led to his Week 5 Euroleague C0-MVP award.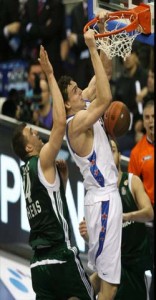 Sasha Kaun- Kaun is in only his 2nd season in Europe but he is already making his presence felt on one of Europe's best team's, CSKA Moscow.  In his first year in Moscow, Kaun played marginally, especially in Euroleague play where he only got 5 points a game.  In last years Final Four Kaun got his most minutes of the season and was able to produce, which was a prelude to this season.  Moscow ended up being the Euroleague runner-up last year.  This year the stats do not tell the whole Kaun story.  He is averaging 8.9 points and 4.6 rebounds, but he has only been getting significant minutes the last 4 games in which he is averaging 15 points and 7 rebounds.  His athleticism, ability to get up and down, and long frame have allowed him to be a real contributer for CSKA.  He also writes a diary for Euroleague.net.
Wayne Simien- Simien was able to play in the NBA for multiple years before coming to Europe in 2008 and playing in Spain's 2nd division league.  He was a monster for Caceres 2016 C.B. putting up 16.8 points and 8.2 rebounds a game, but this wasn't even in Spain's 1st division.  This is a competitive league but Simien should be playing at a much higher level of competition in Europe.  Their were rumors of Simien coming to play for other teams in Europe but as of now he is currently not playing this season.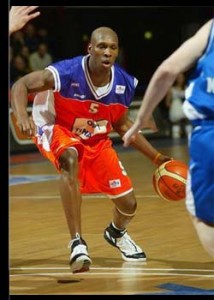 Kenny Gregory - He may be the elder statesman of this group, but Kenny Gregory has carved out a nice career in Europe.  After being undrafted out of Kansas in 2001 Gregory toyed around in the NBDL for a couple years before jumping across the Atlantic.  His first stop was in the United Kingdom playing for Chester Jets in the BBL, where he dominated the competition putting up close to 25 points a game.  Next on his journey was Le Mans in the French League, Eurocup, and Euroleague.  Here Gregory continued to use his athleticism to average 13 and 15 points in his 2 seasons in France.  Most recently Gregory has played with Efes Pilsen in the Turkish League, Palmeso Valencia in the Spanish ACB League, and currently this season he has brought his scoring to PAOK in the Greek League. Gregory leads PAOK in scoring at 16 points a game, but this is the least competitive league Gregory has played in the last few years.  While cleaning up points in Greece, Gregory would be hard pressed not to change scenery next season in more of a reserve role for a competitive team contending in the Euroleague or higher level domestic league.