By: Freaknick
As part of my desperate attempt to piece together something that resembles a social life, I spent the past week singeing the skin off of my nose at Virginia Beach.  But while I was busy blinding my fellow beach-goers with Emir Preldzic-like paleness, the Euroleague world managed to keep spinning without me (crazy, I know).  So with sunburns healed and internet access restored, I've had a few hours to sift through the wreckage of this week's action.  All I could muster were these bite-sized musings:
August 10-Morris Finley signs with AJ Milano…What a colossal waste!  Montepaschi Siena could have had it all: the glory, the fame, the headbands.  The Italians first showed their commitment to having the Euroleague's most impressive collection of hairstyles when they extended All-Hair All-Star Shaun Stonerook until 2012.  Then they went a step further by adding David Moss and his crown of locks (think Lil' Wayne in his first installment of The Carter).  If that weren't enough, David Hawkins packed up his tightest do-rags and brought his carefully manicured head to Italy for some good old-fashioned, salon style basketball.  Hawkins' departure clearly left AJ Milano's hairdressers reeling from boredom, so they decided to play dirty; they plucked Finley from their Italian neighbors, thus shooting down Siena's dream of becoming the hair to the throne.  I mourn alongside most of Europe at the thought of what could have been.  No word yet on whether a Lavrinovic/Childress swap is in the works.

August 10-Nuggets forward Linas Kleiza signs with Olympiacos…After Denver's improbable run to the Western Conference Finals, they seem to have had their fill of winning, thank you very much. If it weren't enough to lose defensive dynamo Dahntay Jones to the Pacers, Kleiza will now watch from afar (Greece) as the Nuggets employ an interesting strategy for conquering the NBA this season; that is, to play 82 games without a bench.  But don't worry Denver: at least you re-signed Anthony Carter so that he can poach minutes from rookie Ty Lawson.  You really can't blame the Nuggets for penny pinching I suppose, as J.R. Smith requires two NBA-level contracts: one for him and another for his lawyer.
August 11-Guillem Rubio signs with Unicaja…So maybe I exaggerated the whole desolate island thing; this was not a Castaway situation (although volleyballs were involved).  I did stumble across civilization for long enough to scrawl this itemized list of why I'd rather have Guillem Rubio than Ricky Rubio.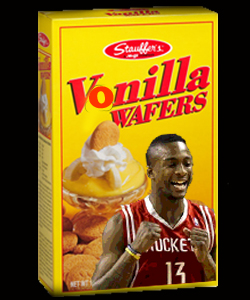 August 11- EWE Baskets Oldenburg re-signs Ruben Boumtje Boumtje and signs Acha Njei…Rejoice! This is a monumental day for Cameroonian seven-footers with repeating last names all over the world!  Far less important is the impact this will have on Oldenburg's status as Team NCAA, as EWE now will have four of the six major college conferences represented next year in their starting line: Boumtje Boumtje (Georgetown, Big East); Jason Gardner (Arizona, PAC-10); Rickey Paulding (Missouri, Big XII); Je'Kel Foster (Ohio State, Big 10).  As for Acha Njei, raise your hand if you've ever heard of Acha Njei [Freaknick hunching over laptop.  Neither hand is raised].  Though I'm unfamiliar with his hoopedigree, any man who once played for a team called the Roosters (the Bremen Roosters to be exact) is OK by me.
August 12-Von Wafer leaves the Rockets and signs with Olympiacos…According to Wikipedia, his full name is Vakeaton Quamar Wafer, and his nickname is the Dutch Cookie.  Not Vonilla Wafer, but the Dutch Cookie. Really? Another wasted opportunity here that should not go unpunished.  After searching the blogosphere, I was both dismayed and relieved to find I was not the first one to think of this incredibly convenient and almost-too-easy nickname.  For the reported 10 million bucks he'll be getting, Olympiacos is hoping that Wafer will be Von-derful and add a new nickname that has nothing to do with baked goods: Von "2010 Euroleague champion" Wafer.
August 14-Paulius Jankunas leaves Zalgiris for Khimki…This is one of those classic "Boy, it sure will be weird to see [insert name of player] in a [new team] jersey after all these years" situations.  The fact is, all of his success makes you forget that the reigning Baltic League MVP is still only 25 years old.  It's a huge loss for Zalgiris, who could have played spoiler in the coming season with their intriguing combination of veterans and youngsters, but it's an awesome addition for Khimki, who has essentially assembled a starting line-up full of acquisitions for the 2010 season. It's certainly not a stretch to think they just added a forward who may go down as one of the best in Euroleague history.