By: Nick Gibson / @euro_aventures
It looks as though the NBA might have seen—and hopefully, heard—the last of Rodolfo Fernandez. After a viciously churning rumor mill prematurely spat the newest Dallas Maverick out in Madrid a couple of months ago, he's ready—really this time—to return home. Possibly for good.
The deal with Real Madrid is reportedly for four years and would allow him to return to the Mavericks when (if) the lockout ends. After next season, however, Rudy's looking at NBA free agency, though his Madrid contract would be only a quarter of the way done. This leaves him with three options: 1) Wait on a $3.2 million qualifying offer from Mark Cuban and the Mavs, 2) Go around the league in search of mas dinero, or 3) Return home to España to finish what he started with Madrid.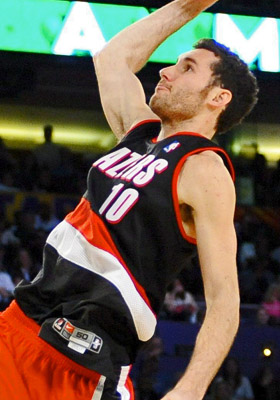 For everyone's sake, I hope it's the latter. After three seasons in the league, his 159 threes, 10 ppg, 25 mpg, 2.7 rpg and 43% from the field as a rookie remain career highs, and playing time has been inconsistent despite the virtually constant injuries to the man he's backed up for three seasons, Brandon Roy.
And neither Rudy nor his team of agents and cronies have taken anything of this lying down. Feeling pretty comfortable with himself after a surprisingly effective rookie campaign, Rudy debuted his candor during the Blazers' courting of Hedo Turkoglu in 2009, saying he'd rather go play in Greece, Russia or Spain rather than ride pine behind yet another perimeter player. He didn't stop there, expressing displeasure with how Nate McMillan used him during the season, even though Fernandez was 11th in minutes played among rookies that year.
Easy, Rudy.
Yet he stayed in Portland, perhaps due to contractual obligation more than free will, and saw McMillan trim his minutes from 25 to 23. His scoring, shooting percentages, and attitude all suffered as a result.
In the offseason that followed, so did his wallet. Amid preparations for the World Championships, Rudy and his agent Andy Miller threatened a two-year holdout if Blazers GM Rich Cho couldn't pull the string on a deal that would get the Spaniard out of Portland before the year started.
First round picks from Boston, Wilson Chandler or a first rounder from the Knicks, Cho nixed them all.
"All I can do now is stand on the rooftop and scream, 'He's not coming!' He's just not coming back. I've made that clear," said—or screamed, supposedly—Miller.
All of Miller's screaming left Fernandez $25,000 poorer for comments "detrimental to the league."
But apparently, that did not silence others in Rudy's circle who thought their lousy opinions were worthy of  50,000 more of Fernandez's American dollars. One of his representatives, Gerard Darnes, felt the need to go on the radio and blather about how Rudy "wishes to go home" and is "shy" and "special" and that his "personal situation has gotten worse."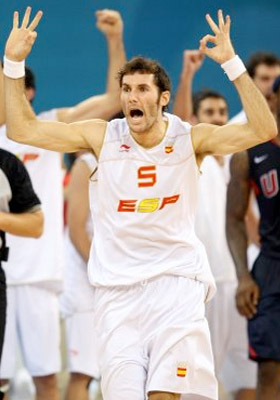 The "personal situation" Darnes might have been referring to was Rudy having mindless friends who liked talking out of turn. Don't speak unless spoken to, Gerard. And even if you are spoken to, you still might want to bottle it up.
Whether Rudy's complaints were his own or creations of his camp, having him around the NBA was bad news for European basketball. He perpetuated the stereotype of the prima donna Euros who are soft, homesick and self-important. Shy and special might score you points in ice dancing, but it won't garner respect from inherently skeptical NBA fans who'd like nothing more than watching you flop in the post or get your weak lay-up swatted into the seats, just so they can roll their eyes and think: Typical.
With a new, defensive-minded breed of European prospect thriving—the Nicolas Batums, Thabo Sefoloshas, and wait until they get a load of Jonas Valanciunas—the "soft" tag is nearly shaken. A malcontent like Fernandez is nothing but a paper weight atop a stack of Euros trying to rise to prominence in a league which rewards toughness, even if it's often only a well-rehearsed facade.
Rudy might be a great fit with the Mavericks, and it's been rumored he might be in line for a starting role with the champs. Still,  he'd be better served back in Madrid playing in front of a crowd that understands him—Rudy played with Spanish side DKV Joventut from 2001-08 and is a member of the Spanish National Team— and media outlets that won't need to speak with his agents every time they need a sensational story delivered in crisp English.
Because once Rudy moves on, European basketball can move forward.