By Rob Scott / @robscott33
Real Madrid picked up a vital road win over Maccabi Tel Aviv last week, to retain a share of the top seed in Group F. But there was more than enough evidence during the game that protecting the rim might be their achilles heel. Maccabi's somewhat undersized centre Alex Tyus shot 9-for-9 from the field, and almost all of those shots were uncontested dunks or lay-ups in the paint. That's enough to worry any team that wants to win the Euroleague championship.
Coach Pablo Laso is committed to Ioannis Bourousis as his starting, and principal choice at the five. Marcus Slaughter has played a shade over 13 minutes per game throughout the Euroleague season, down from 19 per game last year. Salah Mejri has filled in for 10 minutes a game on average, but has three DNPs, and seems to not be fully trusted yet.
It's not news that Bourousis, an old-school slow, back-to-the-basket big man, struggles in high pick and roll situations. It's been one of the defining factors every time Madrid face Barcelona, with Marcelinho Huertas and Ante Tomic hooking up for either short lobs to the rim or Huertas floaters. As a theory of the modern game, this issue isn't confined to Madrid either. As rodhig wrote at In The Game recently:
Here's the problem with paradigm shifts: they are often associated with too many gray areas to neatly fit an analytical model. Take Euroleague centers. It could be argued that the omnipresence of pick and roll sets in a modern European offense has changed the way the position is played- size is less important than explosiveness and agility, footwork in the post has taken a backseat to defensive footwork. This is why undersized Olympiacos dominated inside against CSKA Moscow in last season's final four. This is why Stephane Lasme won the Defensive Player of the Year award. This is why every Real Madrid opponent this season secretly hopes that Pablo Laso will keep playing Giannis Bouroussis over Marcus Slaughter (or maybe I'm just prejudiced against Bouroussis).
As the quote suggests, and the article it is taken from goes on to argue, this isn't a hard and fast rule. Bourousis, despite his defensive weakness on the move, is a skilled passer, a solid post-defender, a very good rebounder and to some extent stretches the floor. With all of that said, he was badly exposed in Tel Aviv, as Maccabi relentlessly used basic high screen sets to get Tyus - a quick, "modern" centre - open layups and dunks.
As the following images will show, to blame Bourousis entirely would be off the mark. His inability to keep ball handlers in front of him wasn't helpful, but the lack of help from the wings was just as much to blame. Madrid's defense wasn't "on a string" and that has to worry Laso as the degree of difficulty gets steeper as the season moves to the sharp end. Could a team with quick ball handlers, surrounded by great shooters and a mobile centre do them some real damage?
The prelude: Hickman breezes to the rim
Here, Ricky Hickman, one of the quickest guys in Europe going from arc to rim, attacks Bourousis off the screen and the help is nowhere to be found, pre-occupied with keeping close to Maccabi's excellent perimeter shooters.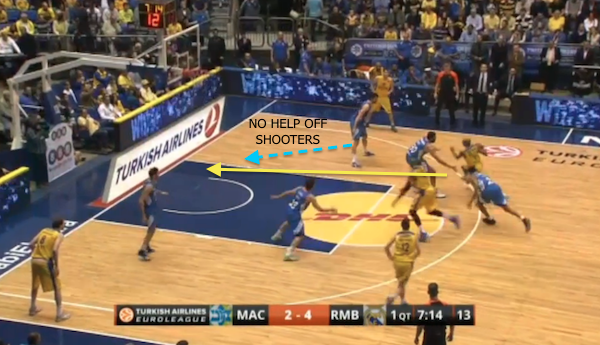 In general, it's a solid strategy to not give up open three-point looks to shooters as good as Joe Ingles, Yogev Ohayon and Devin Smith. This is where it would be really useful if Bourousis could keep Hickman in front of him. That's a tough ask for any centre in Europe - you need a guy like Kyle Hines, Stephane Lasme, or… Marcus Slaughter? But the wing defenders don't step up, Tyus cleverly screens off Llull just to make sure, and Hickman makes it to the rim unmolested.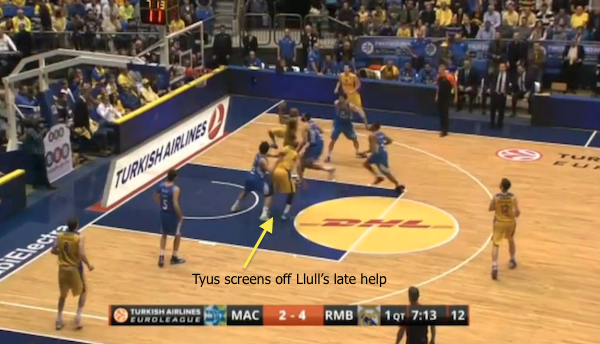 Tyus alone at the rim
In a very similar set, Tyus sets a high ball screen for Hickman. This time the result was an easy finish at the rim for the big man.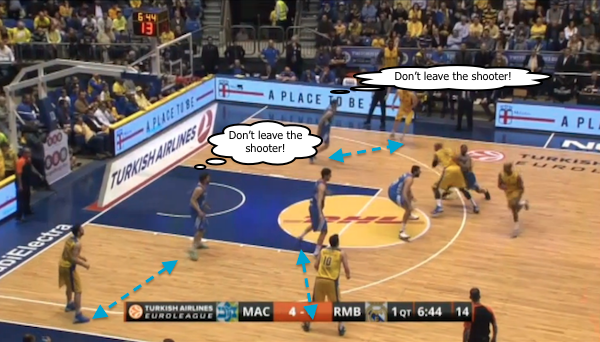 This time Hickman drives towards the 'double' side, i.e. towards the side of the floor with two teammates as opposed to one. There are more Madrid defenders on this side of the floor to stop his progress, but he finds Tyus with a simple lob pass as neither Llull, Rudy or Mirotic move more than a few centimetres away from their matchups on the perimeter. The advantage of the roll man going down the single side is of course there is only one wing defender who can provide help. Bourousis is left caught in no-man's land in the paint as nobody checks Tyus' roll to the rim.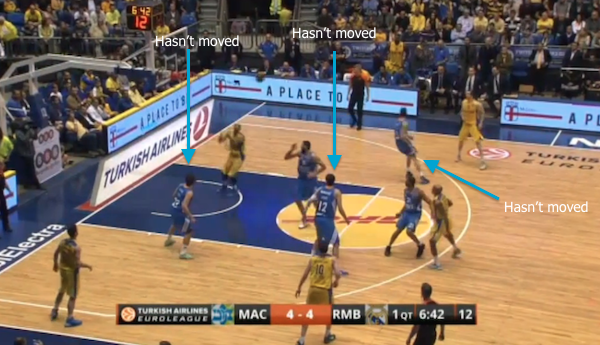 Different ball handler, same result
This time Joe Ingles handles the ball as Tyus sets a high pick. Mirotic is in good position to drop back and contain Tyus' roll while Lull can zone between the two weakside shooters.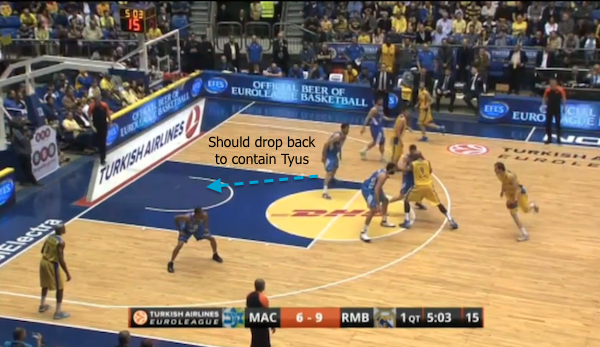 Unfortunately for Madrid, that's not what happened. Mirotic, whether through instinct or instruction, follows his man to the perimeter, leaving Tyus again free to roll down the lane unimpeded.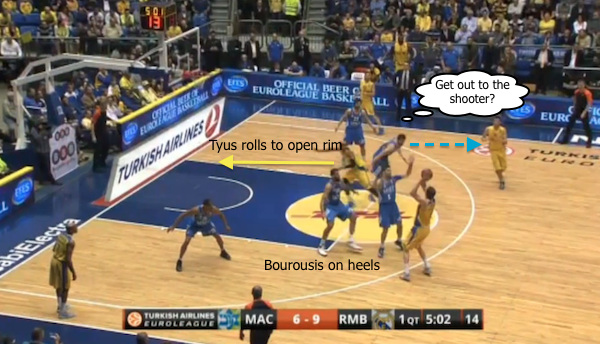 Rudy does well to fight over the screen but Ingles is tall enough to see over the defense and fire the pass to Tyus without too much trouble. Bourousis having gone under the screen is again on his heels, neither defending the roll man or disrupting the ball handler.
Should Laso show more flexibility?
Tyus' next few buckets were nice finishes off much shorter feeds as Madrid big men stepped up in the paint against dribble penetration, and it's possible to find holes in the defense of most made field goals - unless they're just deep contested threes or Derrick Brown dunks. Bourousis did manage to fall back and try to contain Tyus on a later re-run of the same play, but he wasn't quick enough to back-pedal and the result was the same.
All this happened with Madrid's best pick and roll defense combination - Slaughter and Dontaye Draper - on the bench. Draper has one of the strangest lineup charts in Europe, appearing almost exclusively in the second half of games. He was returning to action in Tel Aviv after five games out injured, and played the entire third quarter, his only time on court. None of these minutes came with Slaughter on the floor. Despite that, Maccabi put up five points in the first eight minutes with Draper on the floor. Madrid have a 95.1 defensive rating with him on the floor, 99.1 with him sat. The absence of that 11 minutes per game of havoc has been felt in recent weeks.
It's not like Madrid lack the options to shut down the combination of high screen-and-roll with shooters spacing the floor. Rudy and Tremmel Darden can both protect the rim, and are excellent help defenders, but it has to come as part of a five-man scheme. A big with the footspeed to dart back down the lane with a roll man, or to hedge out on the ball, with a guard who can flat-out stop his man from even using the screen, would be the envy of most coaches.
Slaughter showed what Bourousis couldn't do, late in the game. Hickman again drove down the lane, away from the screen this time: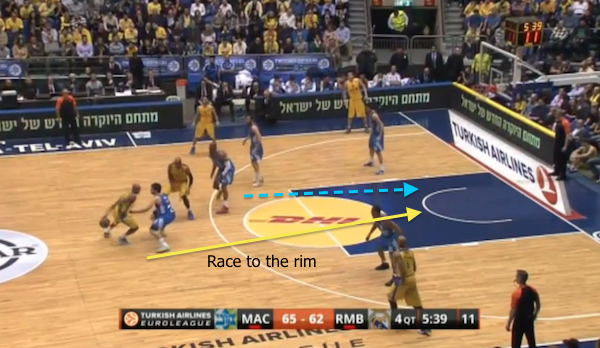 This time, with Slaughter manning the middle, his speed allowed him to challenge at the rim and force a miss.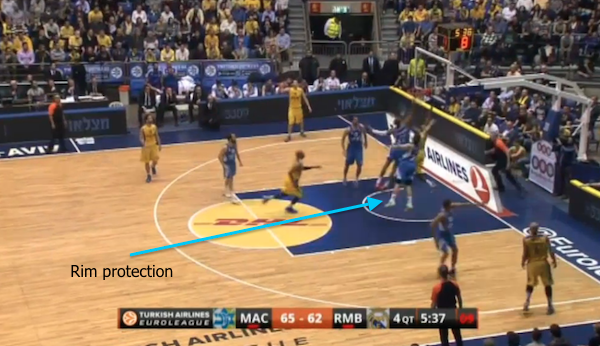 One of the strengths of this Madrid team, before Draper and Jaycee Carroll's injuries, was the stability of its rotation and the chemistry of the lineups Laso has settled into. But it would be perverse if they lose a Final Four game because an opponent piled up points attacking Bourousis in the high pick-and-roll while Slaughter and Draper watched from the bench.
Don't panic, but do worry
With all this said, there is something not right with Real's defense. Their defensive rating has slipped from an incredible 88.9 in the Regular Season, to a pedestrian 107.1 in the Top 16. Bayern Munich, a team with a similar offensive playbook to Maccabi managed to come out on the other side of a close game - arguably Maccabi would have won this easily if not for another submission to the Sergio Rodriguez MVP campaign.
The parallels with Olympiacos in last year's final, not to mention a possible playoff series rematch this year, should be raising concern even bigger concerns.
The case for Maccabi
The last word should probably go to David Blatt's unorthodox but effective roster. I had written them off as a serious contender to make the Final Four, in part due to their lack of size upfront, particularly since Shawn James went down with injury. But somehow they managed to stick with Madrid, even as Yogev Ohayon defended Mirotic in the post, way too successfully if you're a Madridista.
The corollary to the problems observed with traditional big men in the pick-and-roll is that teams with mobile fives and four good shooters on the floor at all time can cause matchup nightmares. Maccabi may not have the depth to win a five-game series against EA7 Milano or FC Barcelona, but going to Tel Aviv is never easy and they can force teams into doing things they don't want to do.
That, as Madrid almost found out to their cost, can make things very uncomfortable indeed.