By: SJacas / @sJacas
The Bizkaia Bilbao Basket success story was arguably the surprise of the European basketball season. The Basque team turned the ACB Playoffs upside down by eliminating two Euroleague clubs - Power Electronics Valencia and Real Madrid – on their path to the finals. The "Men in Black"-story garneded a cult following while US-playmaker Aaron Jackson's play drew attention from prominent sources.
Bilbao fell short in the finals, but second place was just enough for direct Euroleague qualification. Now they're returning for the 2011/12 season with a not dramatically altered, but certainly improved roster which possesses veteran quality, toughness and loads of experience.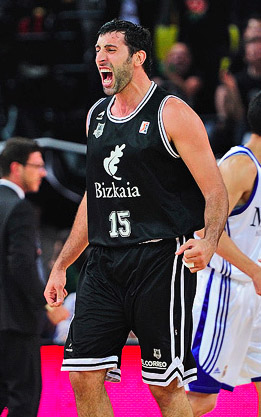 Going into the offseason, the task for Fotis Katzikaris was to add affordable Euroleague talent according to team needs. Those needs were: 1) Interior defense, 2) A quality second point guard, 3) Quality depth to compensate for the grueling, (most likely) 60+ games schedule ahead.
1) A look at Bilbao's pace-adjusted team stats (relative to the other 17 ACB teams) identifies some of last season's strengths and weaknesses: Top level in free throw shooting and offensive rebounding, poor in ball control, dead last in shot blocking. That's where the acquisition of D'Or Fischer, Euroleague's fifth best career shot blocker, makes a whole lot of sense.
2) Raul Lopez is the quality second playmaker, a necessity in today's game. Raul had a productive Euroleague season with Khimki.
3) Roster depth is the name of the game. Had been last season – according to the SJacas Roster Depth Index (SJRDI), where BBB registered as fourth out of 18 in ACB – and will be this season. Grimau adds versatility on the wing. The backcourt rotation now features five players: Jackson, Lopez, Fisher, Blums, Grimau, plus Vassiliadis occasionally rotating over from small forward.
Up front, the physical Mumbru provides a post mismatch against every swingman-turned-small-forward out there.
A quartet of big men will receive the lion share of minutes at power forward/center: Hervelle, when returning from injury, is incredibly valuable with his active, hard-nosed defense and versatility. Banic, another workhorse who excels in simple, efficient basketball. Fischer, for shotblocking, rebounding and reliable finishing. Mavroeidis, a finely skilled pick and roll big with smooth moves in the paint and outstanding numbers on the offensive glass.
Yet, the most interesting case is at point guard. Aaron Jackson could very well be the next successful slasher in Europe's top league after the recent play of Bo McCalebb and Jeremy Pargo proved that, with perfect floor spacing, a high-IQ, athletic slasher can absolutely succeed here. Jackson is flashy, but every move has its purpose.
Reaching the Top 16 with this roster in a group with Nancy and Cantu is realistic, but it won't be a stroll in the park. Bilbao should target three out of four in these matchups, plus two out of three home games against Caja Laboral, Fenerbahce and Olympiacos.

Biggest Acquisition: Literally. Fischer's interior defense adds a new dimension. An early candidate for the rebounding- and shotblocking-title.
Biggest Loss: Possibly Chris Warren's scoring, even if Warren had a mediocre ACB season. Edu Hernandez-Sonseca? Paco Vázquez? Javi Rodriguez? From a pure performance perspective Katzikaris probably got rid of the right guys. Intriguingly, H-Sonseca, Vázquez and Rodriguez were Bilbao's bottom three in ACB oncourt/offcourt plus/minus. The new roster may not necessarily be deeper in minute-distribution, but certainly deeper in quality.
Swingman: Kostas Vassiliadis' three point shooting is a game-changer. 69.2 percent of his field goal attempts were three pointers last season, so inconsistencies are only logical.
Best Drinking Buddy: Marko Banic is a no-nonsense drinker.
Drink Of Choice: The Gin Banic, of course.
Most Likely To Vomit On The Scorers Table: Marko Banic (on purpose).
Prediction: Top 16
SJacas is the founder of in-the-game.org and would like you to not follow him on twitter at @sJacas.