By: Sam Meyerkopf / @euro_adventures
Finally a Final Four reached, but then upset in the ACB Playoffs.  Finally Rudy Fernandez is back home in Spain, but will he have to go back to Dallas at some point?  Finally this is Sergio Llull's team, but can he handle all the point guard responsibilities?  I'm nitpicking at this Real Madrid team right now, but the small questions are the ones that need to be shored up if they want to win a Euroleague Championship.
To start off this will be one of the most exciting and offensively explosive teams the Euroleague has ever seen.  Llull will be handling point guard duties with Sergio Rodriguez coming in off the bench.  Jaycee Carroll, Carlos Suarez, and Rudy Fernandez will be counted on to do most of the scoring damage from the wings while Novica Velickovic and Marty Pocius will be looked on to bring their signature passion and hard working defense to the team.  In the paint the four man rotation of Ante Tomic, Mirza Begic, Nikola Mirotic and Felipe Reyes will be armed with post scoring and protecting the rim responsibilities.
The largest weak spot I can foresee here is at the head playmaking position.  Pablo Prigioni leaves after two years of slow it down offense and a well organized approach.  Now under the offensive guidance of Llull and Rodriguez, Madrid will rely on a more fast paced approach and less drag it out basketball.  While this sounds more exciting, the key will be, is if it is more efficient?  When things were going tough for Madrid last year they could always count on Prigioni to step up and hit a clutch three or bring it back out to run one more well executed set late in the shot clock.  These are not strengths of either Llull or Rodriguez, but with Llull being an All-Euroleaguer last year I have faith he'll be able to raise his passing abilities to where his scoring already is.  Rodriguez just needs to come in for short energized stretches where he is distributing with calmness and stay away as much as possible from the rushed sloppy game he played with for most of last year.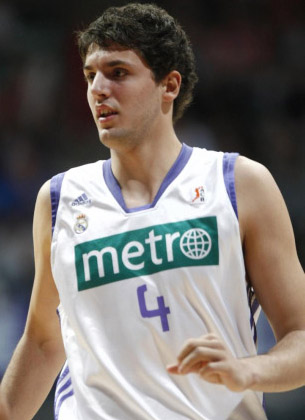 Points on the perimeter should be no problem with this thrilling cast of offensive aficionados.  Carroll led the ACB in scoring last year, Suarez is one of the most efficient players in Europe, and Fernandez is a top 5 offensive talent in the Euroleague.  The key for this group will be on defense.  Pocius and Velickovic (who can also bang in the post) will be brought on when a Juan Carlos Navarro starts heating up or if no one has an answer for Ersan Ilyasova.  While the scoring may suffer a slight bit when those two are hounding opponents, it will empower Pablo Laso to figure out which lineups can cause the most damage on both sides of the ball.
In the interior everyone is a holdover from last year (Begic signed late in the season) and there is already good chemistry within this group.  Tomic and Mirotic will be counted on for more buckets, while Reyes will need to clean up the boards and Begic will be looked to continue his shot blocking prowess (led the Euroleague last year).  Reyes at his age and Begic with his offensive limitations will not be the ones whose games raise this team to championship caliber performances.  That will be on the shoulders of Tomic and Mirotic who need to get a little tougher this year and not disappear for stretches as they have in the past.  This quintuplet is a very strong unit and adding in Velickovic at times will only add to their overall defensive toughness and rebounding.
I'll reserve a special paragraph for the youngster Nikola Mirotic.  He was the MVP of the FIBA U-20s for Spain and had an absolutely dominating performance putting up 27 points and 10 rebounds a game as Spain captured Gold.  He's the reigning Euroleague Rising Star and has an offensive game that has matured well past his age.  So far this year in Spanish League play he's put up 16, 0, and 16 points again in 3 games.  The one zero point effort, was in Madrid's lose to Bilboa.  Tomic, Begic, and Reyes are more classic deep post players, while Mirotic is more comfortable a step in from the three-line and at the elbows.  He needs to own those areas of the court.  If he can stay active every game and keep staying hungry for points, his offensive game will continue to rise.  A go-to post move and a slightly stronger upper body for better finishing at the rim can make Mirotic a possible All-Euroleaguer this season and for many more seasons to come.
Madrid is playing in the toughest Regular Season group, Group C.  I think it's a bonus for them because advancing shouldn't even be a question, but early tests will toughen them up for later in the season.  If Rodriguez can take a pretty big step forward from last year and Llull continues on his All-Euroleageu progression, this team has a chance to be special.  Now the NBA just needs to lockout for the year and let Rudy stay in Madrid.  Good news is it's starting to look that is more of a probability than a possibility.

Biggest Acquisition: Rudy Fernandez.  This pick a little bit contingent on what happens with the NBA Lockout, yes, but things aren't looking to good with that right now.  Even if Rudy has to go back to Dallas for half a season, he's coming back to Madrid next year and that alone makes the signing worth it.  Instantly Rudy becomes the best scorer on an extremely dynamic offensive team.  He takes Madrid to a different level offensively and hopefully will increase the urgency for this team to get out on the break and run.  If the offense breaks down and Madrid needs someone to create a shot for himself, throw Rudy the rock.  And I almost forgot, Serg Rodriguez and him will connect on at least 35 alley-oops this season, watch the baseline opponents.
Biggest Loss: Pablo Prigioni. He might be approaching grandfather status in basketball terms, but Pablo has always had an old man game.  He brings calmness to the court that settled down Madrid's youngsters last year.  They struggled a little in the beginning of the season initiating their offense, but once Pablo got off the injury report the team kicked into another level and made the Final Four.  With Prigioni now dropping dimes in Vitoria, Madrid is going to lean heavily on Llull and Rodriguez to get everyone into their offensive grooves.  If they grow up and play with that veteran cool Prigioni used the last two seasons in Madrid, many problems will be avoided.
Swingman: Sergio Rodriguez.  I struggled with this pick because of how deep this team is, but in the end the X-factor is Serg Rod.  This is Llull's first time really running the point in 2 years and at times he's going to need someone else to step in.  Enter Serg Rod.  Madrid needs 10-15 minutes of solid, controlled, and efficient basketball, not things always associated with the Spanish ball handler.  But in order for this team to reach championship level aspirations they need Rodriguez to run the fast break like he can, but be able to get Madrid into their half court offense when running isn't an option.  For the past two years Real had relied on Pablo Prigioni to steady any treacherous waters, now Rodriguez and Llull will have to be the ones to not look for their own offense, but get the rest of the Madrid artillery firing at once.  A decent top of the key jumper would really help Tomic, Begic, Reyes, and Mirotic when they pass out of those double teams as well.
Best Drinking Buddy: Mirza Begic.  He seems like someone who could clear out an entire bars liquor cabinet, sounds like someone I want to go out with.
Drink Of Choice: What's the cheapest whiskey you have? Can we have endless glasses please.
Most Likely To Break the Euroleague Record for Points Scored By A Team In A Single Game: The whole team is about to share this superlative The offensive weapons on this team are on a different level. With a deadly shooting game and an active defense that can turn other teams over, look out; 120 points is possible.
Prediction: Championship. Book it.