By: Alejandro Gonzalez / @eil82
When someone asks me what I expect from Unicaja this season my answer is "Hell, I don't know".
As evidenced by last year's ups and downs, Malaga's team is quite difficult to preview and, most importantly, to predict. The club is still trying to find its direction but the rowing has been kind of messy and inconsistent. Last year's "project" was basically a fail as they tried to build from pretty weak bases. Now they're in the middle of some sort of rebuilding. "Kind of…", "sort of"…things are neither clear nor consistent here in Malaga.
What seems obvious is that Unicaja has taken a step down in the last years. The Greens are no longer that club that was getting closer to the big teams in Europe. They're still able to beat anybody in the old continent on a given magical night in Martin Carpena arena, but this team is not built for a long run. Unicaja's arena is still a tough place to come to play but at the same time, it's lost that deadly atmosphere that we used to know. Spanish Cup title…then ACB and then Euroleague Final Four. That evolution is just a thing from the past.
Building again a firm foundation should be target number one in Unicaja's 2011-12 season. Looking at the roster, you can see the attempt, although some of the pieces aren't the most solid bricks you could find out there. So Unicaja fans have two options: trust (maybe believe is the right verb) in Chus Mateo's experimentation and give him a chance; or simply start complaining, chanting the "old times were always better". Even as the season's just begun, we've already seen both sides of the coin.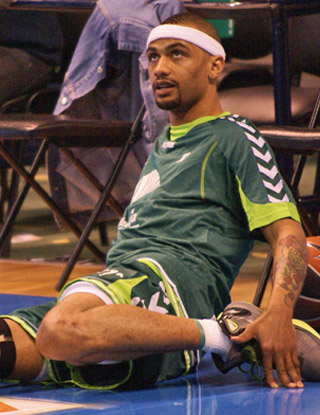 From what I saw in warm-up games, I would say Unicaja wants to be an agile, athletic team. Running a quick offensive transition will be one of the first plans, if not the main one. Attacking the basket from 1vs1 or 2vs2 situations with assertiveness. They certainly have players to do that. With Earl Rowland igniting the fastbreak, guys like Tremmel Darden, Gerald Fitch, Saul Blanco or Joel Freeland can reach the rival rim nicely. They can be incisive and aggressive.
In half court sets, feeding the low block would be a priority. Unicaja would likely (at least they show that in preseason and they definitely should keep working on that) try to give the ball to the big men. With the acquisition of Luka Zoric the Englishman Joel Freeland enjoys more freedom and, most important, more minutes in the PF position. Zoric is a solid, pure inside presence and fights hard in the paint, conceding Freeland more space and options to take advantage of his versatility. Both build a quite nice inside duo, arguably the best weapon of this team and probably the only thing that reminds you of a serious high level club.
While the starting inside game sounds great, the rotation in the paint is a big concern. Veteran Jorge Garbajosa is the first reliever from the bench, usually taking Zoric's place and sending Freeland to the five. Then giant Nedzad Sinanovic comes up. Garbajosa is not even close to the player he used to be, no news here. Sinanovic has some brilliant minutes (and one incredibly efficient night last season in the Euroleague, racking up an index rating of 27 in just 12 minutes against Lietuvos Rytas) but he's extremely erratic and most of the time you're just wondering if he really belongs here. He's intimidating well in the preseason which is the least you can ask from him, and came up with 14 points and 10 rebounds in Unicaja's season opening victory over Gran Canaria. But offensively, when not in Superman mode, he's average at best. Defensively he suffers a lot in terms of positioning and rotation, which becomes a huge issue for Unicaja when Garbajosa is also on the floor, as the PF can't physically meet the exigency. So any injury or foul trouble hitting Zoric and/or Freeland will be a big time problem.
When Unicaja can't run or feed Freeland, they will need to rely on individual actions from outside. They team is not displaying a fluid ball distribution and patience is not their strength. Tremmel Darden's off ball game will be very important; he cuts well to the basket and his athleticism will be a major problem for the opposition's D, as his ability to play above the rim is something Unicaja didn't have last year. Darden's performance is essential.
Meanwhile, Gerald Fitch, who did what was asked of him last season (score, and score often), seems to be open to some more teamwork this time around, rather than going to war by himself. We'll see if he can do that all season long.
Berni Rodriguez is a keeper. You know what he can offer and he gets the job done. He will be the backup SG and the defensive specialist up top, and even though his best moments have passed by, he still could be very helpful.
Saul Blanco is more of a question mark. A promising prospect for years, we watched the time tick away as we waited for him to explode for real. Now, it will likely be a "now or never" moment, at least as part of Unicaja's system. He has skills and athletic tools but can't put them together to play a solid season, or for that matter, a month. If Saul can just be consistent, Unicaja will be a better team. Just like that.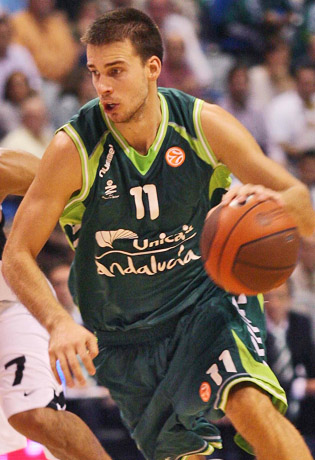 Uros Tripkovic has kept his luggage ready all the summer. News and rumours told us about the club looking to loan him out, but he's still here in Malaga and could be extremely important for Unicaja. Outside shooting is another big concern and Tripkovic is the only shooter on this roster besides Kristaps Valters. Uros is one of the smoothest, most elegant shooters in the world. The way he sets his feet off the screen, his technique…it's a thing of beauty. All that's left is becoming—finally—one of the best shot-makers in Europe. When I wrote at the beginning of this preview that Unicaja tried to build last season's team on a weak foundation, Tripkovic and Blanco took up a good portion of my thoughts. They're both talented, but painfully inconsistent. A good season from them and Unicaja becomes a real threat. So far, just dreams, though. In the case of Tripkovic, he first needs to regain Mateo's confidence.
Earl Rowland and Kristaps Valters are not big names. But considering that last season Terrell McIntyre basically wasn't here, Panchi Barrera was just a bad idea, Blackney had a melt down and the team had to use youngsters Rafa Freire and Carlos Cobos as emergency backups, we could say Unicaja upgraded the PG position.
Rowland and Valters can complement each other well and both have a great opportunity in front of them, so we could expect intensity and commitment. Rowland fits well into their transition game and will be the incisive guard Chus Mateo was looking for. Valters has moments of brilliancy and little (or big) scoring explosions, which will suit him well in a team that lives and dies on streaks.
Unicaja Malaga is about to open their 2011-12 book and start writing. Hopes and fears will grab the pen together to initiate the narration. Group B gives what all the fans could desire: big teams to watch live at home (Panathinaikos and CSKA Moscow), a tough rival (Zalgiris) and two beatable foes (Brose Basket and KK Zagreb) to get them to the next round without drama.
So, what to expect from Unicaja this season? Hell, I don't know.

Biggest Acquisition: Tremmell Darden (Nancy). Sure Luka Zoric is a good signing and will be important for this team, but Darden would be key in my opinion. He adds athleticism, versatile contribution and plays an important role in the team at both ends, setting some kind of balance in a pretty unstable group.
Biggest Loss: Terrell McIntyre. A big loss in many senses. The hardest thing was to see he was a big loss from the very first moment he showed up here in Malaga. He wasn't the T-Mac we all knew, giving us only short bursts of the talent that made him a star with Siena. Having him here, seeing him struggle and then letting him go just like that…damn. That's disappointing on all fronts. Also, for me, watching Hrvoje Peric not getting a spot in the roster is kind of painful. He could be a great piece in this system and Unicaja, apparently, is opening the exit door.
Swingman: The point guard duo. Two new directors in Malaga, with lot of doubts. They're good players but the first thought coming after their signing was "Are they good enough for a team that's supposed to be somewhere close to the powerhouses?" They need to prove that they belong on this level if Unicaja wants to stay up there. Valters brings some explosive scoring sparks and Rowland looks like the proper fit for the intense, fastbreak oriented team we expect for this season. But neither is the calm, cerebral facilitator, and this team could get out of control easily. Their performance will likely set the bar for Unicaja.
Best Drinking Buddy: Joel Freeland. He's the soul of the team and their best player. He's improving every year and we're not going to see him here in Malaga for long. Better start enjoying him as much as possible.
Drink Of Choice: He's English. A decent percentage of my soul is still in London. No doubt then: Guinness Pints coming up!
Most Likely To Get A Standing Ovation From The Crowd: Earl Rowland's son. Or at least I think it was Rowland's son, not sure though. The kid put an amazing dancing show at halftime of the warm-up game against Emporio Armani Milano. He's the boss. Things can get ugly on the court if fears wins over hopes, but if I have to bet on the most reliable source of fun in Martin Carpena, I would go with the kid.
Prediction: Top 16.
Alejandro Gonzalez is an international basketball scout and consultant for NetScouts Basketball. You can follow him on Twitter @eil82.