By: Luka Bassin / @lukabassin
Union Olimpija  Ljubljana has an undeniably great history: six Yugoslavian championships, 15 'ships in Slovenia, 16 Slovenian Cups, the winner of the 2002 Adriatic league, the 1994 Saporta Cup and participant of the 1997 Final Four in the FIBA Champions league. Now, they're a regular member of the Euroleague, and the only Slovenian representation the EL has ever seen (although Krka and Zlatorog participated in the Champions league, organized by FIBA).
Ljubljana has also acted as a talent factory of sorts, producing many players who've played in the NBA at some point during the last 15 years: Radislav Čurčić, Somalia Samake, Rasho Nesterović, Marko Milič, Sarunas Jasikevicius, Vladimir Stepania, Jiri Welsch, Boštjan Nachbar, Primož Brezec, Beno Udrih and Goran Dragić.
Aside from that, some other famous members of Union Olimpija were Ivo Daneu, Borut Bassin, Aljoša Žorga, Vinko Jelovac, Joško Papič, Peter Vilfan and Jure Zdovc (all multiple members of Yugoslav national teams at ECs and WCs).
But as illustrious as all that history may be, all that matters is now.
It will be extremely difficult to repeat last year's shockingly good Euroleague season, in which Union Olimpija was the true Cinderella of the group stage. They beat Valencia, PAO, Efes Pilsen, CSKA…all in front of sold-out new Stožice Arena and made Slovenian people proud again. Yes, the stadium might have lent Union Olimpija some luck but luck only comes with courage and a little chemistry, which speaks well to the club's offseason signings.
The club also solved some financial problems and issues, and now is back on the road to stability.
After an excellent group stage, Union Olimpija won just one game in the Top 16 and lost in both the national championships and Adriatic League finals. After that, many players—Vlatko Ilievski, Sazo Ožbolt, Giorgi Shermadini, Kenny Gregory, Kevinn Pinkney, Samo Udrih—left the team. On top of that, coach Jure Zdovc resigned after the team's loss in the ABA finals (his assistant Miro Alilović was in charge of the team until the end of the season).
New coach Sašo Filipovski got to work on scouting and in the end, Union Olimpija started building its new team. From last year's team, here's all he was left with: Damir Markota, veteran leader Goran Jagodnik and youngsters Dino Murić, Davis Bertans and Sasu Salin (who shined with his Finland NT at this year's EuroBasket).
Union Olimpija added two PGs: American Ben Woodside from the French team Gravellines and Aleksandar Čapin (a Serbian with a Slovenian passport) from Žalgiris Kaunas. After that they added SGs Jaka Blažič (Slovenian prospect) and American SG/SF Danny Green from the San Antonio Spurs (only until the end of the NBA lockout), PF Deon Thompson (who played pretty well last year in Greece, and was among the top rebounders in the league) and two big guys in Ratko Varda and Robert Rothbart.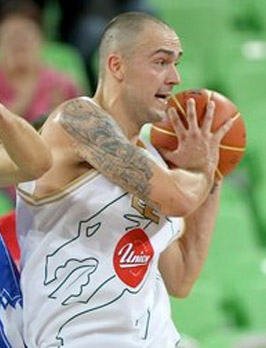 Union Olimpija played a few friendly games early on but the club decided that all games will be closed. No information about scorers, playing time, etc. When looking for clues as to how they might perform, that sort of thing makes it difficult. As for final results, they lost to Khimki and Lokomotiv Kuban, won against Galatasaray and right now they are in Turkey at international tournament where they lost to Zagreb and Fenerbahce, and beat PAOK in the 5th place game.
But, their 3-0 record thus far in Adriatic play means there could be hope for a repeat Euroleague performance in the group stage.
Union Olimpija has the weapons to play a fast paced game or to run set plays for shooters or big guys, depending on the roster on the court – fast with Rothbart and Varda on the bench, or slow with them on the floor.
The big question is how Woodside and Čapin will put themselves in Vlatko Ilievski's shoes and replace him, since we all know that Ilievski was a go-to guy in last year's team and the Euroleague's leader in minutes per game. With the young Blažič and Salin (and perhaps another signing to come), Union Olimpija will have a mix of experienced and young players at that position, and the same goes for the small forward position with Danny Green and one of the top European prospects, Latvian Davis Bertans, and Dino Murić. In my opinion, Olimpija is strongest at power forward with Damir Markota, Deon Thompson and Goran Jagodnik.
On the othre hand, I'm a little unsure about the center position because Ratko Varda and Roberth Rothbart just do not look consistent to me, even though I admire Ratko Varda and know that his potential is high if everything goes well.
As all Euroleague teams did, Union Olimpija had some players at EuroBasket, so the preseason was short and practices with the full roster have been few. Because of all that it is difficult to talk about strenghts and weaknesses of the team…but let's try:
The main strength will definitelly be the sold-out Stozice Arena, full of 13,000 raging fans at each game. Also, there's Union's versatility, good rebounding, solid three point shooting with Markota or Jagodnik at the PF position and new coach Sašo Filipovski (not that Jure Zdovc was not good, actually he was brilliant, but Filipovski will bring some new energy to the team.
On the other side, the weaknesses could be the psychological aspect of large expectations after such success a season ago and, maybe, not enough quality at the point or center positions.
I think it's also time for Union Olimpija to develop their young kids, especially Bertans and Blažič, who made big progress last year. The future may be only as bright as they are.

Biggest Acquisition: Definitely Danny Green, a swingman with NBA experience, who's already showed in some friendly games and a few in the Adriatic (12 PPG) that he's a natural born killer and is very motivated. He'll have plenty of opportunities to be the number one offensive option and I'm sure that coach Filipovski will find a way to put him in situations where he can score.
The second American and a fellow Tar Heel, Deon Thompson, will also be a big factor, since he could play both positions down low and is a rebounding machine.
Biggest Loss: Vlatko Ilievski, leader of the team, player with more minutes per game than anyone in last year's Euroleague, guy who can score decisive points, guy who, alongside Bo McCalebb, helped Macedonia come one shot from a bronze medal at EuroBasket 2011.
Swingman: The X-Factor. Simply, the players who replaced Union Olimoija's biggest loss: Vlatko Ilievski. Ben Woodside should be starting at the point and his performance will be crucial for Union Olimpija's success this year. If he's able to lead the team, to get everyone else involved, to score or assist at right time, to play good defense and bring a sense of security to the team (limit turnovers, knock down his free throws), Union Olimpija could be a problem for some teams, and not just at home court.
Best Drinking Buddy: I'm a coach so I'm glad that Sašo Filipovski and his assistant Miro Alilović are in town. They're good friends of mine and collaborating with them and talking basketball is just fine. Frankly, I have no desire to hang with any of the players, but I'm sure that most people in Ljubljana would say Ratko Varda, since his history from other clubs, the few months he spent with Union Olimpija in past 2002-03 and gossip are well known among players, coaches and fans.
Drink Of Choice: For me, a couple of macchiatos would be just fine. For Ratko? I can only imagine.
Most Likely To Put Ljubljana's Buffets Our of Business: Ratko Varda and Roberth Rothbart. I'm worried that hotel buffets and kitchens will have some problems when Varda and Rothbart enter the restaurant hungry – they are big guys for sure and most likely they could bankrupt a restaurant with little help from others.
Prediction: FC Regal Barcelona and Montepaschi Siena are clear favourites in the group, while Union Olimpija, UNICS Kazan and Galatasaray will fight for the other two spots in the Top 16. The goal is a spot with those final 16, and I think Union Olimpija has what it takes to get there. Top eight? I don't think so.
But never say never; some luck and a little chemistry and they're on their way. Good luck, Union Olimpija.
Luka Bassin is a Slovenian basketball coach who drops knowledge on Twitter @LukaBassin, if you think you can handle that.