By: Nick Gibson, Sam Meyerkopf, Rob Scott & Simon Jatsch
Yesterday, we dove into Barcelona's playoff series against Panathinaikos. Today, we break down a match-up between two of the Euroleague's more intriguingly inconsistent teams. CSKA has clearly strung together a more convincing campaign, while Caja Laboral used a second flurry of wins to sneak into these playoffs.  But if you're looking for a team to get hot for a few games and knock off a big dog, Andres Nocioni and Co. might be your best bet.
CSKA Moscow will win because…
They have too much experienced talent.  They can go big and long to disrupt your offense.  They can go with dual point guards to try to run and out attack you.  They can spread the floor with four good shooters and a big to make your defense work.  This ultra-talented roster is not only stocked with talent but versatile players who can play a variety of roles and positions.  In this series, talk can start and end with the big men.  Sasha Kaun, Nenad Krstic, Viktor Khryapa, Zoran Erceg, and Andrey Vorontsevich are a group of front court players with diverse skill sets.  Even though Caja Laboral has talented players in their bigs, they're mostly offensive minded and will struggle keeping CSKA under control, while still maintaining energy to run back on offense.  Kaun barreling down the lane on a fast break, Krstic backing down on the block, Erceg ready for a kick out pass, and Khryapa threading the ball to everyone, it's just too much to stop.  Especially when you're trying to stop a CSKA team that is playing its best ball of the season.
-Sam
Caja Laboral will win because…
They know how why they lose better than the other seven who made it this far.  Six losses in their first seven, followed by seven straight wins and then, immediately, five more losses.  That's more than "ups and downs"; that's slingshots and slip n' slides.  When they lose, it's because they're neither sharing nor taking care of the ball: 13.2 assists to 13.9 turnovers in losses.  That's not a ratio you want to be sub-1.  But when they win, the turnovers drop to 11.4 and the assists skyrocket to 18.4, giving them a 1.6 to 1 assist/turnover ratio, second only to Khimki's redistributionist attack.  And against CSKA Moscow's long defense (see Simon's Small Sample below), Caja Laboral has to keep that ball darting around to empty hands in open spaces or risk blocked shots, even more blocked driving lanes and dozens of rhythm-ruining deflections.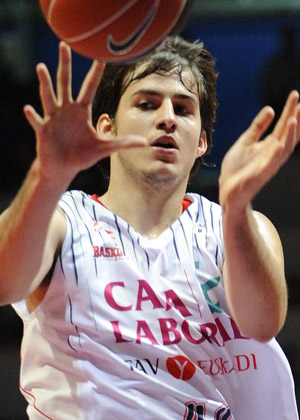 But you know what long losing streaks do? Force you to take a long, hard look at damn near everything and then fix it. Omar Cook has replaced Taylor Rochestie to de-stagnate the offense.  Nemanja Bjelica's ever-expanding arsenal will force CSKA to extend farther than they'd like and give one-on-one scorers like Nocioni and San Emeterio more room to work.  Maciej Lampe can go toe-to-toe with any big in Europe, even if it's a five-headed CSKA paint monster. And coach Zan Tabak has proven this season, twice, that he's comfortable making adjustments and buoying a sinking ship.  If this series ends up being a microcosm of their season, look for a brief period of sustained trauma before a violent revival of spirit, smarter passing and raspy Tabak timeout speeches.
-Nick
Small Samples
Messina's tall lineup (Teodosic-Weems-Khryapa-Erceg-Kaun) is now 49-27 in 20 minutes of play so far this season. This CSKA lineup debuted just three games ago (in Malaga), partly due Khryapa's and Erceg's injury-absence. They've been starting in the last two.
If there is one Baskonia lineup that can physically hold their own against CSKA's aforementioned tall lineup, it has to have San Emeterio playing the two and Nocioni the three. Tabak has used those lineups 113 minutes this season (largely after the departure of Oleson) but they were outscored 207 to 219.
-Simon Jatsch, In-The-Game.org
Bad Blood
Tau Ceramica, as they were then, and always will be to some, pulled off an almighty shock in the 2005 Final Four in Moscow, beating CSKA on their own floor in the semi final. The team of Scola, Macijauskas and Calderon handed CSKA only their second loss of the season, to reach the final. Granted, CSKA got revenge three years' later, and it's hard for the blood to be too bad when the Russians won two of the next three titles and made eight straight Final Fours. Would it be an even bigger upset than 2005 for Baskonia to win this series? Probably, but look at the parallels between then and now: Scola and Nocioni? Both Argentine forwards. Splitter and Pleiss? Both NBA draft picks, both wear #21. You want a British connection? Andy Betts, and the Final Four is in London. Could it be fate? Probably not, but enjoy this video anyway:
http://www.youtube.com/watch?v=0_P_QpLLiIM
-Rob
Who Wins, & In How Many
Nick: CSKA in five
Sam: CSKA in five
Rob: CSKA in four
Simon:  CSKA in four