By: Nick Gibson, Sam Meyerkopf, Rob Scott & Simon Jatsch
Today and tomorrow, we will be previewing each of the Euroleague playoff series, starting with Barcelona and Panathinaikos, who get things going on Tuesday.
And for a full account of how we got here and where we're going, listen to the latest podcast.
Barcelona will win because…
Xavi Pascual and Juan Carlos Navarro are an almost unstoppable and a uniquely incredible combination.  A great system coach paired with an electric offensive weapon has been the backbone of this recent Barcelona wave of success.  Their constant consistency has developed an almost impenetrable system that has dripped onto the whole roster.
Your first thought with Barcelona is defense.  They hound you with Victor Sada, Joe Ingles, CJ Wallace, and Nate Jawai all game.  Guards cut off penetration, wings rotate over, and post players protect the rim.   It's like clockwork.  But what makes this Barcelona team special, one that holds only two loses this year, is their ability to score.  They are LEADING the Euroleague in points scored.  Marcelinho Huertas or Sada start the attack, Navarro, Ingles, or the upstart toddler Alex Abrines look for open shots, Wallace and Lorbek are available for kick-out three's, and Tomic operates from the high post with Jawai more of a low block fan.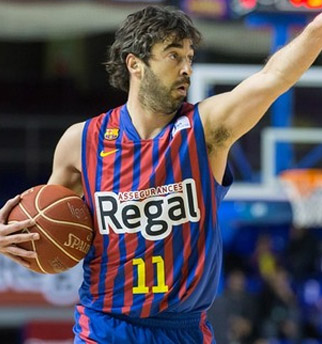 Barcelona's defense has always been a great system.  But it's now carried over fully into their offense.  Patience, passing, letting Navarro operate, and showcasing the unique skill sets of Tomic and Jawai in the paint have been a recipe for success.  A recipe that is leading the Euroleague in shots created.  A team that is always working for the best and most open shot possible.  They grind you methodically on both ends. 
Diving into the potential matchups and how Barcelona might play in O.A.K.A. is an exercise in trying to squeeze out the remnants of an already squeezed orange.  They are this good and the opponent, especially a much less talented one, matters little as long as they execute their plan of attack.  From Pascual to Navarro and down the line, execute well, and this series will be over quickly.
-Sam
Panathinaikos will win because…
Dimitris Diamantidis will force Barcelona to change their game plan. DD has been laying low, preparing physically and mentally for this series, and Pascual won't make the same mistake as in 2011, when he looked to make him a scorer. To do this, he will be forced to put in Victor Sada as Diamantidis posts up Marcelinho Huertas time and again, and creates great looks for PAO's shooters. There won't be anywhere to hide the Brazilian off the ball either, as Ukic and Banks are just as physically demanding. Reducing Huertas' minutes means fewer pick and rolls for Ante Tomic and Nathan Jawai, meaning Stephane Lasme can stay at home in the paint, swatting anything near the rim. It also means more options to play Big Sofo, the only big man on the continent with a size advantage on Jawai. With no Pete Mickeal and Juan Carlos Navarro shooting off one leg on a good day, there is just enough room for PAO to take advantage of all the little weaknesses in the Catalan armour and pull off a truly epic victory.
-Rob
Small Samples
Barcelona had the best offensive rating (115.7 points on 100 possessions) and best defensive rating (98.7 points against on 100 possessions) in the Top 16. You are expected to win 13 of 14 games with that type of performance (Pythagorean Expectation), which they did.
When on the floor, Sofoklis Schortsanitis finishes 35.7 percent of Panathinaikos' team possessions - by far the highest usage rate in the league, ahead of Boki Nachbar and Paul Davis at 29.7 and 29.5 percent, respectively.
-Simon Jatsch, In-The-Game.org
Bad Blood
Somewhat surprisingly, these two have shared only three Final Fours since meeting anticlimactically in the third place game of the 1993-94 season.  However, Panathinaikos won the whole thing in every one of those other years: 1996, 2000 and 2009.  And only in 1996 did the Greens take down Barcelona in the Finals, and what a game that turned out to be.
Fragiskos Alvertis led the Greens with 17 points, one more than a 36-year-old Dominique Wilkins, but it was the man who scored zero that delivered one of the greatest moments in Final Four history, and one of the best defensive plays in the history of basketball.
Nay; the history of sports.
So, YouTube was kind of enough to bless us with the full game tape, but I've wound it up to the 56-minute mark to get y'all to the juicy part. Here's the scene: Barcelona has just hit a free throw to pull within one of Panathinaikos.  It's 67-66 and there's a minute left.  The Greens try and kill some clock before ending up with-surprise!-an iso for 'Nique on the wing.  He misses the shot, tips his own rebound to a teammate and things are looking safer for Panathinaikos.  Then, hijinx ensue, the ball pops loose up top and Barcelona has a free run at the lead, and a Euroleague title.
But look out, Jose Antonio Montero.  Stojan Vrankovic is coming.
Did you see where he came from?  Keep in mind that the man you see flying down the floor, leaping over fallen teammates and displaying the body control of a jockey is 7-foot-2.  You're going to have to be OK with number two, Tayshaun.
Here's hoping Lasme pulls a Vrankovic.
-Nick
Who Wins, & In How Many
Nick: Barcelona in four
Sam: Barcelona in four
Rob: Panathinaikos in five
Simon: Barcelona in four