by Nick Gibson / @euro_adventures
The first week in Europe's premiere competition gave us 12 winners, 12 losers, and plenty of things to ruminate heading into the second session. In the volatile European player carousel, a new set of games brings a new set of names into the mix: Lietuvos Rytas signed the pudgy former UConn guard Khalid El-Amin, James Gist of Maryland went to Partizan and legendary Croatian big man Nikola Vujcic found a home with Efes Pilsen. So as always, here are my previews and predictions preceded by a youngster who's making an impression overseas:
Weekly Whippersnapper
Vladimir Dasic | 22 | 6-9 | 225 pounds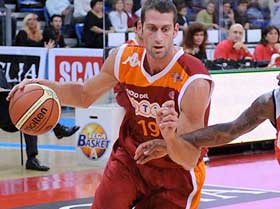 Raise your hand if you had given up hope for Vladimir Dasic. It's pretty tough typing lefthanded so I'd better just admit I was wrong about the 22-year-old Montenegrin forward. Anointed a top prospect several years ago with KK Budocnost, he went to Spain last season and rode Madrid's bench before getting loaned out to Gran Canaria where little changed. After seeing him live several times last season in the ACB, he looked like a forward confused; am I a wing who's stronger than you or a big who's faster than you? Well, he shied away from contact and seemed to jump from his heels so I took Option C: neither.
This season with Roma, he has turned his back on specialization and instead managed to strike a balance I thought not possible with his visibly lacking skillset. He's rebounding well, taking smart shots, and exploiting Europe's defensive rules as the good, handchecking basketball Lord intended they be exploited. Physical maturity has never been a term associated with Dasic; now it seems that his head has caught up with the other 95 percent of his body. So far it's netted him 10 points, 7 boards and 3 steals in week one. He might not reach the NBA level many thought he was destined for, but it's been a relief to us all to see him putting his physical gifts to good use this season.
Group A
Asseco Prokom (0-1) vs. Caja Laboral (1-0)
Former Clipper (Hornet, Timberwolf and King, too) Bobby Brown is tearing up the Polish League, averaging 22.5 points in his first couple of games. Two unsportsmanlike fouls—the European equivalent of a clear path foul—after only 10:35 of court time and the refs kicked him to the sidelines for the duration. With a withdrawn punch up top, Daniel Ewing's 18 nor JR Giddens' ridiculous 20 and 10 EL debut on 9/9 2-point shooting could sink Keith Langford's BC Khimki's squad.
Caja Laboral had a far easier time with David Blatt's Maccabi team, as a late 16-2 run engineered mainly by Maccabi's Chuck Eidson was the only thing keeping Caja from an embarrassing blowout. Even with Marcus Haislip out for Caja, these guys can and will shoot from every position as evidenced by 6-10 Mirza Teletovic's four triples on eight tries. Starting 0-2 in the league's most balanced group is a no-no, so I think the Polish powerhouse can stun the Spanish champs in their EL home opener. Asseco Prokom.
Partizan (0-1) vs. BC Khimki (1-0)
Pionir Arena has long been considered one of the world's toughest places to play basketball, and Khimki Coach Sergio Scariolo is undoubtedly preparing his guys to have their ears rung thoroughly. Partizan's lack of quality personnel might be enough to whittle down Pionir's mystique, although the recent signing of former Maryland Terp James Gist certainly bolsters a frontcourt that already includes the big Boomer Nathan Jawai as well as future lottery pick Jan Vesely. Partizan's problem areas lie on… Continue Reading on SLAM Online