By: Rafael Uehara / @rafael__uehara
With a new sponsor and a new financial situation, the 2009-2010 season marked a turning point for Valência. Led by head-coach Neven Spahija, Power Electronics Valencia won the Eurocup title which guaranteed them a spot in this season's Euroleague. In ACB play, they also competed, reaching the postseason with the fourth best record but then losing to Unicaja in the first round.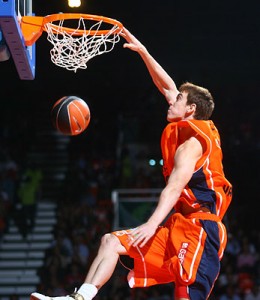 After a winning season, second tier teams typically struggle to maintain the core that brought them to relevancy. Valência wasn't any different. They were still able to keep important pieces such as Nando De Colo and Victor Claver but Spahija left for Fenerbahçe  Ülker, Matt Nielsen signed with Panathinaikos Athens and Kosta Perovic signed with Regal FC Barcelona.
Yet, Valência was considered by many an underrated pick to challenge for the ACB Finals and make some splash in Euroleague play. Eight games among Europe's elite and 10 games of ACB play in and it's easy to realize Power Electronics was neither equipped nor prepared to reach those expectations.
After starting 1-6 in the ACB and 0-2 in the Euroleague, Valência's season was imploding. Combining both competitions, they've been 6-3 since and before Wednesday's game against CSKA in Moscow, Power Electronics stood at 3-4 tied for fourth place in Group D and with a realistic chance of advancing to the Top 16.
But their 73-63 loss to a CSKA team whose season has gone to the tank for a while now proves that Valência's reemergence on the last few weeks is not for real. Their six ACB losses came to Barcelona, Real Madrid, Caja Laboral, DKV Joventut, a surprising Blancos de Rueda Valladolid team and a solid Bizkaia Bilbao Basket team. In Euroleague play, their losses came in the hands of Panathinaikos, Efes Pilsen in Turkey, Armani Jeans Milano at home, at Union Olimpija and CSKA just yesterday.
Valência's only quality win of the year came in Greece against Panathinaikos. They've been pounded by every other good team they've played this season. Their terrific shooting hasn't been able to save a ship that's sinking due to their inability to protect the paint. After struggling to maintain the talented, balanced core that brought them to relevancy they, like second tier clubs before them, have struggled to keep themselves among the powerhouses.
They've got two games left to turn that around.
Rafael Uehara is a scout for NetScouts Basketball and the managing figure of 'The Basketball Post', his personal website. He's a contributor for ELA and can be followed on twitter @rafael__uehara or reached via e-mail at [email protected]