By: Slam
14 days, numerous upsets, loud trumpets, sad Lithuanian fans, young players emerging, stars showing up when it counts: I Survived EuroBasket 2009.
From September 7th until September 20th there was basketball being played everyday, all day long.  Shots were blocked, opportunities missed, tears shed, but it was all worth it.  I witnessed 2 weeks of some of the most passionate and prideful basketball my eye has ever seen.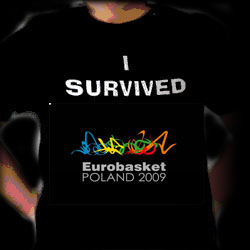 I survived France barely qualifying to make the tournament but then advancing to the quarterfinals.
I survived Israel coming so close to beating Croatia and Macedonia but ultimately coming up short.
I survived watching Lithuania painfully lose every game but one, and then watching their fans stay and watch anyways for the love of the game.
I survived watching Vassilis Spanoulis fly around the court and trying to move my eyes as fast as he is moving with the ball in his hands.
I survived Great Britain almost coming back to beat Spain and almost knocking them out of the tournament.
I survived Spain's 23-0 2nd quarter run against Lithuania in the qualifying round that became the turning point of their EuroBasket
I survived Poland showing up and playing their hearts out in front of their hometown fans.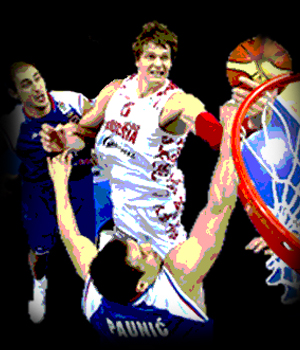 I survived multiple devastating rim rockers from Timofey Mozgov.
I survived Big Sofo finally shedding some weight and showing us the real potential he has.
I survived Turkey looking like the best team in the tournament and then losing 4 games in a row.
I survived Milos Teodosic showing everyone that he is Serbia's closer and isn't scared of any shot late in games.
I survived the 96-92 overtime extravaganza that was the Semi-Final game between Serbia and Slovenia.
I survived Spain showing everyone in Europe and the world that when Pau Gasol is playing with fire they are impossible to stop.
I survived 14 action pack days of pure basketball and national pride.
I survived EuroBasket 2009.