By Rob Scott / @robscott33
"It's crazy when you think about it. We're a country of 300,000 and we're going to be playing in Eurobasket." - Hördur Vilhjálmsson
Iceland beat Great Britain 71-69 last night to all-but confirm their qualification for Eurobasket 2015. They haven't formally sealed the deal yet, but with a worst-case scenario of two wins from four qualifying games, they can afford to start looking at flights. Just as soon we find out where next year's tournament will be held anyway.
There are some well-worn tropes which have become customary shorthand to identify this small island nation. Björk, bank failure, post rock and, lately, gigantic strongmen like Hafþór Júlíus Björnsson, a.k.a the brutal Gregor Clegane in Game of Thrones. Bjornsson, 2.06m tall and nearly as broad, played pro hoops for a short time, but he would be entirely out of place in this Iceland team. Their point guard is their tallest player and their centre - such as they have one - is only 2.00m. The best thing about this team is that it just doesn't matter.
Turning negatives into positives
Facing a stature-deficit against virtually every team they face, coach Craig Pedersen's team has been at this a while, and knows exactly how to "turn their negative centimetres into positive energy", as quick-shooting guard Hördur Vilhjálmsson put it. They switch almost every screen, they front the post and double instantly on the catch. Their 'big' men are often out beyond the three-point line on offense, bringing the opposing bigs out, which leaves space for that 2.00m centre, Hlynur Baeringsson, to do things like grab seven offensive rebounds, constantly giving his team a second chance that they didn't waste.
The biggest big man in the world
Baeringsson went down with a nasty ankle injury towards the end of last night's game, but as a pair of teammates carried him to the locker room, one under each shoulder, there was a togetherness and mutual affection that only comes from year after year of building towards an achievement. As Stefansson described their 'little big man' to ELA after the game: "He's the biggest big man in the world! He's one of the strongest I've ever seen." There was a warmth and conviction in his words - this is a real team, not just a collection of patched-together individuals.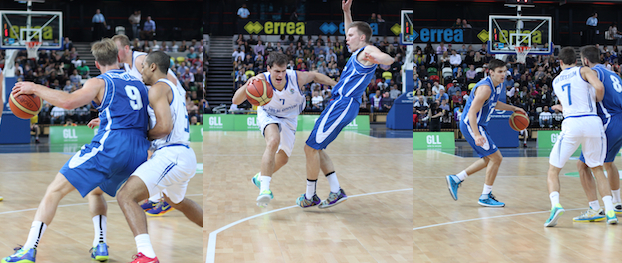 Steffanson is the team's biggest 'star' - a knockdown shooter and canny finder of gaps in the defense, a consummate European professional in the Italian, Russian and Spanish top flights, and a fourteen-year veteran of the national team. Vilhjálmsson played last year for Valladolid in the ACB, and is returning to his previous club, Mitteldeutscher BC of the German top division. Others like Baeringsson, point guard Pavel Ermolinskij and wing Logi Gunnarsson ply their trade around the Nordic countries. Pedersen coaches in the Danish league. All of these guys can shoot, all of them know how to overcome their lack of size, by shape-shifting into each other's roles, by knowing where their teammates are at all times, by the relentless but joyful execution of a gameplan.
By the standards of the old 16-team Eurobasket, based around the game's old money of southern and eastern Europe, this team might have been on the outside looking in. But you would have to be both hoops-ignorant and cold of heart not to celebrate a team like Iceland punching their ticket.
Nordic inspiration
Watching their horde of shooters come off pindowns, bury threes, confound more athletic opposition by sharing the ball amongst five constantly moving pairs of hands, it was tempting to compare them to Finland, another Nordic country punching above its perceived weight in recent years. Iceland's height limitations are even more pronounced - there is no match for 2.09m Hanno Möttölä on this squad - and so their underdog charms are even more appealing.
But this is no 'aw shucks, just look how those guys try hard' kind of deal. There is a seriousness and subtle aggression in the way they play. The bench rose as one to celebrate big buckets. The pile of limbs at the final buzzer was jubilant. This is a team that plays and succeeds as one, where the collective is stronger than any individual, but not at the expense of personality or expression.
Asked whether their Nordic neighbours have been an inspiration, Vilhjálmsson was emphatic: "Seeing Finland play made us believe that qualification was possible as they don't have a tall team either. We can see that anything is possible and believe in ourselves."
That belief didn't waver throughout the game, despite Britain's 41-28 lead early in the third quarter. In the first half, GB did a good job of passing out of the constant double teams and got a lot of mileage out of Dan Clark and Drew Sullivan in the post. Iceland missed some open threes, but the fact that they were creating the looks was encouraging, or worrying from a British point of view.
Put them in discomfort
GB coach Joe Prunty credited the adjustments Pedersen made defensively, allowing them to front the post on one side, then also on the opposite side after the swing pass. That kind of defensive look would be tested far more thoroughly by a  team that could stretch the floor properly. Iceland defenders didn't just ignore Devan Bailey on the weakside, they made him feel positively invisible.
It's also a physically demanding style, which is even more relevant for a seven-man rotation and a format of five games in six days in Eurobasket's opening round. Stefansson admitted that the players have "cursed it many times", but there is no doubt that every player believes and buys into the system. Vilhjálmsson summed it up, saying they have to "be aggressive and put a team into discomfort when they play us."
Similarly, they may not see quite as many open three-point looks from the weakside against more aware and capable defensive rotations. In a botched switch late in the fourth, Kyle Johnson was so late to recover to the wing that his rueful grimace was visible to the press sat behind the baseline. Of course,  Vilhjálmsson buried the open three. Johnson knew he screwed up before he could even try to close out. At this level, knowing isn't enough.
Despite those caveats, it will take not just skills and size, but consistent and patient execution to beat this team. Better squads than Britain will find it very difficult indeed.
Assured underdogs
As last night's matchup followed the curve of every thrilling game, ticking upwards until an exponential explosion in the last few minutes, Iceland were assured. Britain appeared scared. Stefansson spoke after the game in the same manner that he played: with the spirit of an underdog but the self-assured confidence that he could achieve what was necessary to win. For whatever reason, that has eluded the British team, not just tonight but throughout the  summer. No amount of government funding would be able to buy that.
Both teams are still to play Bosnia in their final game, but after that, their paths will rapidly diverge. For Great Britain, an uncertain future following the withdrawal of government funding and no more money in a bank account coming up with nothing but lint. GB Basketball assured the media that the show will go on, but at this point, nothing is set in stone.
The hipster's choice
On the other hand, Iceland will almost definitely be making their way to Eurobasket for the first time. ELA will guarantee they will win admirers instantly, and have the ability to win games as well. If Finland are the hipster's choice in the upcoming World Cup, take it from ELA now, before everyone jumps on the bandwagon:  Iceland is your new favourite team.