By: Nick Gibson / @euro_adventures
Let me be clear: I have no reason to believe Bo McCalebb won't be in Venezuela between July 2-8 in his finest blue (?) Nikes to hoist the Former Yugoslavian Republic of Macedonia into the Olympics.  I want my Bo.  If you're a fan of incredible basketball, you should want to see him too.*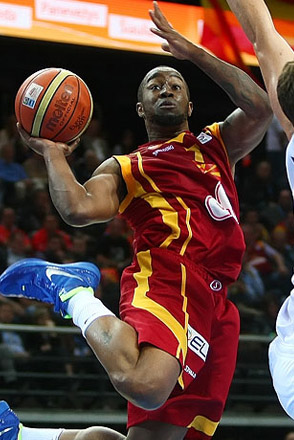 With apologies to Pero Antic and his cool shirts, it was Bo's 21.4 points per game and virtual unguardability (yeah, it's a word) that led the Mac Daddies to huge wins over Croatia, Greece, Slovenia and even their Lithuanian hosts en route to a stunning fourth place finish.
Plus, who knew there was a 'New Orleans' is Macedonia, too?  Crazy stuff.
Now, the Macedonian Passport Holder & Co. are a few solid performances away from chartering a jet to London this Summer.
But what if, for whatever reason, Bo can't go?  Toe surgery kept Montepaschi Siena's star guard out of action last season and a bum foot caused him to miss three of Mens Sana's EL contests in 2012, so a tweak during training isn't out of the question.
[Searches frantically for wood.  Knocks on it.]
Plus, there's the issue of the NBA Summer League which—when it last ran in 2010—took place in Orlando between July 5-9 and then in Vegas from the 9-18.  Is McCalebb far too advanced to be running around with a batch of underdeveloped lottery picks, undrafted collegians and D-League also-rans?
Yep.  But I don't know.  People make dumb decisions everyday, especially with agents to (mis)guide them.
So while the prospect of a Bo-less Macedonia moistens the eye, it's a reality that could strike at any moment.  It's why MKD's preliminary 28-man roster comes complete with four potential stand-ins, all Americans.
Who's the (hypothetical) heir to Bo's (hypothetically) empty throne?  Slightly more detailed player descriptions below the poll.

Loading ...
Marques Green, Sidigas Avelino: The little 5'6″ guard plays a huge chunk of minutes in Italy (37) and has the stats to match: 15.6 points, 6.2 assists, 4.5 rebounds and 2.4 steals.
Jeremiah Massey, Lokomotiv Kuban: The All-Eurocup second teamer led the competition in index rating and rebounding. Plus, Masseydonia is puns of fun.
Darius Washington, Turk Telecom: The Round Mound of Turkish Sound has proven he can put up stats over here—16.6 points, 4.2 dimes and 3.7 rebounds in the TBL this season—but can he run an offense responsibly against tight defenses?  His three turnovers per game tell us 'maybe?'.
Kennedy Winston, Oostende: After stints with giants like Real Madrid, Panathinaikos and Roma, Winston finds himself averaging just 11.2 points and 3.9 rebounds in a wide open Belgian League that's bred American statmongers in the past.  I guess he plays small forward, which is different than the three other guys.  Roll Tide.
And here are all 28 Macedonians who have been invited to fight for a spot on the Olympic qualifying squad, courtesy of our friends over at TalkBasket.
Vlado Illlievski (Lokomotiv Kuban)
Ognjen Stojanovski (MZT)
Damjan Stojanovski (Lukoil Academic)
Vojdan Stojanovski (Donetsk)
Pero Antic (Olympiacos)
Todor Gecevski (MZT)
Gjorgi Cekovski (MZT)
Predrag Samardziski (Lietuvos Rytas)
Kiril Nikolovski (Feni)
Darko Sokolov (Feni)
Dime Tasovski (Lyria)
Jane Petrovski (Renova)
Alexander Kostoski  (Kumanovo)
Ivica Dimceski (Torus)
Dimitar Mirakovski (Renova)
Marko Simonovski (Feni)
Gorjan Markovski (Torus)
Bojan Trajovski (Torus)
Bojan Krstevski (Torus)
Nikola Karakolev (Torus)
Riste Stefanov (Ilisiakos)
Todd Zafirovski (Duke, NCAA)
Stojan Gjuroski (Louisiana Only, NCAA)
Bo McCalebb (Montepaschi Siena)
Winston Kennedy (Ostende)
Jeremiah Massey (Lokomotiv Kuban)
Darius Washington (Turk Telekom)
Marques Green (Avelino)
*Unless you hail from one of the following countries: Greece, Puerto Rico, Jordan, Nigeria, Lithuania, Venezuela, Russia, Dominican Republic, Korea, Angola or New Zealand. Yeah. You should pray his plans change.