By: Nick Gibson, Sam Meyerkopf and Rob Scott
For the rest of April, we'll be taking a look at the dozen teams who couldn't make it from the Top 16 to the Final Four. They are: The 75%. Here's what we've got so far:
Onto Bilbao Basket…
Regular Season: Five wins, five losses, fourth place in Group A
Top 16: Four win, Two losses,  second place in Group F
Playoffs: One win, Three losses, Lost series to CSKA Moscow
Sexiest Win: 77-72 vs. Caja Laboral, December 22. Do-or-die clash between Basque rivals ended with Bilbao in their first ever Top 16.
Ugliest Loss: 73-87 at SLUC Nancy, October 27. Confirmed off-the-bat that the road would be cruel.
Why It Broke
Nick: A thorough up-and-downing of Bilbao's roster satisfies nearly every Yeah they're good; but are they Euroleague ready? requirement.  A big that blocks shots: D'Or Fischer checks that box.  An OG enforcer who'd run through a wall for you: Alex Mumbru's gotcha covered.  Rock steady forward (and All-Euroleague snub) who's seemingly never missed a baseline jumper: hello there, Marko Banic.  Offensive insignificant/defensive soloist: Josh Fisher's cool with that.  American guard who can dribble by you: Aaron Fucking Jackson at your service. They even had the human hot plate, Kostas Vasiliadis, who could drop a dozen on you before you can say, "He just dropped a dozen on me."  Add a raucous bunch of Basquetball fans and you've got yourself a dandy.  And try as you might, you won't find a statistical scapegoat during Top 16 play; rebounding, assists, shooting percentages all solid enough.  And taking a game from CSKA doesn't mean Bilbao broke; but it doesn't mean they couldn't use some fixing either.
Sam: At first glance, being matched up against CSKA Moscow in the Playoffs was disastrous; as they were really the only team against which Bilbao stood no chance.  Bilbao had a solid roster of players, but when push came to shove they really needed herculean offensive efforts out of Aaron Jackson and Kostas Vasiliadis to become a Final Four team.  They were solid in almost every facet of the game, dependable rebounders, good ball movement, team defense; but they just rarely had that extra gear these Final Four teams possess.  This team wasn't great, just great at surviving.  They won their last Regular Season game to advance to the Top 16 and then won their last Top 16 game to make the Playoffs.  No one can say this team didn't have heart, but they just didn't have the consistent performance that makes you a Final Four team.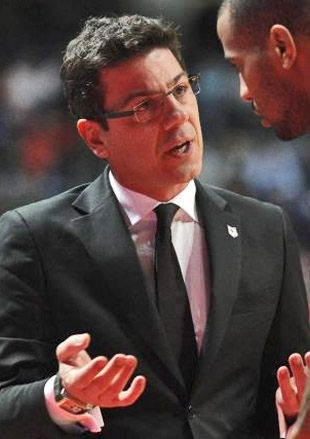 Rob: One of the ACB's most beguiling teams repeated the trick at Euroleague level, and making the playoffs and eliminating both Caja Laboral and Real Madrid in the process can't be seen as 'broken'. This team played above its talent level, thanks in no small part to Coach Fotsis Katsikaris' expert preparation. They met their match against a CSKA team that was just too big and powerful for them, but still managed to grab a win at home in that series. They'll have to make the ACB finals again in order to get their names past the bouncers at Jordi's exclusive party, but Khimki beating Valencia in the Eurocup final has at least kept that door open for them. Of course, Unicaja could deservedly lose their A-licence.
How They Fix It
Nick:  I've lauded Vasiliadis' as the EL's most prolific streak scorer, even going so far as to say he deserved an All-Euroleague spot as much as Juan Carlos Navarro.  But that's just it: he's streaky.  He had as many scoreless games (two) as he did 20-point outbursts (one of those 20-pointers came in Game Three vs. CSKA after laying a goose egg in Game Two).  In a similar instance of statistical volatility, Jackson's lone double-digit assist game (10) and highest PIR (28) came against Real Madrid just a week after his lone assistless outing and a PIR of zero.  Adding to our bewilderment is the fact that those spectrally expansive renditions of the point guard position came against the same opponent, Real Madrid.  Strange stuff.  Unless you count Raul Lopez as anything more than a ball control back-up—which is, by the way, all that's left of the Spaniard—it's pretty clear that Bilbao needs a stabilizing agent in the backcourt.
Sam:  Retaining this Bilbao core again is essential; their chemistry and comfort level with each other was a big reason they got this far.  While Vasiliadis could be exceptional shooting the ball at times, he needs another wing scorer next to him to take some attention away.  The older back-up guards Lopez, Roger Grimau, Fisher, and Janis Blums showed flashes of their once proud games at times, but overall didn't bring enough off the bench.  You want to insert more energy into the game through substitutions and this group had a tough time doing that.
Rob: They're fairly set in the front court with Fischer regaining the dominant shot blocking form he showed with Maccabi and Marko Banic emerging as a dangerous, efficient scorer at the four spot. Where they need to upgrade is in the backcourt - more than half their points came from the SF and PF positions, and their most used lineup featured Janis Blums at the two, which isn't going to get it done if they want to break into the elite ranks.
Who They'll Target
Nick: Hate to steal Slam's Efes target, but simple minds think alike: Estudiantes' Jayson Granger is the dude here.  His team sits on relegation's doorstep in the ACB and if they can't right the ship, the 22-year-old Uruguayan point guard will be ripe for the picking.  If Bilbao earns another Euroleague bid—which is far from a  sure thing—wooing Stefan Markovic away from Eurocup runners-up Valencia would be a dream come true.  A tough, young Serb who can D up dutifully and run the pick and roll beautifully.  Put him alongside a supporting cast similar to Valencia's and watch him go to work.
Sam: A team that led the Euroleague in turnovers needs a better ball controller.  Jackson is a great change of pace guy, but he can't be expected to lead the half court offense every game.  Kalin Lucas who really started to come on for Olympiacos before they dropped him in favor of Acie Law, and the former Spartan could bring a little passing prowess after a year of European hoops seasoning.  Some small tinkering can be done to the second unit, but overall Fotios Katsikaris has molded this group into a very dependable bunch.
Rob: Katsikaris took the bulk of the team that shocked the ACB in 2010-11 and chemistry was a big factor in their success, so I wouldn't expect a huge overhaul. A two guard like Fuenlabrada's Kirk Penney would be another veteran presence who could help them with some quick offense off the bench. Of course, Bilbao seems to do most of its shopping in Madrid, so just look at who might be expendable in the summer down there and pick whoever you like best.