By Rob Scott / @robscott33
Bayern Munich are one of the biggest names in world sport, with grand ambitions for their reanimated basketball arm to emulate the prestige and success of the football team. Making their first appearance in Euroleague, they sit on a 3-5 record, still capable to qualify for the Top 16 but on a four-game losing streak.
The project to bring football's dominant name to the summit of European basketball has been enthusiastically supported by Euroleague, which looks to the German model as one that represents the future of the game on the continent, away from the decaying economies of the game's heartlands in southern Europe. Drawing impressive crowds to the Audi Dome, the atmosphere appeared nevertheless robotic, at least on screen. Loud, but family friendly, the regimented beat of the smiling Bavarian drummers was drowned out by the small band of Olympiacos ultras' more bestial, southern-European din in last week's clash.
Luckily for us the team that the brothers Pešić Junior and Senior have assembled and put on the floor served up a thrilling spectacle, but one that showed all the strengths and weaknesses of this aspiring behemoth.
Offense good, defense bad
The headline for this team boils down to 'offense good, defense bad'. They sit at fourth in offensive rating, at 112.5 but their defense is down in 20th, giving up 110.6 points per 100 possessions. Nowhere was this more apparent than in that Olympiacos game, as they shredded the champions' rearguard to the tune of 103 points, only to give up 105.
Svetislav Pešić is getting the most out of this roster on offense. Malcolm Delaney is at the centre of everything, and his adjustment to playing at point guard is going very well indeed, in Euroleague play at least. He has everything a ball dominant scoring guard needs - speed, athleticism, great slashing ability and deep range, not to mention a decent eye for a pass in the pick and roll.
Volume scoring is one thing but he is developing a pretty nice understanding of timing the pass out of the hard hedges that teams will inevitability throw at him to get the ball out of his hands. Bayern's big men all move really nicely off the ball and have great pick and roll instincts, and if Delaney can keep hitting them right on the money, their offense is going to continue to tick over nicely. Also incredibly useful is his ability to get to the line, where he shots 87% on 6.7 attempts per game.
Bench scorers don't get more hot handed than Heiko Schaffartzik, and Pešić has devised some nice sets to get him opportunities to shoot, not that he needs any invitation. Simple dribble handoffs are really difficult to stop with a guy like Schaffartzik has such a quick trigger, and he can pull up from all over the floor, as well as open up space with penetration. Nihad Djedović is a similarly versatile scorer, and it's no surprise to see an offense that can attack the rim, grab offensive rebounds and not turn the ball over perform so efficiently.
John Bryant has had a tough transition to the higher standard of Euroleague, having dominated at BBL and Eurocup level, but against Olympiacos he was back to doing his best work on offense. Strong in the post, and a genuine pick and pop threat, he can also be a deft passer out of double teams. Chevon Troutman is a crafty opportunist, floating around the weak side for putbacks, he also has a decent low post game. The versatile frontline also features offensive rebounding maniac Boris Savović and Robin Benzing's ability to stretch the floor. If Deon Thompson could stay on the floor and regain his scoring touch from his Alba Berlin days, that would be another valuable piece inside.
So, Bayern are scoring really efficiently in a motion-based offense that gives their talented scorers the chance to do what they are good at. But it's at the defensive end that the problems lie, and their efforts to stop the other team scoring are so ineffective, it warrants a closer look. If this team could play even league average defense, it would be a dangerous opponent. As it is, teams are always going to be able to get a good look at the basket, even below average offences like Siena and Zielona Gora, both of whom have beaten Bayern in recent weeks.
99 Problems and most of them in pick-and-roll defense
The first thing to say is that none of their players are natural defenders, or are specialists on that side of the ball. Whether this leads to a lack of effort, or just reinforces poor instincts, its hard to say, but there isn't one defensive leader on the roster, someone who can lock down an opposing star.
But defense is played as a team, and its here that iffy decision-making and questionable strategy collide, sparking an explosion of points on opponents side of the scoreboard. If there is one fatal flaw a team cannot afford to possess, it's an inability to defend the pick and roll, and unfortunately for Bayern, this is where their problems lie. They defend most ball screens with a soft switch, or flat coverage, rarely if ever hedging. That's not a terrible strategy if your big men are good at containing penetration, but in the case of Bryant, Thompson and Idhibi, nothing could be further from the truth. They also lack athleticism on the frontline, something guys like Bryant Dunston can take full advantage of.
Looking at week seven's defeat to Siena, Daniel Hackett drives round a high ball screen, and Bryant's main job should be to hold contain his penetration: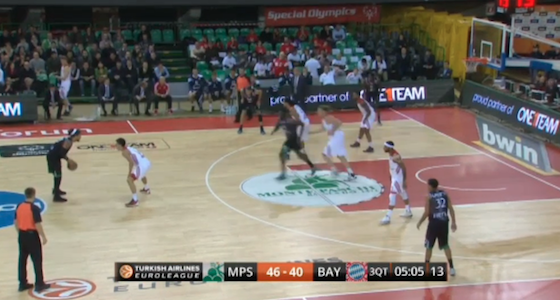 Bryant is just too slow to stop Hackett's progress down the lane, and Delaney has to help from the wing, leaving Erick Green wide open to drain the three:


Aside from the bigs' inability to contain penetration, the guards don't make any real effort to force the playmaker away from the screen, or to stop him doing whatever he wants. Again from the Siena game, Chevon Troutman this time shows less than effective decision-making, on another high screen. The first image shows the beginning of the play, with Spencer Nelson, on the ball, given far too much room as Thompson and Hamann back off and allow space.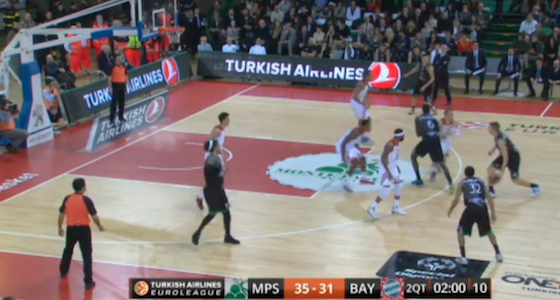 Troutman begins to help on the roll man before any pass has even been made, and it's easy for Nelson to skip it over to Jeff Viggiano, left open on the wing for another open three, which he drains.

It's one thing to make bad decisions in situations like this, when the offense forces an instant reaction, but mental lapses and poor judgement on the defensive end are unfortunately frequent, or at least were in the Olympiacos game. The next two screenshots show Olympiacos players with metres of space in which to calmly knock down open threes, both from avoidable errors.
Here, Vassilis Spanoulis drives baseline, and the defense collapses into the paint, but nobody cuts off the pass, leaving him with two options for the easy three: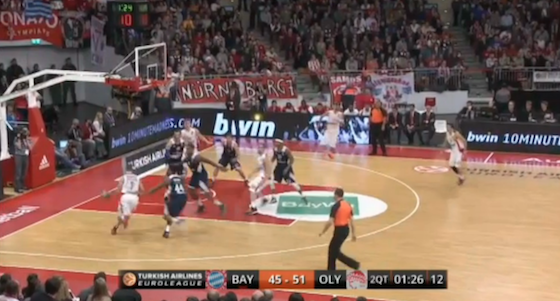 The next image doesn't even show the result of any drive, switch or rotation, Bayern were simply asleep and forgot to guard Perperoglou on the perimeter. Mistake. Three points for Oly.

Mistakes like these could be down to bad communication or lack of concentration, but a more puzzling mistake came from the sideline. Why Pešić should have his players continually go under screens against Spanoulis, when the whole continent knows he loves to pull up and knock down the three, is anyone's guess. The reigning MVP finished with 24 points, on 4-of-7 from behind the arc. More than this, they often don't even do simple things like get hands up in the shooter's face, which is unforgivable in players this talented.
Outside of Bavaria, shameful joy?
It's a shame for Bayern, if not a good source of schadenfreude for those in Germany who might love to see them fail. If they could get more stops, aside from the obvious benefit of allowing fewer points, their already purring offense would likely be even better, as Delaney and Scharffartzik could be very effective in transition. Going toe-to-toe with the Euroleague champions is impressive, but with this defensive weakness it's difficult to see them troubling many more contenders, if they make it to the Top 16 at all.
Their recruitment, other than Delaney, was confined to familiar faces from BBL opponents, so maybe next year they should look at bringing in a more balanced roster of players who want to, and are able to defend. The Bayern project is off to a great start, arguably ahead of schedule, but more attention needs to be placed on the defensive side of the ball if they want a sniff of the game's elite.