By Rob Scott / @robscott33
After wining Eurocup last season, Lokomotiv Kuban entered the Euroleague arena with high hopes. Sitting joint top of Group D on a 6-2 record, they already look right at home alongside the biggest names in continental hoops. But can they keep it going through the playoffs and beyond? Their first seven Euroleague games would suggest there is a pretty good chance.
Calathes out, Williams in
Last year's roster was led by Nick Calathes, who departed for courtside seats in Memphis. In came Marcus Williams, as divisive a player as there was in European ball last year. Unicaja were better statistically last season with him off the floor, but there are few guards in Europe with his ability to hit threes off the dribble and create from the perimeter, and his willingness to shoot in any situation obscures his more than solid passing. Calathes was one of the most reliable pick and roll creators in Europe, not to mention a sure hand at the end of games. Williams is more of a wildcard, a promise of the dramatic that can't be kept without knowing that 'heroes' sometimes steal the game from their own team.
Loko's versatility at the playmaker position, as we'll call it rather than point guard, is still one of their main strengths. Spreading the load that Calathes left behind, Williams, Mantas Kalnietis and Sergey Bykov each offer something different. Kalnietis is dynamite in transition, an elite slasher and another under-rated passer just because he sometimes takes the high risk option. Bykov has emerged as a smooth option to run the secondary pick and roll and spot up off the ball. Coach Evgeny Pashutin plays two of the three together at most times, which means they have great spacing, on which his offense is based, but every guard can play the role of shot creator.
Mr Brown is Mr November
Brown won the Monthly MVP award for November and it's easy to see why. Averaging 15.4 points in Euroleague for the season, shooting 65.2% on 2FGs, Brown is a dynamite player both in pick and roll and transition, not to mention a weak side shot blocker of note, if not regularity.  A superb pick and roll relationship is blossoming between Williams and Brown, but the former-Bobcat's best asset is his ability to play pick and pop and attack off the dribble.
He has a smooth mid-range game, shooting 43.3% on non-dunk/layup 2FGs to go with his 81.1% at the rim. Brown is an unwilling three-point shooter, attempting only three in seven games, making two. His jumpshot looks fluid enough, and if he could just extend his range a few feet further out, defenders wouldn't be able to give him room above the screen. As it is, he does a good enough job flying to the rim either as the roll man or with the ball from the elbow. Williams to Brown is the league's leading assist connection - 19 overall, 13 at close range, also the leading mark.
Amongst players in Europe, his NBA-level athleticism and speed really stands out. Probably caught between the three and four positions in the States, at 2.01m, he has no problem defending fours in Europe, particularly the kind that are mobile around the perimeter. It feels like he hasn't reached his ceiling in European hoops either, particularly if he can extend the range on his jumper.
Defensive containment
Loko's strategy when defending pick and roll is usually to contain penetration at all costs, willing to give up midrange jump shots. Bigs usually stay flat, while the guards do a good job of fighting back over the screen. They do send help quite aggressively, which led to a few open threes for Maccabi in week eight, a prolific three-point shooting team that have given the Russians their only two losses so far. This safety-first approach has earned them the second-best defensive rating in Euroleague, at 97.1, albeit early in the season. That includes two games of giving up 53 points to the anaemic Lietuvos Rytas offense, and it will be interesting to see if they can continue this strategy as the teams they face get more adept at hitting from midrange.
If an opponent does manage to penetrate through to the paint, they'll find Richard Hendrix waiting for them. Even if he doesn't put up huge block numbers, his mobility across the lane and his strength manages to change shots and force misses. Aleks Marić is also a big buffer and strong enough to force anyone off their spot in the post, even though the deftness and power he had in his time at Partizan and Panathinaikos is long gone.
Atmosphere Found in Russian Basketball Arena
One of the cooler things about Loko is that they have actual fans. Those fans even go to the gym and create an atmosphere that actually adds to the game. We don't want to be mean to our readers out there, but sparsely populated arenas are an unfortunate feature of hoops in that part of the world. Not so in Krasnodar. You won't confuse the concisely named Basket Hall for Pionir Arena, but Euroleague would be immeasurably cooler if crowds in the UTC+4 timezone were more like Loko's locos. Like this guy, for example: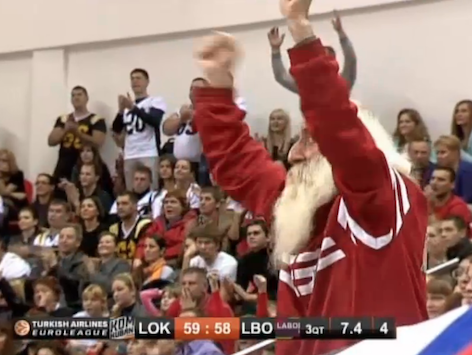 To stretch or not to stretch?
Playing without a stretch four for most of the game shouldn't necessarily hold them back - they have shooters in Jasitis, Simon and Williams, and Brown is still a threat with the ball on the perimeter even if it's not to shoot the three. A little used third power forward, Valery Likhodey, is shooting 7-of-14 from three in only 12 minutes per game, but when he was given a bigger role, he shined, shooting 3-of-5 from behind the arc in around 25 minutes against both Crvena Zvezda and at Maccabi last week.
Pashutin plays Hendrix at centre alongside Brown at the four, and Hendrix at four with Marić and Zhukanenko in the middle. Lineups with Likhodey have a 120.8 offensive rating, which is insane, but also only cover 73 minutes in Euroleague. Brown should be in the game as often as possible, and perhaps playing him more on the wing where his off-the-dribble game could still be utilised would be one way of getting more of a floor-stretcher in at the power forward spot.
One weakness they have offensively is playing against zone. Lacking a creative passer at the four position, they struggled to break down a simple 2-3 zone by Laboral Kutxa as the Basques came back into the game, with nobody to find the soft spot in the zone from the high post. In a playoff series, like we saw with Panathinaikos against Barcelona last season, a problem like this can unravel a series quickly.
How Far Can They Go?
Although their defensive rating is much better than their offensive one, this still seems like a team built to succeed on its scoring. It's really a question of whether the defense can hold up as the opponents get better, and whether they can put up enough points to worry the contenders. They have won some tight games on buzzer-beaters by Krunoslav Simon, so it was probably about time they lost a close one last week, Mantas Kalnietis dribbling off his foot trying to tie the game in Tel Aviv, before Marcus Williams just about missed a desperation turnaround three off the loose ball. Last season, Calathes and Jimmy Baron could be trusted to take care of the ball and hit free throws. This year, it's not clear who that steady pair of hands is.
Despite that, there is every reason for this team to be aiming for the playoffs, and if they got a matchup like Barcelona or CSKA that struggles shooting the three, that strength inside and ability to contain and force teams away from the paint might make them an outside contender for a ticket to Milano.