By Rob Scott / @robscott33 
Catching up on Week Nine in Euroleague, the most entertaining game took place at Palau Blaugrana as Fenerbahçe took down FC Barcelona in overtime, 91-89. The hosts dropped to 8-1, but there was no shame in losing to a Fenerbahçe team that is looking more and more cohesive by the game. A few things stood out, beyond the result:
Hezonja Watch
Mario Hezonja played over 29 minutes, and shot 4-of-6 from behind the arc for 12 points, adding two assists but missing all three of his attempts inside the line. As we wrote earlier this month, there's no denying his scoring ability, but that isn't enough to overcome pretty serious tunnel vision and a whole bunch of defensive issues.
On the upside, his catch and shoot game looked buttery smooth - three of his triples came on well contested spot up shots, the other a silky crossover and stepback over Melih Mahmutoglu out of an ISO. When the play calls for Mario to shoot, he can light it up. He could keep a spot in the rotation just by being such a threat curling off pindowns.
On the other hand, one play late in the fourth quarter jumps out - the ball was swung to him, he drove towards the middle, saw his path quickly blocked, so he backed up for a clearout. He missed a tough contested layup, but the salient point is with 10 seconds on the shot clock to find a better opening, there was no hint that he would do anything but find a shot for himself. That kind of mentality is hard to shake.
Defensively, he stepped up the effort level, which is encouraging. He stood up well to Bogdanovic in the post, and chased Goudelock round screens with diligence. There was still the play below though, which is kind of inexplicable. The effort is there, but the instinct is not. Again, if he doesn't see the floor at crunch time as the season ramps up, this will be why: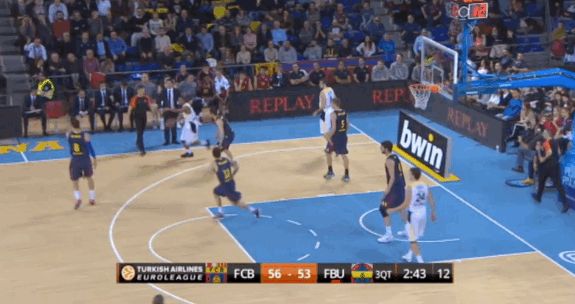 This isn't about projecting how Mario will pan out as a defender, in the NBA or otherwise. The physical tools are there and the effort can be coaxed out of him. He's a precocious talent, and some players have to be given the freedom to work out their mistakes and make up for them in other ways. But he isn't yet at the level where a team like Barcelona is going to let him learn on the job. Particularly with the absent Juan Carlos Navarro, Brad Oleson and Alex Abrines (who limped out in the first quarter) to return.
Deshaun Thomas looking Mickeal-ish?
A few eyebrows were raised when Barcelona picked up 2013 NBA second round pick Deshaun Thomas. He spent his rookie year with JSF Nanterre and impressed as a power forward who could put the ball on the floor and drive. Coming out of Ohio State it's likely he slipped to the second round mainly due to the dreaded 'tweener' status. Too small for the NBA four, too slow for the three? That's changing in a big way, at least at the Euroleague level.
He struggled initially guarding the quicker small forwards, and even some of the not-so quick ones, but last week's game showed exactly what he does offer. Maybe Fener helped out by playing a three guard lineup to begin with, but he had no problem bullying Bogdan Bogdanovic in the post, levering him out of the way to score at the rim with ease. His 9-of-11 shooting inside the arc showed just how easy he found it. He is currently shooting 9-of-12 from three point range in nine Euroleague games, including a pair of 3-of-4 outings. Obviously that percentage would fall dramatically the more he shoots, but it shows a discipline that a coach like Pascual values.
The biggest absence in Barcelona since Pete Mickeal's departure has been that powerful small forward presence - for all Kostas Papanikolaou offered floating around the weakside he wasn't the same physical force. It's way too early to nominate Thomas as the successor, but the blueprint of what the club hoped he'd turn into is becoming apparent. We'll still need to keep an eye on him on the defensive end, but he's quickly turning into a matchup headache for anyone.
Four-five goodness for Fener
Well into his second year with the team, it still seems like Zeljko Obradović is working things out, but tangible progress has been made. Last year was terrible at the Euroleague level, but this time round the team has momentum. This was their fifth win in a row, and they sit comfortably in second place in the group at 7-2. One of the most promising things about this game was the four-five hookup between Nemanja Bjelica and Jan Vesely.
The pair are modern archetypes for their position - Bjelica the multi-talented, ball handling, shooting power forward; Vesely the mobile, athletic five. Twice in overtime the Serb found his Czech partner for a dunk, not quite in pick and roll, but both plays started with Vesely setting a rock hard screen then cutting to the rim. Bjelica-to-Vesley could replace Khryapa-to-Kaun as the continent's coolest big man passing combo. With Semih Erden looking (whisper it) not completely terrible, and Vesely the high energy modern-five, things could be looking up, after the centre position basically murdered them last season.