By Rodhig / @rodhig7
This is not how an elite defense is supposed to look like in the pick and roll/stretch four era and yet here we are: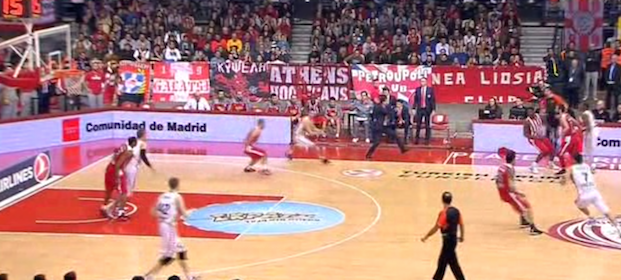 With the democratization of the three point shot, most coaches seem to know better than spread their defense thin on the perimeter. Minimizing rotations is the name of the game. Xavi Pascual led Barcelona to record-setting defensive ratings by forcing dribble penetration into the trees (Boni N'Dong, Fran Vazquez, even Ante Tomic) and taking away passing lanes toward both the roll man and weak side shooters. Ettore Messina's original CSKA dynasty benefitted from a similarly conservative approach. Dusan Ivkovic made switches popular with Olympiacos in 2012, combining more aggressive defense on the ball with a formation that often resulted in opposing big men making more decisions with the ball than they would like to.
There are exceptions to this rule, but teams that found success following a different path relied on freakish length (CSKA under Kazlauskas) or calculated risks when it came to open threes and a knack for forcing turnovers on the strong side (Panathinaikos under Obradovic). For the most part, however, the proliferation of lineups featuring at least four respectable long range shooters, has led most coaches to defend the two-man game with two defenders. Rotations cannot be avoided altogether, but in help and recover situations the latter is at least as important as the former (again, Pascual's Barcelona has provided plenty of evidence in this area). This means that the defense must start moving as late in the shot clock as possible.
Sfairopoulos Mayhem
Apparently, Giannis Sfairopoulos didn't get the memo. Since taking over in November, the new Olympiacos coach has been preaching mayhem at the defensive end. Sfairopoulos likes his pressure full court (for forty minutes), his painted area packed and his passing lanes clogged with overplaying defenders. Positioning and formation take a backseat to activity and physical play. Most mistakes or breakdowns are by commission instead of omission and they rarely discourage Olympiacos from implementing their game plan. Simply put, the Reds are willing to bet that, by applying enough pressure on the ball, they will buy enough time to make their rotations work and wear opponents down.
So far in the top 16 this seems like a smart bet. Not only is Olympiacos' defensive rating below the point per possession threshold, they have also never conceded more than 32 points in the second half of any of their four games. Regardless of pace, this has been an impressive feat. However, a closer look at Sfairopoulos' defense reveals a few cracks that could turn into successful counters.
On the screenshot at the top of the page, a typically aggressive hedge out by the Olympiacos center - Bryant Dunston, although it must be said that Othello Hunter has displayed more solid footwork overall -  has pushed the ball handler on the pick and roll somewhere between a rock (the sideline) and a hard place (the half court line). Tremmell Darden rotates toward the paint. Davis Bertans is wide open at the perimeter.
Once Fabian Causer, acting as a release player against the double team, finds Bertans with the crosscourt pass, the defense is one step slower than ball movement. Darden gets back to his man in order to prevent an open three. Neither Dunston, nor Giorgos Printezis, who was trying to deny a pass to Tornike Shengelia, can get back to cover Colton Iverson in time. This is how Laboral Kutxa got a dunk.
This is where a more nuanced defensive strategy would come in handy. To their coach's credit, Olympiacos rarely get carried away by their own pressure. They commit a bunch of fouls - with Sfairopoulos saying that his team is deep enough to live with it - and not always force as many turnovers as they should, but their relentless  work on the ball is usually underpinned by smart positioning which helps everyone get back in time: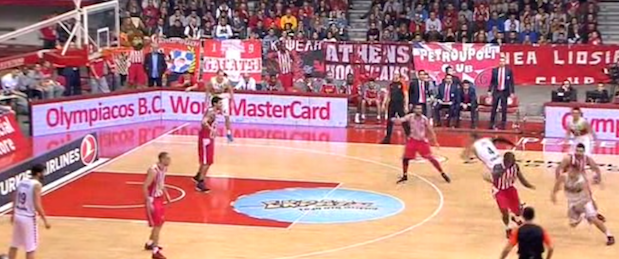 The difference here lies in Mantzaris' position at the top left of the screen. The Greek guard is willing to allow a short pass to his man well beyond the three point line, in order to allow Printezis to pick up the rolling Iverson, without having to worry about the weak side shooter:

A quick pass to Mike James near the half court line would not pose a threat potent enough to force Mantzaris to move toward him, leaving Printezis to cover two players. It is that combination of aggressiveness on the ball and disruption of vital passing lanes that should be the guiding principle of Olympiacos' defense going forward. Their roster includes a few above average individual defenders (Mantzaris, Darden, Oliver Lafayette, even backup guard Dimitris Katsivelis) and rim protectors (Dunston, Hunter, Brent Petway), but Sfairopoulos' philosophy leaves a very small margin of error. One second too slow on the hedge out and it's a foul - Galatasaray lived on the free throw line en route to a 26-point second quarter when they visited Piraeus. One step too close to the paint and a passing lane leading to an open three pointer opens up (a home game at Valencia and a visit at Fenerbahce demonstrated that risk).
Even when execution is spot on, though, strategy leaves certain gaps that can be exploited. Hedge out defense is particularly vulnerable against the short roll - Loukas Mavrokefalides had a field day when Panathinaikos visited Piraeus, hitting open mid-range jumpers and making passes that left the defense scrambling. Denying passes is also an invitation for back cuts into the gaps of defensive rotations. That's how Jan Vesely received quite a few passes in the paint. Rim protection didn't really matter once such an athletic finisher made such a deep catch.
Keeping options open
Perhaps this is why Sfairopoulos is keeping his tactical options open. Olympiacos often resort to switching, especially in secondary pick and roll actions late in the shot clock. Also, Bryant Dunston often drops back below the three point line, as Olympiacos look to have a presence closer to the rim. In any case, the challenge stays the same - being aggressive on the ball and smart away from it, even when opponents don't run a pick and roll: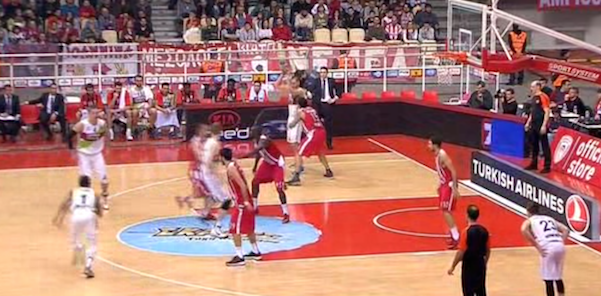 Olympiacos have occasionally been guilty of overhelping inside.This screenshot demonstrates the problem. Kostas Sloukas (on the bottom right) is in charge of helping Printezis, who defends the ball. Kim Tille's post up does not appear particularly threatening. He is too far away from the basket and Hunter roams around. And yet, Katsivelis, right in front of Sloukas, also gravitates toward the paint. The distance between him and Darius Adams allows the latter to move toward the ball, helped by an Iverson screen and hits the open three. Olympiacos have a lot of ground to cover on any given defensive possession. They don't need to concede openings that don't help their rotations, simply to create a false sense of security in the paint.
Defensive powerhouse
Those issues do not take away anything from what Sfairopoulos has accomplished. Without the benefit of preseason training, the Greek coach has built a defensive powerhouse, as all players seem to buy into his big picture, effort-driven scheme. Even Vassilis Spanoulis has come up with some of his best defensive showings in recent memory. However, in order for this effort to pay dividends when it matters the most - and when opponents are best prepared - Olympiacos will need to not only get their repetitions in practice, but also choose their battles on every possession wisely.