By Rob Scott / @robscott33
The 14-game Top 16 format is now in its third season, but there still isn't a rhythm to it. Week Four is over, but 0-4 isn't necessarily fatal, and 4-0 or 3-1 doesn't mean the work is done. In the absence of a clear narrative, the best thing to do is pick out teams that have exceeded, or met expectations, and those who have to pick themselves up from the floor and repeat the 'still 10 games left' mantra.
Felipe Steps up but Madrid still sleeping?
Real Madrid are 4-0 and sitting on top of Group E. Their latest victory was an 83-65 canter at home to Panathinaikos,  but there are still cracks left very much on display that fellow Final Four contenders will be pleased to see.
The lane is open for business in high pick and roll situations, which Madrid's bigs took flak for last season, not least from me. Coupled with the diminution of Marcus Slaughter's role to 'rarely seen' the focus has been on Gustavo Ayon and Ioannis Bourousis' lack of mobility, particularly the Greek. While Bourousis had one of his games where he treated defensive rotations like community service, perhaps more attention should fall on Sergio Llull, doing little to prevent the ball handler from forcing the big man back on his heels. There's not much to be taken from that - Laso won't (and shouldn't) yank Llull from the lineup given what he does on offense. At this point it's just something that the team has to overcome in other ways.
One of those options was to put Felipe Reyes into the starting lineup, a decision taken following the post-Christmas defeat to Barcelona. Pablo Laso seems to have settled on Reyes starting at power forward with Ayon at centre. It's true that Reyes has always consistently finished games, and when Sergio Rodriguez isn't in the starting lineup, does the cinco inicial really matter? But there are two benefits from finally settling on Reyes and Ayon as a pairing.
Firstly, just settling into some kind of rhythm will benefit everyone, with a degree of certainty as to when they can expect to play and with whom. Secondly, Reyes catch-and-shoot jumpshots off a short roll or pick and pop is the most reliable action Madrid can look for with their bigs. It also means fewer possessions that end in pull up threes or ill-advised Rudy ISOs, not to mention going to the low post early on just because it's the orthodox thing to do. In four Top 16 games since moving into the starting lineup, Reyes is shooting 60.5% on 23-of-38 from two-point range for 14.8 points in a shade under 22 minutes per game. That's compared to 10.1 points per game in 16 minutes in the Regular Season.
It's arguable that Reyes has always been slightly underused offensively but in the high-octane Madrid offenses of the past few years, but that was a feature, not a bug. He offered more than enough by sticking his arse out, grabbing offensive rebounds and performing interpretative dance at choice moments of contact at crunch time. Those offensive boards, of which he grabbed five against Panathinaikos, could even be more likely to happen the more he's used in pick and roll. Switch your big onto Llull or Rodriguez and Reyes is going to find it pretty easy to box out the little guy trying to keep him off the offensive glass. Madrid struggled with Olympiacos' switching defense in last year's playoffs, so it's just a little wrinkle that could be influential in April and May.
Despite all of this, Madrid haven't quite sorted everything. Andres Nocioni hasn't really hit a groove yet, despite a fine performance on Sunday afternoon at Gran Canaria. Plays like the one pictured below haven't been uncommon this year, with Ayon and Nocioni getting confused as to where they even need to be on a simple horns set. It ends up with Ayon missing a turnaround jumper over two defenders, with three Madrid players in the paint.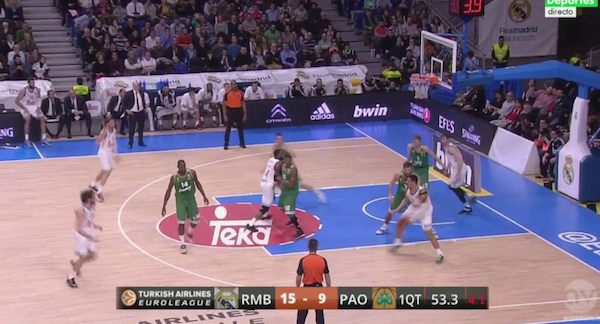 There are other anomalies that haven't been ironed out. It's still incongruous to see Rudy artfully doing the euro-step twist through the lane, Chacho gliding down the floor throwing no-looks and then… Jonas Maciulis. Speaking of Chacho, this was after a whistle, but is presented for your enjoyment. Because it's cool.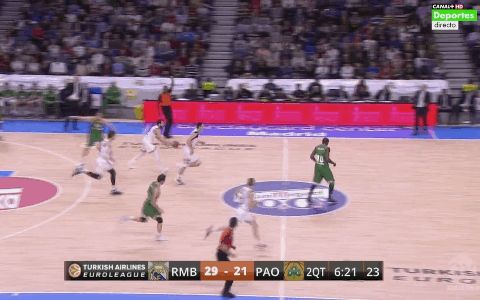 Even though Madrid won comfortably, the lazy switches and slow rotations showed a pretty big glimpse of how they could be taken apart, and the offense isn't yet at a level where they could always rely on it to bail them out. At least Pablo Laso has figured out a great baseline-out-of-bounds play for when the man guarding the shooter in the corner has turned his back.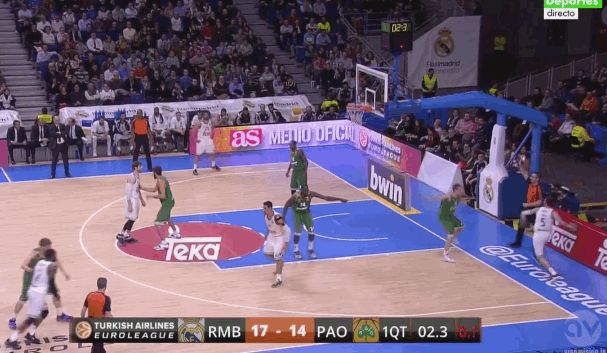 CSKA Thriving: Addition through subtraction
CSKA Moscow remains the only team unbeaten in Euroleague play, with 14 Ws in a row. CSKA stomping all over the Regular Season and Top 16 is nothing new, but this year there's a huge difference: they're entertaining to watch. Nando De Colo has excelled since returning from NBA obscurity, and this week he couldn't miss, literally, as CSKA blew Unicaja away, 101-74.
For the record, his line was 28 points on 7-of-7 from inside the arc, 4-of-4 from behind it and 2-of-2 at the stripe. What was even more striking was the ease and smoothness of his scoring. This wasn't an Andrew Goudelock-style one-man show. De Colo put up his points completely within the flow of the offense, calmly pulling up for jumpshots when the defense went under a screen, spotting up on the weak side for three, or dashing in for easy layups.
CSKA coach Dimitris Itoudis may have settled on a winning rotation mostly out of circumstance. Milos Teodosic went down injured halfway through the Regular Season, but his return at the start of the Top 16 didn't disrupt anything. Aaron Jackson looks like the all-action multi-tool guard he was in Bilbao, fully deserving his place in the starting lineup. No problem: Milos has slotted in as a Sergio Rodriguez-type impact sixth man, and the three guard lineups with Jackson, De Colo and Teodosic have been beautiful to watch.
It's never cool to cheer injury to any player, but another absence has freed up space and allowed the CSKA offense to breathe. Sonny Weems can win games by himself, but he can also lose them. He shot 5-of-23 at Fenerbahçe, and has sat out the last two. With Manuchar Markoishvili and Demetris Nichols ready to step in and play a role spotting up on the weakside and keeping the ball moving, the rock zips around and finds shooters in a way that it never does with Weems' jab-step-happy ball-stopping.
The clips above are taken from the Unicaja game when it was already over, but this kind of back-filling, motion, sharing offense is just damn hard to stop. The roster makes more sense now: CSKA didn't need Nenad Krstic using up possessions when they already had Sasha Kaun and Kyle Hines. Pavel Korobkov is at least a better defender in terms of impersonating a brick wall in the post. With neither Hines nor Krstic being crowbarred into an ill-fitting power forward's suit, Andrey Vorontsevich is regularly hitting pull up threes.
Weems actually averages 4.5 assists per game, but those are still primarily from dribble-drives he initiates. If Itoudis can reintegrate the former Raptor back into the rotation while not comprising the new sharing economy in Moscow, CSKA will be truly terrifying.
Efes Losing Their Way
Anadolu Efes gave up 109 points, 65 in the first half as they lost 109-90 at Nizhny Novgorod. That drops Duda Ivkovic's team to 2-2 in the Top 16. The record is not particularly alarming at this stage, but the defense is. This is after they gave up 90 to CSKA, which is forgivable under the circumstances, but to allow Nizhny to rack up 109 points from only 72 possessions is unforgivable, even if the Russians put on an all-time display of precision pick and roll offense.  Let's not take anything away from Taylor Rochestie, who set a Top 16 record with 15 assists to go with his 19 points, or Art Parakhouski's career 11-of-14 shooting night. But there's no way it should have been that easy for any team at this level.
Efes recorded the top defensive rating of 93.8 in the Regular Season, but in four games (small sample size alert, but still) of the Top 16 that has ballooned to 111, the third worst. Thomas Heurtel was never a strong defender with Baskonia, and by inserting him and thereby reducing Donate Draper's minutes, Efes' perimeter defense has got considerably worse. It's not just an inability to contest screens that holds the Frenchman back, it's bad instincts in general, like being beaten on backdoor cuts. That kind of thing just chips away at a team's ability to take the opposition out of their game.
Nenad Krstic also missed seven Regular Season games in a row, and it's no coincidence that Ivkovic's team made more sense with the veteran Serbian in street clothes. Krstic is Duda's guy; he always managed to get a lot out of him for the Serbian national team, but time catches up with everyone. The play below isn't highlight cherry-picking, it's a common occurrence when Krstic is involved in a help defense situation. Flat footed and late to react: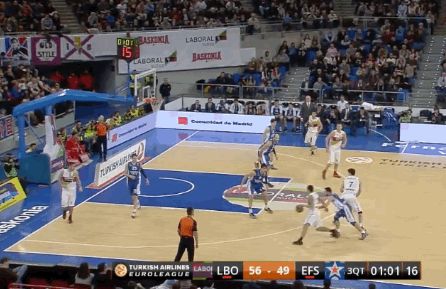 More than the individual failings, there seems to be a communication problem, which isn't necessarily all defence-related. As a playmaker, Heurtel naturally handles the ball a lot, but that has taken it out of the hands of Dario Saric. A point guard like Dontaye Draper made perfect sense when you have a forward who can initiate from the low or high post. Draper can bring the ball up and make the right passes - although a more reliable jumper would be nice - but his main value is on the defensive end. When you add up the possessions that end up with Krstic in the post, or Heurtel dribbling in and out of the defense with no end product, Saric's influence has been noticeably less. If a team is misfiring at either end, it's easy for that discomfort to infect the other side of the ball too.