By Rob Scott / @robscott33
As soon as the Euroleague Final Four is over, attention turns to domestic playoffs. For those of us stateless basketball nomads (British people) there is a dizzying array of choices, determined in many ways by the various roadblocks on the internet which may or may not exist. It's dizzying time of year, with games on every night across several timezones. We don't even have time to talk about Bamberg coming from 18 down last night to level the BBL finals 1-1 against Bayern (Baby) or Dinamo Sassari knocking off #1 EA7 Milano in the Italian semis.
For a long time now, the Spanish ACB has been the premier league in Europe, and parts of this year's edition only seemed to reinforce this. Over in Turkey, on the other hand, the established order has been overturned in scarcely credible fashion. Pinar Karsiyaka, with its €2.5m player budget, made the finals after turfing Fenerbahçe out, and are still in with a chance of taking the crown despite losing an overtime heartbreaker at Anadolu Efes in Game One.
The final matchup has been Real Madrid versus Barcelona for the last three years, and nobody would be surprised this year makes it four. But the march to another edition of El Clasico was so nearly interrupted. Luke Harangody's shot left his hand in the split second between the shot clock and game clock buzzers, stopping Valencia from taking a 2-1 lead over Madrid in their semi-final series. That one ended five minutes later in a balls-out Sergio Llull buzzer-beating three.
It's true that Llull and Rudy Fernandez had pushed the law of diminishing returns to breaking point with their shot selection, but forget that and enjoy the crossover. Filthy.
A breathless pair of games have re-ignited what was threatening to be an anti-climactic playoffs.
Before that, watching Valencia, Bilbao, Gran Canaria and Madrid in the ACB first round was like seeing a finely tuned machine with all the gears lubricated and spinning together. GranCa may have been swept but neither game was a real blowout.
The Canary Island fans could retire to the beach knowing that Aito Garcia Reneses had once again shown that if you give talented players the ability to express themselves in a team setting, uptempo basketball can still be smart. The passing was crisp and perfectly timed, shots rained in from behind the arc, Sergio Rodriguez didn't so much run the offense as conducted it like Leonard Bernstein. Albert Oliver hit five threes in a row! Who would want to be watching anything else?
Over on the mainland, Sito Alonso's Bilbao hung on to force a decisive third game against a richer, deeper Valencia side with spare parts and veterans who were supposed to be past it, with the kind of scheming that would make Keyser Soze blush.
Barcelona hung a 31 point defeat on Unicaja in their semi-final game one. The two finished with the same 25-9 record but that obscures the dramatic loss of mojo in Andalucia over the second half of the season. Game Two was a little closer, but the overwhelming feeling was one of inevitability. Sure, the game was tied at the first break, but the way in which Barca maintained their second half lead at between 12 and 15 was striking only for the lack of exertion. It was like watching Alberto Contador go for a recovery ride. You're in the presence of a champion, but you know he could do so much more.
Then, within a few days of circling the drain, Unicaja pulled off an overtime victory at home. Even the simplest of series refuses to conform to a narrative. Annoying for writers, fantastic for the game in general.
Meanwhile, in Turkey…
Seeing Pinar Karsiyaka send Fenerbahçe out of the TBL semi finals was like watching a hungry pack of velociraptors devour whatever docile herbivore they ate back in the Cretaceous period. The big money boys from the capital may have been suffering from an almighty Final Four hangover, but its hard to imagine any team winning in the sweatbox of an arena they have down in Izmir. Football-fan friends in Britain often scoff at the idea of basketball fandom, poking fun (rightly) at kiss cams, cheerleaders and jumbotrons. This is the kind of video I would show them as a retort, and this clip is from before the game has even started.
That intensity in the stands is matched on the floor. You couldn't invent a more appropriate setting for Kenny Gabriel to pogo over guys earning four times as much as he is; for DJ Strawberry to charge up and down the floor like a bull through a Spanish hill town and most of all for Bobby Dixon to jack-knife through the lane or snap his dribble to a halt and sink one pull up jumper after another.
Dixon isn't a new face, at 32 he's possibly hit the peak of his career this season, but there are few scorers in Europe this year who have been as dangerous off the dribble, pulling up over defenders who sag off to stop penetration. The pull-up threes he hit in the two home wins over Fenerbahçe seemed to be worth so much more for the way they fired up the crowd. It's another marginal gain that they rely on to survive and prosper at this level.
KSK's offense relies on transition, high pressure on-ball defense to create open floor situations and crashing the offensive glass. It's the only way that a team with a budget less than Fenerbahçe and Efes spend on their frontcourt can compete on an even basis. It also helps that they've picked up guys who were hidden gems elsewhere and turned them into highly effective pieces. Juan Palacios had to try and play centre under Dirk Bauermann at Lietuvos Rytas. Here he's in his element at power forward, floating around in pick and pop, knocking down jumpers like the Colombian Paul Millsap.
That isn't to say it's all a case of smoke and mirrors offensively. They have been incredibly smart with recruiting. Jon Diebler came on board three years ago along with Dixon, and has worked his ass off to become one of the best shooters in Europe. The stroke was always there during his four years at Ohio State, but the toughness is a more recent development. Diebler has a slight lean back on his jumper that makes it difficult to challenge, especially at his 1.98m height. He's also now fearless in attacking the closeout when defenders run him off the arc and has turned into a nifty passer. That's really half the battle with a knockdown shooter at the top level, and the fear at KSK must be that he will get a big payrise this summer to play somewhere with more resources.
KSK's strength at home seems to fulminate out of the crowded stands. Plays like when Ogus Savas fumbled a pass in the paint, which turned into a Dixon 70-ft dash and a Kenny Gabriel dunk might only be worth two points, but they combine with all the other little disruptions, harassment and inconvenience they cause the opposition to create an avalanche of pressure.
Fener, perhaps with key players whose minds were elsewhere, didn't know how to handle it. Nemanja Bjelica, Euroleague MVP, may be exiting European ball down the Nikola Mirotic Highway - distracted, under fire from his coach and perhaps subconsciously wishing for an early end to the pressure.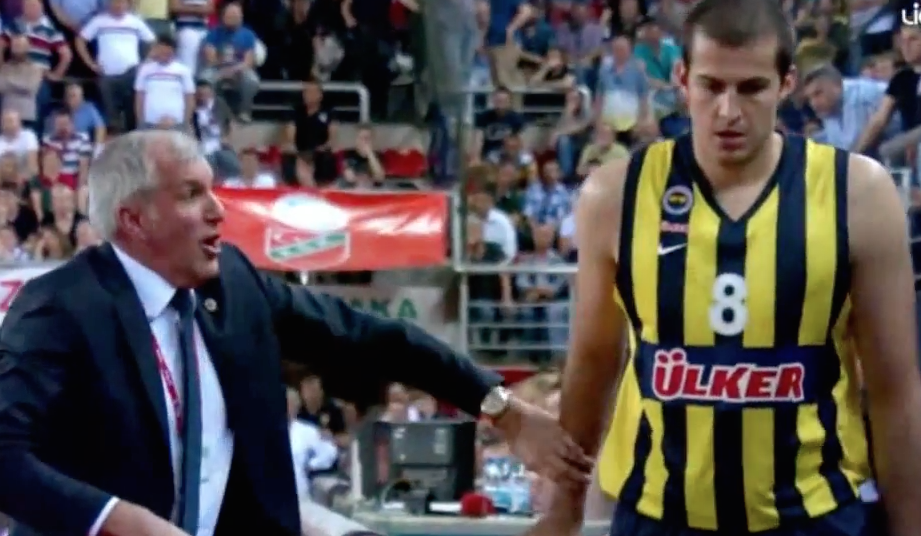 There was precious little of the 4-5 pick and roll with Bjelica handling the ball that had forced so many Euroleague teams into rotations they would do anything to avoid. Bjelica was tentative, unsure of himself and generally a non-factor in the decisive games. Fener's most effective players were their less-heralded (ahem) Turkish guys. Melih Mahmatoglu knocked down open three after open three, and Kenan Sipahi was his usual combative self. They missed a player like vintage Omer Onan, now in a suit on the sideline. A 19-5 run to close Game Three and force OT showed the overwhelming force of talent that Fener could have used to take the series, but against a team with its back to the wall like Karsiyaka, that wasn't enough.
By reaching the finals, KSK achieved what seems so unlikely in Spain - a genuine underdog making the league finals. The last time that happened in the ACB was Bilbao in 2011, and the Basque club was rewarded with a place in Euroleague, even though it meant five Spanish teams taking part.
The path to the top table isn't as clear for KSK - only Fenerbahçe and Efes with their A licences are guaranteed entry. Controversially, in the reforms set down this year, the TBL does not have one of the eight automatic one-year B licences, but instead gets priority for a wildcard. The vast financial might of Darüşşafaka Doğuş looms large. Owned by one of the richest companies in Turkey, they are the kind of organisation that Jordi Bertomeu dreams about inviting to the club. Daçka lost to Trabzonspor in the first round of the playoffs though- to favour them would be a naked expression of money over sporting justice. 
KSK doesn't even have the minimum €4m budget required in the Euroleague Financial Fair Play rules. Perhaps they could sign Luka Zoriç to a huge contract to get over the line? A league that markets itself with the slogan 'devotion' should want a club like this to be in its competition. Let's hope that all the legalistic niceties can be agreed and that more of Europe's giants have to make the uncomfortable trip to the Gulf of Izmir.
Game Two of the TBL finals is tonight, KSK trying for the split at Abdi Ipekci. As luck would have it, Game Four of Valencia and Madrid's ACB semi final tips off just as that finishes (though who would be surprised at another OT?). Two playoffs, two countries, both seemingly one-upping each other to be the most thrilling in Europe. Log on, sit back and enjoy.