Panathinaikos beats Maccabi and Zeljko Obradovic is once again a champion. It's almost not fair how much better he is than…everyone else. Let's talk about that, and other stuff, too.
So while you're here, you should go ahead and subscribe on iTunes for FREE or check out the rest of the raps and podcasts right here.
Let's break it down:
OPEN - 10:00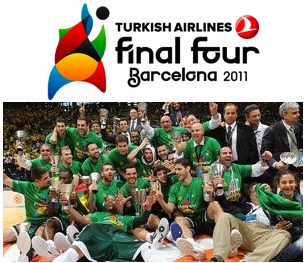 Zeljko Obradovic is smarter than everyone, and frustratingly so.
…and so is Dimitris Diamantidis. By the way.
Is it fair to call the Madrid v. Siena disaster a 'basketball game?'
The Final Four was in Barcelona. Barcelona is in Spain. Madrid is also in Spain. So why weren't the Madrid fans in Barcelona? Wake up and smell the Lull, folks.
10:01 - 20:00
Panathinaikos is the most dominant team in Europe over the past decade, and the circle of champions is a small one. Barcelona, Maccabi, CSKA have come along for the ride, but is this lack of parity good for the Euroleague?
Clay Chucker shoots too much. But you knew that.
What went wrong with Madrid?
Milenko Tepic, Novica Velickovic and Mirza Begic should all be entering their respective primes, yet they've been stapled to the benches of big clubs like Panathinaikos and Madrid. We don't think that's very much fun.
Pargo's electric, but he was missing his righthand man. Could Doron Perkins have gotten the Yellow Fellows a 'ship?
20:01 - 28:00
Nick Calathes is blossoming in front of our eyes, but Freaknick issues him a stern warning regarding his progression.
ELA has trust issues.
If this Euroleague Final Four were a food, it would be a _________.
29:00 - CLOSE
Derrick Sharp nailing a meaningless three? Antonis Fotsis' jam? What were the best 'moments' of the weekend? It's slim pickins.
Is there anyone in Europe who's not better than Brian Scalabrine?
ELA has an idea for a reality show starring Zeljko Obradovic and you.
Next year's Final Four is in Istanbul. Prediction time!
Slam put a whoopin' on Freaknick in our Las Ramblas Rumble fantasy game. Time to man up and admit it (thanks a lot, Malik Hairston).
Happy Mother's Day. Keep it gangster.