There's been one EL game since March 31 and we're bored. Time to talk about Donatas Motiejunas, Unics Kazan, have a spelling bee and do other stuff. Come along for the ride, friends.
Even if you're not one of our friends or friendly in general, that's cool. Press 'Play' and all is forgiven.
So while you're here, you should go ahead and subscribe on iTunes for FREE or check out the rest of the raps and podcasts right here.
OPEN - 1:00 : ELA's water broke, and a Yeti microphone was thrust into the universe.
1:01 - 4:39 : Donatas Motiejunas is entering the draft. Who cares? We do. And we plan on talking about it for several minutes.
4:40 - 16:55 : April has given us exactly one Euroleague game. One. And it's almost over. This gap between the playoffs and the Final Four is insane, and ELA can't take it anymore. Instead of just griping about it, let's toss around some possible solutions.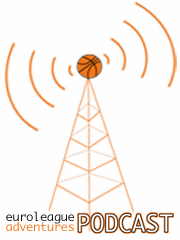 16:56 - 24:47 : Unics Kazan won the Eurocup! [Confetti falls, silly horns blow their silly horn sounds] What's next? After studying Valencia and Lietuvos Rytas over the past two years, Freaknick thinks he has the secret for carrying that Eurocup momentum into the the EL.
24:48 - 39:51 : Time for some viewer questions. Let's do it.
From Facebook:
Vince Stefanelli wants to know: Montejunas' draft position, since he has been lighting up the Italian League? Final Four predictions? Post grad plans? lol
From Twitter:
From @danceedancee: Motiejunas and Valanciunas,who will be the better NBA Player?
From @b_mey: so who is the most "for real," sure fire, can't miss prospect out of Europe this year? And how old is Bismack Biyombo?
39:52 - CLOSE: We've given you a taste, and you begged for another spoonful. Yep. It's time for…
Slam's Spelling Bee.
Sofoklis Schortsanitis? Kostas Kaimakoglou? Can Slam master these tongue twisters  and more? You don't want to miss this.