By: Rob Scott / @robscott33
Maccabi Tel Aviv hosted Real Madrid and it was billed as the game of the week by many people. You can't fault the logic: Madrid on a high at 2-0 after coming back to wipe out EA7 Emporio Armani (we'll call them Milano from here on out) last week, and Maccabi perhaps starting a little slowly at 1-1 but easing into form against Partizan. The cast list was impeccable - Fernandez, Reyes, Ibaka, Schortsanitis, Papaloukas…Farmar?
Maccabi underwent some enforced change in the backcourt over the summer – Jeremy Pargo became a trendsetter by voluntarily joining the NBA lockout from Europe, that one guy speeding down an empty highway, whilst everyone else tries to escape in the other direction. So, the club jumped at the chance to give Jordan Farmar an early ticket out of that disaster zone. Theo Papaloukas arrived to provide stability, and an insurance policy in case the Nets guard didn't take to the European game, and after week one, it looked like that was a wise move. Farmar had a 22 ranking in week two, but hey, that was against Partizan. Against Acie Law, of all players, and he'd been a disaster up to that point. Who were these young, brash Americans, who thought they could come from bad NBA teams and start running the show in the Euroleague? Had they not heard about Ty Lawson? If he couldn't do it, then what made them think they could? Tonight, they gave some answers.
Farmar got it going early last night, and kept his foot on the pedal until the final buzzer. 27 points, 5 assists, 4 rebounds. 9/11 2FG, 1/1 3FG, 6/9 FT, 8 fouls received and a 35 ranking on only 12 shots attempted? That's Kirilenko terrain (which in this year's Euroleague is shorthand for 'awesome'). This wasn't a coaching masterclass – it didn't take someone of David Blatt's genius to spot that neither Sergio Llull nor Sergio Rodriguez had a hope in hell of keeping up with Farmar on the perimeter, and that the help defense just wasn't going to arrive in time. Farmar glided through the paint for layup after layup, and Madrid had no answer. When he did need to give up the rock, he generally made the right decisions.
You read it right, folks. Tonight, Jordan Farmar looked like a seasoned playmaker.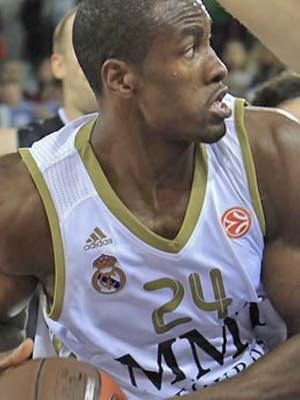 Madrid couldn't control Big Sofo either. By the time Serge Ibaka came in, Sofo was on the bench and Richard Hendrix rejected his layup attempt straight off. When Hendrix comes in, Maccabi instantly become more mobile and tonight, their transition play going both ways was superb. There aren't many teams who can cope with Sofo's sheer physicality, but the way to overcome this is to get him in foul trouble – Madrid barely fed the post at all, throwing no counterpunch to the big Greek. Ante Tomic clocked just over 8 minutes, and didn't even enter until midway through the second quarter. As soon as he did, Sofo ran through him like a freight train for a dunk and the foul.
Laso seems to prefer Mirza Begic's shot blocking ability and definitely didn't want Tomic guarding Sofo, but neither Ibaka, Begic nor Mirotic at this point offers a reliable back-to-basket game and so the Maccabi defense was able to clog up the mid range game and force Madrid to putting up threes. Ibaka is a defensive force of nature but still hasn't been capable of hitting a 15 footer, so his entire offensive repetoire so far has been putbacks. That's useful to have, but it doesn't create any space for teammates; in fact it does quite the opposite. The time he has spent on the court, particularly with Mirotic, is reminiscent of last year's Madrid team when D'or Fischer was on the floor for Tomic – no post game and no decent point guard to create off the dribble, making the floor look awfully small, giving no room for the likes of Fernandez or Pocius to operate, bad jumpshots a-plenty. The individuals Madrid put on the floor are so good that they can hang around in games even when things are going badly, but tonight that only kept them in the game until halftime.
Farmar showed tonight he can play at this level, and this game definitely suited him – uptempo, given the licence to create with the ball in his hands against a flimsy defense and no challenge on the defensive end. It won't be like this every week, but for now, let's enjoy a job well done.
Acie Law had also been undergoing teething problems away from the comforts of home, and he produced a similar masterpiece in Partizan's 91-81 win over Spirou – 26 points, 7 assists to only 1 turnover for a 32 ranking. With Milano beginning to flounder at 1-2, Partizan might have a small chance of grabbing that fourth spot in Group C, especially if this becomes the norm for Law. It's unlikely either he or Farmar will continue producing at this rate, but both of them have silenced the naysayers in the best way they can – on the floor.
Talking of letting game do the talking, and American point guards, Ty Lawson and Zalgiris round out week three. Third game, third coach – sounds about right for Mad Vlad. Oh and they're only playing Panathinaikos at OAKA. Can another locked out point guard silence the critics? If he does, it will eclipse anything Thursday gave us.