By: Rob Scott / @robscott33
Wednesday: Gianluca Basile dove toward the sideline as the ball was inbounded. Catching it going away from the rim, in one motion he turned, rose up and heaved a shot from 30 feet off one leg as 8,000 Bilbaínos held their breath. The ball found the bottom of the net, and 8,000 hearts found the bottom of their guts. Basile found the bottom of a pile of ecstatic teammates and Cantu is in the Top 16 no matter what else happens.
Thursday: Joel Freeland caught the ball, shoulders square to the rim in the left corner and snapped off a jumper. It hit the side of the backboard. EJ Rowland isolated and forced a tough runner. Brian Roberts danced through the lane and iced a game Brose Baskets had already won. Unicaja only needs to beat Zagreb next week to make the Top 16, but sleepwalking in just ahead of Zalgiris, after four straight defeats, is not a situation worth celebrating.
Cantu have surprised many observers, and were not being strongly tipped in October to make it through Group A. Just last week, your very own editor had them at #15 in his Power Rankings. To give that ranking a fair hearing, at the time Trinchieri's mob was 3-3, perfect at home, winless on the road, although the last two away defeats were by an aggregate of three points. Two straight wins over Basque opposition have brought this low budget team to the brink of winning Group A,which they could manage by beating Fenerbahce in Week 10.
Cantu wins by playing fantastic team defense, spacing the floor, making threes and limiting turnovers (6th lowest in the competition). Giorgi Shermadini is turning into a legitimately dominant big man in his 20 minutes per, but they don't have a guard who can consistently act as a pressure release when the other team has closed off the kind of looks Trinchieri prefers. When a team plays with such coherence and discipline, this is not an insurmountable problem.
The final minute leading up to Basile's heroic shot in Bilbao gave a perfect demonstration. Basile and Shermadini hooked up on a textbook pick and roll for the dunk. On defense, Shermadini hedged out hard to knock the ball away and then got to the line off exactly the same pick and roll action. The Georgian is shooting 80% on two point FGs, good for 9.9 points per game in 20 minutes, and has helped them get past Marko Scekic's long term injury. Ten players average double figures in minutes, and the team plays as one five-headed beast for forty minutes at a time.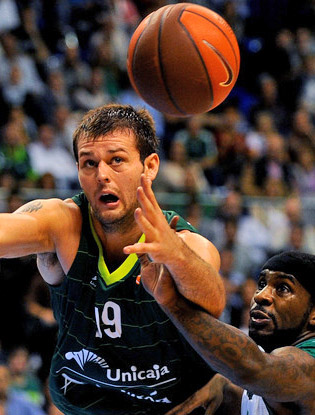 Unicaja has a star forward too, rated by some scouts as the best big man in Europe. Joel Freeland has been struggling recently, after winning the ACB MVP award for October. His last two Euroleague games for Unicaja saw rankings of -8 and 9, and he played only 14 minutes against Estudiantes in last week's ACB clash. After a difficult first half last night versus Bamberg, he began to find his rhythm, scoring from post ups, pick and pops and even hit two threes, for 17 points and 7 boards.
In Gerald Fitch and EJ Rowland, Unicaja has guards who can beat their man off the dribble, get to the rim and score from range - all of these are positive basketball skills one would want from a guard, Fitch scored 15 last night and Rowland 17 - but there are huge problems with the make up of the roster that mean all this individual talent does not add up to a winning basketball team.
Firstly, Malaga's perimeter defense was atrocious. Casey Jacobsen hit a trio of three pointers in the second half from exactly the same spot on the left wing, and all three times he was entirely unobstructed by defenders. Transition defense doesn't just mean stopping fastbreak layups, but instantly forming into a collective 5-man unit to prevent the kind of easy shots that Bamberg were allowed. Freeland got caught unable to keep up with Julius Jenkins more than once when the veteran American attacked off screens, but the Malaga bigs were denied any kind of first line of defense by their teammates.
Second, just like last year, Malaga are not optimising Freeland's strengths, by playing guards whose instinct is to attack off the dribble or be set up for catch and shoot opportunities. They have two skilled big men, in Zoric as well as Freeland, but when Fitch and Rowland handle the ball, they attack with shooting, not passing in mind. More than that, Freeland often ends up on the perimeter in the sets that Mateo runs - he has evolved his game to include pick and pop range out beyond the three point line, as he showed last night, but having him fade to the corner is not making the most of his ability. Unicaja doesn't get him the ball on the block nearly enough, despite the versatility and reliability of his low post game.
If Unicaja doesn't lean on Freeland to the extent that they should, a team at the other end of that spectrum is Caja Laboral. Mirza Teletovic dropped 32 points on Olympiakos last night, but took 24 shots to do it, making 5/8 from behind the arc but only 7/16 inside it. Fernando San Emeterio bolstered his tally with five points in the final seconds to finish with 14, but nobody else scored in double figures as Olympiakos snatched the 84-82 win.
Both these ACB giants could learn from Cantu—they don't have explosive perimeter scorers, they don't have an all-Euroleague standard big man. What they do is make the most of the players they can afford to acquire, and organise them in such a way as to maximise their chances of winning. Seems simple, doesn't it?
Rob Scott writes Switching Screens every Friday. Follow Mr. Scott on "The Twitter" at @robscott33.