By: Freaknick / @euro_adventures
Last season was my first as a card-carrying member of the Euroleague 'media', meaning I'd have the privilege to cast my ballot for the All-Euroleague teams. As I dissected the stats and furiously jotted drafts on the oil-stained napkins beneath my tapas, my mind raced with the possible combinations. Should I put Khryapa on my first team, or second? And which side of the Qyntel Woods v. Josh Childress debate would I fall on? Well, in my excitement I seem to have missed the deadline. Oops.
At risk of having my membership revoked, I've devised a plan to ensure my participation in this year's vote. First step: a trial run. And with weeks—nay, months—before the final buzzer sounds in Barcelona, it's now appropriate to pay homage to those whose teams will not be joining us on our quest for the Continental Trophy. Eight clubs were eliminated, but these men played only bit roles in their respective downfalls.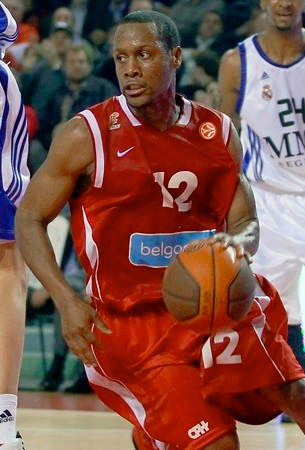 Demond Mallet, Spirou Charleroi: When Milos Teodosic isn't clicking, Vassilis Spanoulis helps Olympiacos sidestep the damage. Not the case for Spirou's one-man disaster aversion crew, Demond Mallet. In his team's three wins he put up 16 per game. In losses, only around 10. He shot a Spirou best 96% from the line, a Tony Parker-esque 59% from the field and his 3.3 dimes aren't much for a point guard, but nobody else on the squad could even muster 2. Spirou's four losses to start the season easily could've turned into ten if Demond hadn't plucked a few wins from the wreckage.

Keith Langford, Khimki: In keeping with today's lovable losers chic stat, Langford put up 23 points in Khimki's four wins, and just 13 in their six losses. Obviously, Sergio Scariolo can't blame the Euroleague's leading scorer for his ousting. Keith's volume scoring equaled satisfactory outcomes for Moscow Region's finest. His anti-Kobe nickname just might stick. Check that: Nobe.
Bojan Bogdanovic, Cibona: You know the drill by now. In losses, Bojan averaged 18 per game. But in wins he—oh, yeah. Shit. That won't work here, will it? Win or lose (or in Cibona's case, lose or lose and then probably lose again), Bojan was out there grinding, shooting, doing whatever his guys needed to keep the deficit in single digits. As a matter of fact, only Siena had the wits to aim their missiles at Bojan and make his teammates do the heavy lifting: in two games against Simone Pianigiani's mastrpiece of a defense, Bojan only came through for 4 and 6. NBA opponents might want to take a look at that film. You know, for next year.
Leon Radosevic, Cibona: Tomislav Zubcic came into this season as a passenger in Bojan's spotlight sidecar. On most weeks he gave us blogger types plenty to talk about. No shame, however, that he might have been the second or even third name to slip off Croatian tongues. Leon Radosevic surprised us all (please comment below if you saw this outbreak coming) with stellar averages of 13 points and 6 boards. Deep rotations might be great if you have the money and manpower to pull it off, but there's no better way to test a player's worth than tossing him into the fire for 30 minutes per game under hopeless circumstances. We found out loads about Leon this season and let's hope someone gives him the payday he's owed.
Kyle Hines, Brose Baskets: Kyle's bonecrushing undersizedness hooked me from day one. The way he'd catch, face, pump, drop his head and barrel to the rim made me want to shut my laptop and go drag tires through a junk yard.
Morris Finley, AJ Milano: If you plan on being the worst rebounding team in the league, you better be damn sure you've got a point guard who can hold things together. Mo did just that, leading an exciting backcourt which included Ibrahim Jaaber and David Hawkins, who might've have made this list if it were 11-men long. Mo's as quick as they come and the way his shot keeps improving (43% from deep this season), he'll seem all the nimbler as defenses stop giving him space up top.
Jamont Gordon, CSKA Moscow: For the first six weeks, Jamont Gordon was the only thing wearing red and blue that even slightly resembled a professional basketball player. Through all the ugliness, all the defensive ineptitude, at least their was that one shining beacon on offense. Dicing up the defense, hitting lefty fall aways. Then Dusko Vujosevic hung up his sweaty buttondown and gave way to Dmitriy Shakulin. Shakulin apparently hadn't found the time to watch all of CSKA's games and decided he'd be better off with Jamont Gordon on the bench for 27 of 40 minutes against Panathinaikos, an opponent that saw him chuck in 20 just five weeks earlier. Dmitriy thought better of it thew following three games, cutting the leash and watching Gordon go for 15 and 18 in CSKA's final two wins.

Sammy Mejia, Cholet Basket: When Mejia flips that switch, hide the kids. Unless these particular children happen to be fans of surprisingly versatile Dominicans with awesome chin-strap facial hair and deadly outside flicker.
Andrey Vorontsevich, CSKA Moscow: It's tough for me to give this 'award' to somebody who alternated between single and double digit scoring outputs for the first eight weeks, but the Euroleague is losing very few ballers as physically threatening as Andrey Vorontsevich. With Khryapa out for seven of CSKA's ten games and Sasha Kaun missing them all, Andrey didn't have a whole lot of help on the boards; still, Andrey was a man in the paint for several dominant stretches this year and left us with tantalizing 17 point (3/4 from three), 7 board showing. More to come from Mr. Vorontsevich, to be sure.
Ratko Varda, Asseco Prokom: The Euroleague's point-per-minute leader was an oasis of decency in the embarrassingly ineffective Prokom frontcourt. On a team with Daniel Ewing, JR Giddens and (for a brief time) Bobby Brown, I wouldn't have pegged Ratko as the team's leading scorer at 13.3 PPG, especially with only 20 minutes per. But lookie there. Big Ratko proved he's more than thick arms, sweet tattoos and a beard that won't quit.

Euroleague MVP
Keith Langford, Khimki: Bo McCalebb's the only guy with comparable creativity, and he'll get his shine at the end of the season. It's Keith's turn to shine. This distinction must mean so much to him.
Dimitris Diamantidis Award (formerly known as Defensive Player of the Year)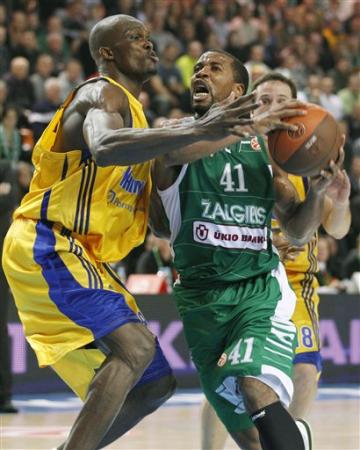 Benjamin Eze, Khimki: All great defenses orbit around a reliably scary big man. Khimki's defense wasn't great, but it was clicking at its best when his teammates filtered unknowing penetrators right into his waiting arms.
Rising Star Award
Bojan Bogdanovic, Cibona: It's wild to think that such responsibility was thrust on the shoulders of a man only 21 years alive. Considering the turmoil surrounding his club and its finances, his performance was nothing short of awe inspiring.
Aleksander Gomelskiy Coach of the Year
Zdravko Radulovic, Cibona: Bear with me here. Leading 12 grown (or mostly grown, at least) men into a basketball game, vanquishing destructive egos to focus all 24 eyes on a similar goal, for 10 games is tough enough. Now let's consider the youth Coach Radulovic was handed and the constant uncertainty regarding compensation, and that task is a million times more difficult. Considering a couple of these teams fired their coaches before the regular season was over, Zdravko wins out based on survival alone.