By: Rob Scott / @robscott33
A sharp shooting forward from the Balkans led his Basque Country team into the Top 16 last night, but at the final buzzer, it was Marko Banic,  not Mirza Teletovic, who was smiling.
Pouring in 18 points on 7/10 shooting overall, Banic got the better of the Euroleague's leading scorer, and Bilbao consigned Baskonia to the ignominy of a New Year without Euroleague play. Seven years in a row, they made the playoffs, let alone the Top 16, but that time will now be used to hold an inquest into exactly what went wrong.
Bilbao followed the script that most of their big victories have entailed. They played fantastic defense and scored just enough, and at the right times, to win.
Both teams started nervously, and it wasn't until Nemanja Bjelica hit a couple of Mirza-esque threes that the game loosened up and both teams hit their stride. Pablo Prigioni turned on the jets, Pau Ribas followed. Banic showed what an underrated passer he is with a beautifully deft touch pass to D'or Fischer for the jam.
When Prigioni sat, Huertel and Oleson's shortcomings with ball in hand were exposed. Oleson isn't a point guard and shouldn't be asked to be one. Huertel may grow into a top playmaker at this level, but he isn't there yet. Both wilted under pressure.
Teletovic was scoreless at the half, and his 12 second half points weren't enough to pull out one more win. Despite Baskonia's struggles, this was a three point game inside the final minute. The gap had been fluctuating between three and five since the three minute mark, and everybody was waiting for that Teletovic dagger, buried right in front of the Bilbao bench.
It never came.
Banic, Mumbru and Hervelle all made big shots in the second half, and D'or Fischer was immense, rejecting a San Emeterio layup that iced the game for the Men in Black. In the fourth quarter, Bilbao started settling for jumpshots, and kept missing.
They suffered a similar affliction in giving up a 14-0 run in the final period in a home loss to Fenerbahce in week four. Just another variable of hundreds that conspired to deliver the ultimate denouement to Group A last night.
Bilbao will be hard to beat, particularly at home, and they don't let their offensive struggles unsettle them defensively. Banic has been huge, their MVP on a team of seemingly interchangeable parts, putting up 15.7 points per game on an absurd 69.6% from two point range. Looking fit to slide out of his black and white Bilbao uniform and into a tuxedo, the Croatian's game is as slick as Roger Grimau is scruffy.
That's Bilbao—a collection of pieces from elsewhere, unified by coach Katsikaris and with an unbreakable self-belief that carries them further than should be possible.
Against the elite teams they will need more out of the backcourt, and Aaron Jackson needs to learn how to take advantage of his slick handle and be a true distributor. No matter what happens, this has been another great success for Katsikaris' team after their run to the ACB finals last year.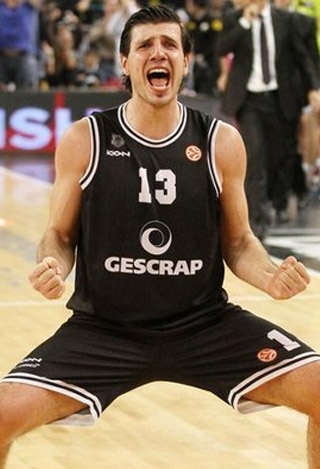 As for introspection in Vitoria, the inquiry should go back to the summer and Josean Querejeta's recruitment, or rather the gaps in it. The loss of Marcelino Huertas would hurt any team, and although Pablo Prigioni has returned to play a whole lot better than his last year in Madrid, but the lack of a second playmaker really hurt.
Another huge problem was created when Macej Lampe went down injured. With the NBA locked out, Kevin Seraphin was drafted in as a replacement, and had a mixed impact - his combination of skill and power under the basket was obvious, but defensively he left a lot to be desired.
At the centre position, Stanko Barac and Esteban Batista shipped out to Istanbul and neither has really impressed a great deal for Efes, but their replacements have been below average on the whole. Milko Bjelica is a fine player and exempt from that criticism, but Joey Dorsey arrived injured and has yet to convince Dusko Ivanovic he is worthy of court time.
Vladimir Golubovic arrived from Mariupol when Seraphin was called back. While he is a good rebounder and appears to know where to be on the court, his hands are poor and he has offered nothing offensively. That Splitter/Huertas hookup seems like a long time ago.
The Euroleague award for worst lockout rental of all - and there was some stiff competition - should go to Reggie Williams. He arrived from Golden State as a free agent with a reputation as a dead-eye three point shooter in the NBA, but in hindsight, there should have been red flags from the beginning. As international hoops expert Jonathan Givony pointed out, Williams had played for a bad NBA team with a licence to play zero defense and shoot whenever he felt like it. His first stop in Europe, at Bourgogne in France, did not go well either.
Does that sound like a guy who Dusko Ivanovic would like to coach?
Williams was a disaster in Vitoria, which didn't stop the Charlotte Bobcats spending $5 million to sign him recently. If ever a player personified the difference between the intensity and pressure of European basketball, and the dead air of NBA bottom-dwelling, he was it.
So with all of that said, how were Caja Laboral able to go into Week 10, expecting to qualify? If you have a guy averaging 22.8 points per game, leading the competition, 47.8% from three point range, seemingly impervious to pressure and with no compunction about taking the big shots, that papers over some pretty big cracks.
Mirza Teletovic was having a superb year, carrying his team, which makes it all the more shocking to see him shrink from the moment so severely last night.
He had refined his game this year to make up for their lack of a post presence. The guy with 30-foot range and no conscience didn't exactly disappear, he just reined himself in and let his new alter ego - the low post dwelling, rebounding, dunking and even shot blocking renaissance man - get into the game for long enough to do the work of two players.
Until last night. At the Miribila Arena, with 10,000 Hombres de Negro in attendance, only one Mirza showed.
The trouble was, it was neither the old  nor the new, it was a guy who hid himself away on the low block but couldn't get anything to drop. It was a guy who let doubt creep in after a few missed threes. Ivanovic said after the game: "Teletovic has won many games and he has the right to lose one."
Few would argue.
Rob Scott writes Switching Screens every Friday. Follow Mr. Scott on Twitter at @robscott33.