11/05/09 - "Get off the plane. You're going to Russia."
It's been a tough month for our team. 2 and 0 in the Euroleague, but 0 and 5 in the Spanish League. Now just so you guys understand, the Spanish League (Asociacion de Clubs de Baloncesto or 'ACB') is the 2nd best league in the world. Yes I said it. 1st is the NBA and then 2nd is Spain.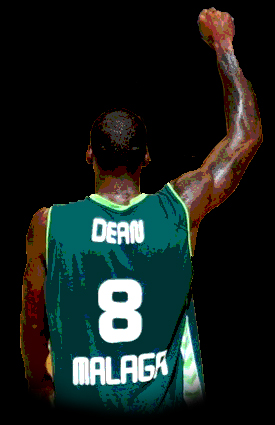 It's been a tough road for me in the last 4 years, but every stop has made me a better man and a better person. After college every player dreams of making it to the NBA and it definitely was my dream also. But God had a different plan, and at first I couldn't understand but now it's much more clear. After leaving Louisville, I landed a Summer League spot with the San Antonio Spurs and it went well. Had the chance to go to vet camp but I quickly said no because I couldn't pass up for-sure money which was in Biella, Italy. The thought of going to Italy scared me to death just because I would be out of my comfort zone and the game was different. Then I sat back and said to myself, "You just suffered one of the biggest blows in your life, it's no time to feel sorry for yourself and give up." I then called my agent and said I wanna go out there early and train. What I didn't know was the training would be in the mountains-I mean hard work.The fact that I didn't speak Italian made it 10 times harder.
It was a huge adjustment I had to get use to. High school all over again. I blame Coach Pitino for spoiling us so much with the private planes, the massages, the great hotels and everything else that came with being a Louisville Cardinal. (Just kidding on that last sentence.) There were no more plane trips, no more trainers to wash your game and practice gear, no more having your own locker. It was like AAU all over again. I looked around at my surroundings and promised myself this isn't it. Don't get me wrong; either way I'm very blessed, but the fact that I was out of sight and out of mind drove me bananas. So the grind had to start.
Season started off well, and the fact that I had my former teammate with me from Louisville, Reece Gaines, made things a whole lot easier. I came into the season saying I have to do something that stands out and that something was defense. It didn't matter who it was for that 40 minute game, I was full court, non stop, in-your-face defense. What I didn't know was everyone else saw what I was doing. Christmas break came and I had the chance to go home for a few days and Santa definitely gave me a gift. Upon boarding the plane back to Italy I get a phone call from my agent telling me, "Get off the plane. You're going to Russia." As soon as I heard that I don't know why Rocky IV flashed in my head. A Euroleague team from Russia bought my contract out and wanted me to come help them in the Euroleague playoffs, which was a huge jump for my career. So sorry, but I have to go get some sleep now. Euroleague game tonight against Efes. I will continue tonight, so stay tuned.