By: Sam Meyerkopf / @HoopLikeDrazen & Andrew Price / @andrewbprice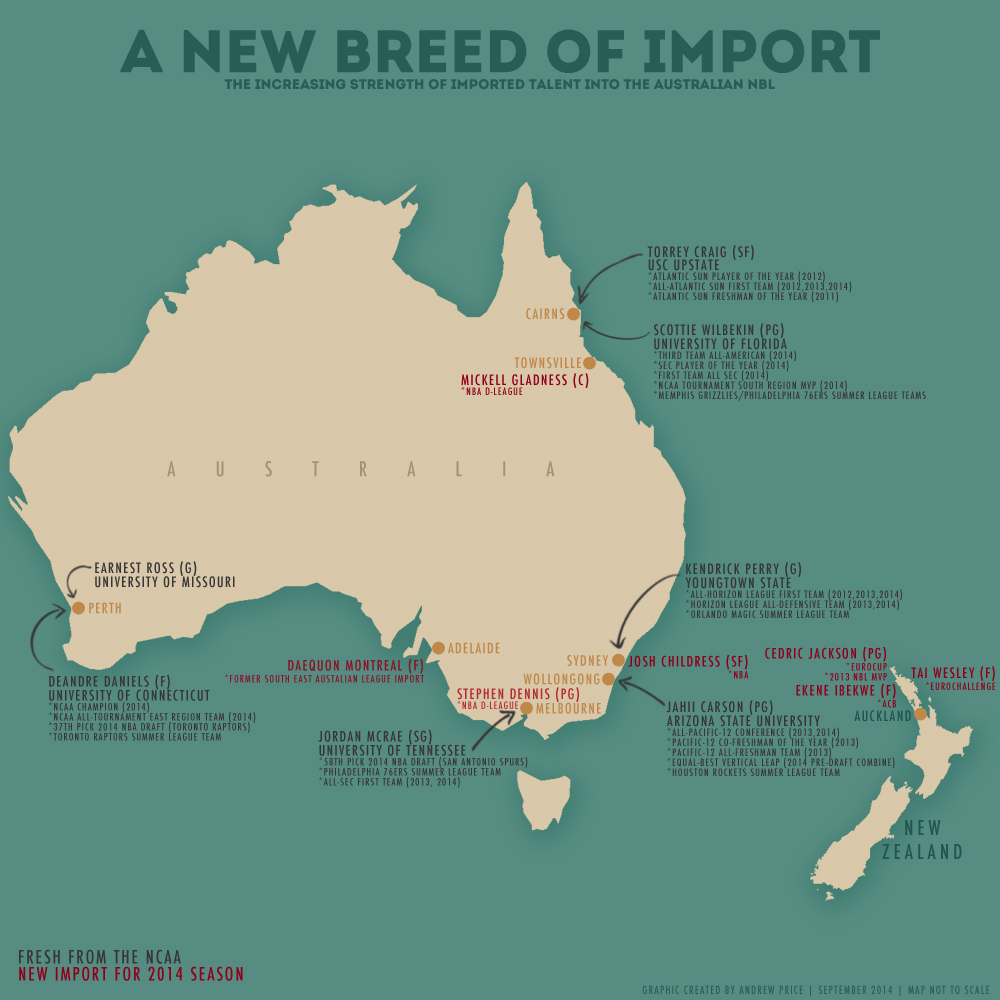 (Click Image to Enlarge)
A huge thanks to Andrew Price for making the above graphic, which you can click to enlarge.  Andrew used to run the LobPasstoAbercrombie.com blog and is still active on Twitter and hopefully will produce some more wonderful graphics like this one as the season moves on.
NBL Rule Changes
Changes have come to Oceania pro basketball this year as the main league in the region for teams from Australia and New Zealand, the National Basketball League (NBL), has gone through some significant rule changes that have seen quite the uptick in level of import player coming into the league. (Also Livebasketball.tv has all the NBL games so there's plenty of action easy to watch)
I'll let Andrew, a resident Kiwi and obsessive NBL observer and analyst explain the changes:
There is a new rule in place since last season that allows Pacific Island players (including Guam) to be counted as locals - both New Zealand and Perth have used this in signing Tai Wesley and Earnest Ross respectively (both from Guam). Its a bit of a loophole in essentially signing a third import in both of these cases.
But the rule about Oceania players I think is a good one, although looks like the first two teams to use it have strecthed it pretty far. It's based around the NBL being the premier competition in the FIBA Oceania region​ so including everyone born in the region as a domestic player. It's designed to give players coming from the small Pacific nations like Fiji, Samoa, Tonga, etc a shot at a professional contract. (If you want more background info on the Oceania players rule check out this article and this follow up article).
The marquee rule is fantastic and one I've been hoping to see for a number of seasons now. It's definitley had an effect on this season's signings but it remains to be seen if it will create a gap between the small market teams and the major teams. Teams such as Townsville can't afford to meet the original salary cap anyway, wheras Perth, New Zealand, Melbourne and Sydney have a bit more cash to throw around. At this stage though I'm right behind it, a lift in talent is great for the development of local players, the fans and the international interest and credibility of the league.
So far I believe Sydney, Melbourne, Perth and New Zealand have used the rule, which is really the big four teams. The league salary cap is currently $1 million, but a marquee player can be paid whatever they want outside that $1m figure. There is a 25% tax on marquee players.
The 25% tax is re-distributed back to clubs who are not using the marquee player exception. This is done at the NBL's discretion, on a case by case basis.
The marquee player exists totally separate from the $1m cap for the rest of the team - so their entire salary is subject to the tax. For example, Perth could have a roster costing $950k, then sign their marquee player for $300k. That entire $300k salary is subject to the 25% tax, not just the portion that takes Perth over the $1m cap. - AP
NCAA Import Scouting Notes
DeAndre Daniels, Athletic Combo Forward, UConn - Perth Wildcats
Daniels is hoping to have a similar James Ennis like year on the same team Ennis played for.  He can play either the three or as a stretch four and in international ball he probably functions better at the bigger forward spot.  Daniels is quite the mismatch at the four if going against any type of "traditional power forward".
He's extremely mobile, long (height: 6'8″, wingspan: 7'2″),and has great stroke from the three-point line.  Daniels has a unique ability to slash and spot up from deep, which is almost impossible to guard when he's hitting shots.  He had some inconsistent performances at UConn and because he isn't a super physical player there are times when if he's not scoring he's not having a huge impact on the game.  But I'd expect Daniels to be one of the upper tier scorers in the NBL.  He is also pretty versatile on defense and provides rim protection from the forward spot.
Daniels was picked 37th overall in the NBA Draft by the Raptors and of all the players listed he seems most likely to play in the NBA next season.  This is possibly a draft and stash move the Raptors worked out with him as well, in hopes he can compete for a roster spot next season.
Earnest Ross, Versatile Wing, Missouri - Perth Wildcats 
Ross is a brick house of a guard. He's has a rare combination of strength (230 lbs) and length (height: 6'4″, wingspan: 6'10″!!).  His strength and length cominbination allow him to finish around the rim, body up guards on defense, and makes him an excellent rebounder for a guard. The biggest key for Ross will be defensively where based on his physical attributes, he has a chance to be one of the best defenders in the league.
He seems like more of a star role player than a star player because he is not that dynamic of a scorer.  But he makes a great compliment to Daniels as he can effect all parts of the game and free up Daniels to score.  A really exciting forward combination in Perth.
Torrey Craig, Athletic Shooting Wing, USC Upstate - Cairns Taipans
Craig played mainly small forward in college but it'll be interesting to see if he can handle any stretch four responsibilities as a pro.  Since Craig was at a low major school he had heavy scoring responsibilities and wasn't always the most efficient shooter or scorer.  But at 6'6″ Craig possess a nice outside shot and good athleticism to finish at the rim.  He can definitely function as an off-the-ball shooter and cutter but with the big step up from low major college to the pro game, I'll be interested to see if he can make any plays off the dribble and how he'll handle playing more of a role.
Scottie Wilbekin, Passing Playmaker, Florida - Cairns Taipans
Wilbekin is a wily lead guard who can create shots for others with his solid vision.  He's young (1993) and not particularly strong (6'2″, 168 lbs), so there is some physical development that should still come.
He was solid but not spectacular on a really good Florida team last season.  He relies heavily on his quickness. He's very good in transition but can't create much offense in the half court. Plays aggressive defense, has quick hands, and can convert from defense to offensive quickly.  Basically Wilbekin can quickly take advantage of transition opportunities, is very active defensively, but was mainly a caretaker in the half court offense at Florida.  His game could change in Cairns as he'll be much more of an offensive focal point than he was in college.  It also should be noted that Wilbekin is a solid outside shooter and does a decent job pulling up off the dribble for three's.
Kendrick Perry, Scoring Point Guard, Youngstown State - Sydney Kings
Perry is an explosive offensive player with a slight but long build (5'11", 169 lbs, 6'6″ wingspan). He's a scoring point guard who is a decent distibutor but not great at seeing all the potential passing reads in an offense. He's really good at reacting to the defense and finding a lane to drive through. Defensively he uses those same quick-twitch skills that make him effective offensively to jump passing lanes which netted him 2.3 steals per a game last year. He isn't a great on-ball defender but makes up for it somewhat with his ability to create turnovers. He'll flourish in an up tempo setting.  Would expect him to contend for the NBL leading scorer crown.
Jahii Carson, Attacking Lead Guard, Arizona State - Wollongong Hawks
Wilbekin is quick, Perry is quick, but Carson is a blur even compared to them.  He has little rockets under his feet and it makes him incredibly hard to slow down in transition.  Carson is a risk taker and loves to push the tempo and continually works to find driving angles.  He's also a solid shooter from deep. Carson is relatively small physically though, standing at just 5'11".
The questions around Carson are on his defensive focus and turnovers.  He's always looking to make a play and that can result in some debatable decision making.  Defensively he just wasn't very engaged in college and used most of his energy on offense and to get out in transition.  Carson is elite athletically and offensively for this level and that might be enough to cover up the holes in his game that ended up in him going unselected in the NBA Draft.
Jordan McRae, Versatile/Pull-Up Shooting Guard, Tennessee - Melbourne United
An incredibly lanky guard (7'0" wingspan), McRae might be the skinniest of all these relatively thin players (6'5″ but 179 lbs) making their way to the NBL.  He along with Daniels are the only drafted guys making their way to Australia.  He was picked 59th overall by the Spurs.
McRae is a pull-up jump shooter expert. He can get his shot off over almost any guard because of his length and is deadly pulling-up from all over the court. Because of his crazy length he is an interesting defensive option, even blocking 1.0 shots per a game last year as a guard. But he'll need to get a whole lot stronger to realize that full defensive potential.
In the NBL I'd expect some monster offensive games for McRae and for me, he's he most interesting watch of all the NCAA imports coming over.
Overall Notes on NCAA Imports
I'm not that familiar with the NBL, its style of play and style of player.  But the college imports are mainly quick undersized point guards and athletic but relatively skinny (besides Ross) wing players.  It seems Australia has spot up shooting and large, physical post players under control but needs help with athletic wings and playmakers.
The market in Europe might have also forced all these players to end up in the NBL.  There are a ton of college players heading to the old continent this season and only so many spots or good opportunities available.  This has forced agents to get a little more creative and the NBL obviously became an enticing option with the marquee player exception.
This is the first big class of NCAA players headed down under and it attracted some well-known names and really good college players from some big schools.  It'll be interesting to see the type of player that comes over in the future and if it matches up with the players from this class.  It'll also be interesting to note if these guys use this as a one year showcase to get a better deal in Europe or the NBA or if these teams can build some continuity and keep these players for longer.  The money is good, they are playing in an easily adaptable foreign country where the native language is English and it's a nice warm place to live, but the level of play and ability to develop has to be solid for players to stay.