Limoges CSP vs Saski Baskonia. Let's ignore name-sponsors for now, that's a matchup that oozes history, a meeting between clubs that embody the most authentic expression of European hoops culture. It happened at le Palais des Sports de Beaublanc on Thursday and the Basque visitors eased into their third Euroleague  win in as many games.
Both teams are as representative of their home soil as pâté aux pommes de terre or pintxos. There are no giant football club shoulders to stand on, this is artisanal basketball, something that can't be bought and paid for. When Euroleague talks about devotion, this is one of its purest forms. It's no coincidence that both of these clubs are based in smaller, provincial cities, in regions far away from the corridors of power and the buying and selling of wildcard entries.
In the harsh reality of basketball - and sport - in 2015, both clubs have seen better days on the hardwood. Limoges are back-to-back French champions, but their struggles to keep up at even the Regular Season stage of Euroleague says a lot in itself about the position of Pro A in the cosmos. Repeating their 1993 Euroleague championship seems light years away.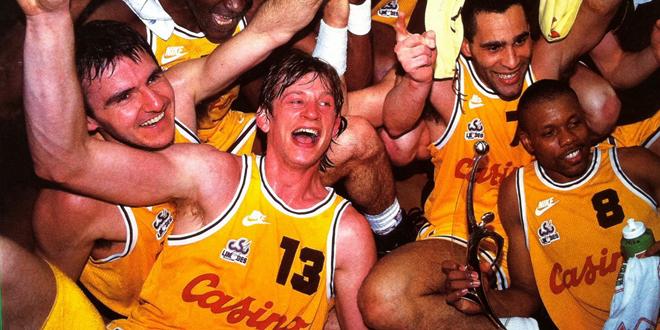 The days of Baskonia fielding the likes of Scola, Calderon, Prigioni, Macijuaskas and Rakocevic are long gone, and even retaining recent talents like Tiago Splitter, Mirza Teletovic and Marcelinho Huertas seems beyond them.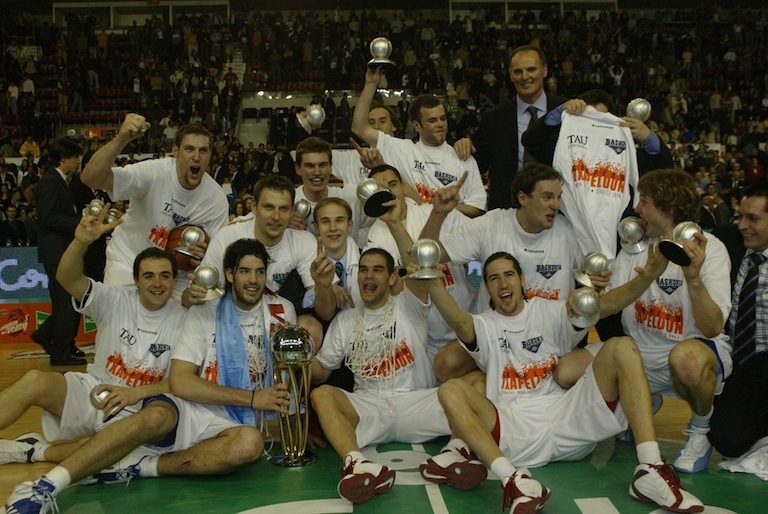 So if Limoges' ambitions beyond France may be limited, and if Baskonia might not challenge for more than homecourt advantage in the ACB playoffs, it doesn't mean that they aren't worth watching. Far from it.
The Basque team in particular is beginning to look a little menacing at 3-0 in both Euroleague and 4-0 in ACB play. They probably won't remain undefeated for much longer, but if this season is a Basque-country tavern, there are some tasty snacks laid out on the bar with the zuritos and txikitos. Coach Velimir Perasovic is building a smooth offense with speed up and down the floor, great shooting and an enigmatic Greek giant in the middle.
The Bouroussance
Towards the end of the first quarter, Ioannis Bourousis battled for deep post position with the ball against Frejus Zerbo. To nobody's surprise, Limoges' giant #55 pushed him out towards the sideline. Bourousis backed out his dribble towards the corner, stepped back behind the arc and flicked off a jumpshot like Steph Curry in a 2.10m grizzly bear costume. The ball clipped both sides of the rim and eventually spun out. It would have been the swaggiest bucket of the season, perhaps any season.
Cast aside by Olympiakos at the end of the money-throwing era that preceded their Euroleague championships, tossed away by Real Madrid after falling off the end of the rotation as they buried the hurt of back-to-back Final Four defeats. There's a fragility to Bourousis' game behind that enormous body, and when Baskonia picked him up late in the summer it seemed like an afterthought.
After he won Week 2 MVP last week for his 44-rkg revenge spree over Olympiacos, he played more of a cameo in Limoges. Still, even if that long bomb rimmed out, he still did this. He can still do stuff like this.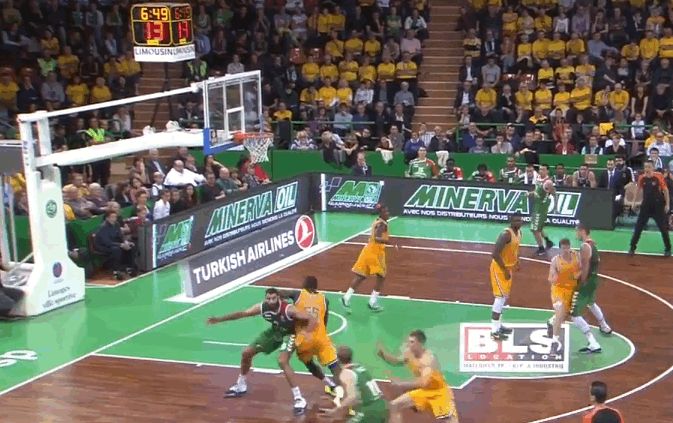 Baskonia's fourth win of the ACB season over Gran Canaria was sealed by a languid Bourousis three-pointer and even if Oriol Pauli baptised him at the rim in the closing moments, Ioannis moves in mysterious ways. Even being dunked on, he came out with a 23 rkg in 25 minutes, the win and a wry smile.
French Evolution
Even though Limoges were easily beaten, there was a lot for other French fans to celebrate. Kim Tillie was born into a volleyball family, but he's way more than an athlete. He spun off a deft pass to the corner that would have flattered countryman and former teammate Thomas Heurtel.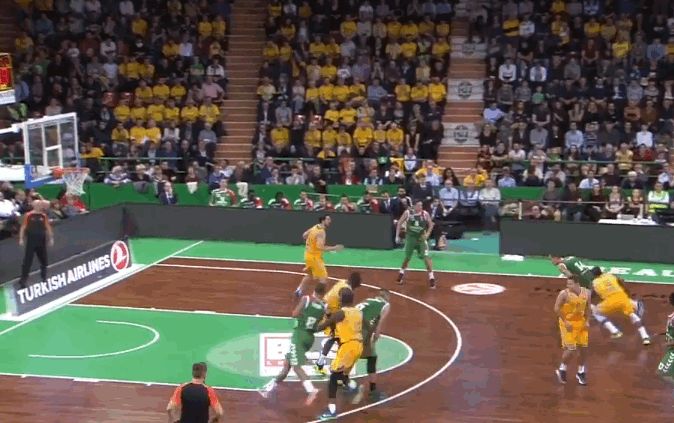 The spirit of fraternité is alive in Vitoria-Gastiez, as Tillie and Fabian Causeur have been très important in Baskonia's hot start. Causeur is now in his fourth season with Baskonia and he's not always been consistent, but it feels like he's firmly established now, with the confident that comes with a steady rotation place.
Tillie has played both four and five in his time at the club, but his mid-range game allows him to play at the power forward spot. That's been especially useful this season as Tornike Shengelia is still hurt. Darko Planinic and Bourousis have filled the middle pretty effectively. Bourousis is a big comfort blanket for the offense, you can just throw the ball into him and let things happen. Planinic can sprint to wherever you need him and set screens for their lively ball handlers.
MVPs and Decision-Trees
Talking of which, Darius Adams and Mike James are two really interesting sides of a shiny coin. Adams won Weekly MVP after Bourousis took it last week, and his 18 points, 9 assists and 3 steals showed off all of the best aspects of his game. He's super-quick up and down the floor, which ties in nicely with his quick hands and knack of creating live-ball turnovers. Even when he doesn't poke the ball away, he gets his hands in passing lanes and closes the window long enough in pick and roll to disrupt the offense.
He can also be a creative passer but that side of his game appears and disappears like a sunny day in my native Manchester. He has a lot of useful tools but every now and then often he falls out of the decision-tree of playmaking and hits every branch on the way down. If Adams could just prune off those early-shot-clock threes and contested jumpers he'd be a lot less frustrating to watch.
Mike James is another shoot-first guard, but at least he can shoot from way beyond the arc. He's another one with the capacity to create assists out of thin air. As LosCrossovers' Austin Green remarked:
@robscott33 So explosive. I just wish he would pass more often. When he uses his athleticism to create for others, it's so beautiful

— Austin Green (@LosCrossovers) October 29, 2015
James' athletic prowess is at the top tier of guards in Europe. A first half dunk over Boungou-Colo was spectacular but his reaction was almost perfunctory. James has a couple of those in his back pocket at any time. Surrounded by shooters like Causeur and Alberto Corbacho (not to mention Bourousis at the five) James has space to attack, and is one of the toughest covers in Europe. He can still be maddeningly inconsistent, but you never know what the effects could be of playing in a team with momentum, where sharing the ball is part of the team culture.
Similar to Unicaja as I covered last week, it can have a positive feedback effect where the team can be greater than the sum of its parts. Making 33 threes in three games doesn't hurt either, and they hit 13-of-28 in Limoges. The French team just couldn't keep up with the speed of ball movement to effectively challenge enough shots, and they won't be the last team to suffer a similar fate.
As for Limoges, on the face of it a blowout defeat doesn't bode well. But they're only 1-2 and there were still good things to carry forward. Nobel Boungou-Colo, their hard-hustling wing, is a really satisfying player to watch. He picked up 15-7-5 in their win over Cedevita and he just doesn't stop going hard even with his team down 20. Don't forget to try and catch him storming up and down the floor when you can.
Notes from Elsewhere
I've been a sceptic when it comes to Patric Young, Olympiacos' latest addition at the Hines/Dorsey/Dunston mobile-five-spot. Contrary to all of those guys, he has really short arms and didn't really rebound in college, and I thought his first Euro spell at Galatasaray was more notable for highlight dunks than solid overall play. But he seems to be settling in well in Piraeus. He also finished 9th amongst centres in Euroleague last season in total rebounds per 40 minutes, for what it's worth, in 17 games, ahead of players like Two-Time-DPOY-Dunston, Fran Vazquez and Gustavo Ayon.
In Olympiacos' 71-66 win over Emporio Armani Milano, he won the physical battle down low with Jamel McLean, which is something very few big men in Europe could hope to do. He's also improved his post game since Florida, with at least a rudimentary turnaround move over either shoulder.
But his inexperience in playing Sfairopoulous' ultra-high hedging defense showed, in comparison to Othello Hunter who is in his second season in the system. The whole scheme depends on big men who can step up way outside the arc - sometimes closer to halfcourt - and recover quickly back to the paint. Young got caught chasing the ball a couple of times, but his excellent foot speed means he's tailor made for the role.  He was already adept at playing pick and roll defense at Florida, something that doesn't always come as standard with college big men, so it shouldn't be much of an adjustment.
As a sidebar, Darüşşafaka Doğuş have been borderline unwatchable so far despite an interesting roster that contains Emir Preldzic and Reggie Redding. So it's encouraging that they added Pat Young's college sidekick Scottie Wilbekin to play point guard. He was a standout candidate for a solid European career at Florida as he played in a PNR-heavy offense and was a 'pro ready' decision maker. He had a transition year in Australia with Cairns Taipans where he averaged 4.3 assists per game and a cameo in the Greek playoffs with AEK. A cautionary tale comes from his .391 FG% in the Land Down Under, but anyone who can set up the offense at Istanbul's fifth club should make them at least tolerable on the eyes.