By: Sam Meyerkopf & Nick Gibson
Week two in the Top 16 brings us a match-up of Final Four teams in Madrid, a brand new arena in Istanbul, and another of Group F's all-Spain clashes in Bilbao.
Six games on Wednesday, and no preview is complete without an updated injury report. Let's get to it.
CSKA Moscow (1-0) vs. Anadolu Efes (1-0)
Sam: Efes was actually able to take care of business last week and their big man looked efficient.  But even if they play close to perfect against CSKA, winning in Moscow is almost impossible. CSKA Moscow.
Nick: Esteban Batista finally looked himself last week, but this CSKA interior is fantastic at making opposing bigs look not themselves. CSKA Moscow.
Real Madrid (1-0) vs. Montepaschi Siena (1-0)
Sam: Nikola Mirotic is a gametime decision, but Madrid still has a plethora of offensive weapons even with Mirotic wearing street clothes.  If Bo McCalebb isn't tearing it up for Siena, then few others are.  If Siena can knock Madrid around and make this a halfcourt game, then they have a chance.  The problem, that rarely happens in Madrid. Real Madrid.
Nick: Few teams have the names to replace a guy like Mirotic. Madrid does: Felipe Reyes, Carlos Suarez,  Kyle Singler and if healthy, Novica Velickovic. But names alone can't duplicate gamewinners, nor can they wear the go-to hat like Mirotic has since week five. If he's not at full strength, Madrid might be more lost than they know. Montepaschi Siena.
Fenerbahce Ulker (0-1) vs. Armani Milano (0-1)
Sam: It could have been one minute, maybe even a whole quarter, or shoot maybe you actually sat in front of your screen of pleasure and watched the entire Panathinaikos vs. Milano game last week.  For me, Milano was just too painful on the eyes to more than glance at.  Ulker second half collapsed last week, but they looked miles better than Milano. Fenerbahce Ulker.
Nick: The league's most demoralized, lifeless bunch is coming to your brand spankin' new arena. If Fenerbahce loses, they deserve everything bad that happens the rest of the way. Fenerbahce Ulker.
Gescrap Bilbao Basket (0-1) vs. Unicaja Malaga (0-1)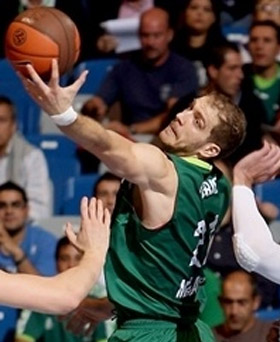 Sam: Unicaja really showed me something last week.  They were without their best player (Joel Freeland) and sin a Mirotic jumper, would have beat mighty Madrid.  Luke Zoric plays with more heart than anyone else on the floor, but without the home crowd to cheer them along, Bilbao wins the battle of opposing points of Spain. Bilbao.
Nick: Bilbao has lost its way, and is having a rough time figuring out how to play when things don't go perfectly. Unicaja should be desensitized to injury, turmoil and player swaps. Unicaja.
Panathinaikos vs. UNICS Kazan
Sam: I overheard Dimitris Diamantidis might be out too, I still don't care.  UNICS had maybe a season changing second half against Fenerbahce this week, but even if they play that flawless in Athens, they still couldn't beat Panathinaikos. Panathinaikos.
Nick: I'm 100 percent sure that DD or no DD, Panathinaikos will take this game by 11 or more. The cutesy comebacks won't work on the road, especially not in Athens. Panathinaikos.
Bennet Cantu (0-1) vs. Zalgiris Kaunas (0-1)
Sam: Cantu and their fans showed me all types of inspiration last week when they stuck with Barcelona for almost the whole game.  If those fans can make that big of an impact on the road, I think they'll have no problems at home. Bennet Cantu.
Nick: Vladimir Micov has officially entered the All-Euroleague chat. Bennett Cantu.
Want more? Read Rob Scott's extended preview.