By Rob Scott / @robscott33
It's still relatively early in the transfer silly season, but a lot of prime moves have happened, with more at the nudge-wink-rumour stage. It's clear at this stage that the big money continues to be in Russia and Turkey, and that some prime players are happy to drop out of playing Euroleague for an early offer of big money. We'll miss you, Joff.
At this point, it's difficult to analyse individual moves without seeing what else the acquiring team will do. But with that caveat, there is certainly enough to talk about, and plenty of questions on which to speculate. Here we take a look at two high profile additions on the Asian side of the Turkish capital Istanbul. We'll look at the others in due time.
Ricky Hickman and Andrew Goudelock to Fenerbahçe Ülker
The Turkish giants have already added the Eurocup MVP and a Euroleague champion to go with him. Fresh blood was needed, as Zeljko Obradovic's first season in Istanbul did not go well at the Euroleague level, missing the playoffs after a promising start. Surrounding Bojan Bogdanovic with guys who confound positional orthodoxy like Emir Preldžić and Nemanja Bjelica, the offense was a precise, well spaced machine… for maybe four or five games in November. The other problem was, they couldn't defend, either under or over-rotating, like a broken washing machine.
The squad assembled for/by Obradović was lacking in defensively minded players, and one of the worst offenders, Linas Kleiza, has departed, along with Bo McCalebb. Bojan Bogdanović is rumoured to be heading to Brooklyn, so the caveat about judging an incomplete roster certainly applies here. It's at the defensive end that the Canaries need to improve the most in order to join the Euroleague elite, but there are question marks over Goudelock in particular on that front.
Goudelock seems to get screened pretty easily, and doesn't show a great propensity to fight over picks. He didn't guard ball handlers at the point of attack very much for Kazan, floating around the weak side, but doesn't show great instincts for helping off the wing. In the games I re-watched against Crvena Zvezda and Valencia, he had a tendency to lose his man and just switch on to whoever was nearest.
These aren't necessarily huge red flags, after all Andrea Trinchieri, his coach in Russia, isn't known as a defensive mastermind, and there's no indication that Goudelock would be a reluctant worker on defense. But without standout quickness, he'll need to be coached in better positioning in order to add value on the defensive end, and he'll have to buy into that and work on it from the start.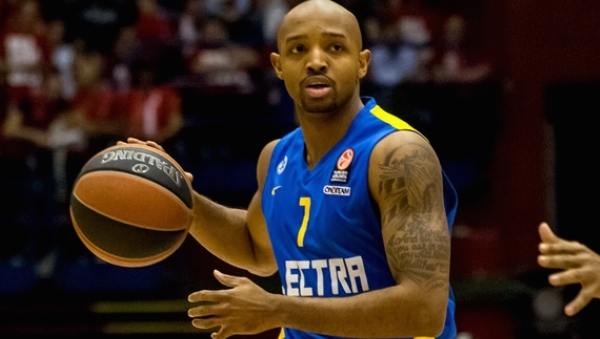 Hickman on the other hand, is a longer and more versatile defender, able to hold his own guarding bigger players in the post, as was the necessity in those fun-sized Maccabi lineups.  There is some potential there for emergency cross-matching if Emir Preldzic is playing the point guard role, likewise he should be able to function in a switching scheme. The Euroleague champ also won't be challenged by playing for a coach whose bark is every bit as scary as his bite.
Ones, twos, both, neither?
The other question about this pair is whether they will play together or split time alongside a true point guard. Goudelock's scoring numbers in Eurocup are convincing, as he put up 18.8 points per game, 1.030 points per possession and shot 40% from behind the arc on 5.7 attempts per game. By way of comparison, volume scorers like Malcolm Delaney scored at a 0.997 PPP clip, Rudy Fernandez at 1.051 PPP.
Those are gaudy on both a production and efficiency basis, and there's no question he far more likely to work hanging around the weakside than McCalebb, who was miscast in that role. Goudelock can bury threes and attack closeouts, and it's difficult to imagine him not excelling in that role.
On the other hand, in those Eurocup games against Euroleague-quality opposition, he struggled to shake his defender, settling for pull-up threes. He can make that shot, but it's not a high percentage look, and Obradović's continuity offense doesn't look like a natural fit for when Goudelock backs up and attacks one-on-one. Not that Zoc won't allow individual offense - Fener looked their best when Bogdanović initiated from up top, but the ball has to keep moving.
Goudelock isn't an unwilling passer, averaging 3.1 assists in Eurocup last season, but isn't a super-creative player. He will move the ball on and find the man in the corner, but if he has problems forcing defensive rotations through penetration, he won't be able to play a full-time point guard role at a Final-Four calibre standard, not to mention even an above average level.
That role is still more likely to be played by a new addition, but Hickman is more adept at attacking the rim at this level and is flat out quicker than his new backcourt mate. He has still only been a part-time playmaker though, usually lining up alongside either Tyrese Rice or Yogev Ohayon in Maccabi's title-winning campaign. Per in-the-game.org he spent only 112 of 785 Euroleague minutes at the 'one'.
At this point, so much depends on what happens with Bojan Bogdanović. A lineup with Hickman and Goudelock alongside the Croatian attacking with the ball in his hands would be a nightmare to defend, particularly if it included Bjelica. Forget guarding the three-point line, you'd have to go out one, two metres further. His non-brother Bogdan has been long-rumoured, and its mouth-watering to imagine what he could do, taken out of the spacing-graveyard of Partizan.
Questions on the home front
As always with Turkish teams, it would also pay to look at the domestic talent. The TBL requires seven six Turkish players in the 12-man squad for each game, and the club confirmed Baris Ermis and Ilkan Karaman have left the club. This premium on Turkish talent led to a middling body like Furkan Aldemir getting a ludicrous €3.9m over three years from Galatasaray just on the promise that Fenerbahçe might poach him. Kenan Sipahi is too talented not to continue developing, but more homegrown backup is needed. I haven't even mentioned the front court, which was exposed badly at Euroleague level last season.
UPDATE 5 July: It is strongly rumoured in Turkey that none other than Semih Erden will be crossing the Bosphorous to Ülker Arena. Proof that once a player has done enough time at big clubs, he'll get unlimited chances? It has also been reported that Bogdan Bogdanović will indeed be joining up.
It's too early to give a verdict on the signings of Hickman and Goudelock, without seeing what comes with them. Hickman at least is pretty close to a sure thing, best utilised as a secondary ball handler, but a proven performer all the way at the top of the Euroleague tree. Goudelock seems more like a secondary option, so if the plan is for him to be Hickman's backup, he'll be at the luxury end of that line. Salary details haven't been released, and Fener can match any team's spending, so we can only guess as to the money left in the pot. It seems inconceivable, particularly with Kleiza, McCalebb and possibly Bogdanovic's salaries off the books that a top level playmaker and at least one or two forwards won't follow.
Keith Langfordoglu is one name off the list, off to UNICS Kazan for a huge $3.8m over two years, a huge statement of intent from the Euroleague Qualifying Round team. Milos Teodosic is staying with CSKA Moscow too. The rouble and the lira should continue to dominate the summer, but Fenerbahçe may need to move quickly. To match their ambition, and spending, they need to jump not one, but a couple of levels from last year.
This post has been updated to reflect the correct foreign player restrictions in the TBL for 2014/15. Hat-tips to @YasinTugcu and @ismailsenol.